Known Traveler Number: What You Need to Know
TSA PreCheck members use their Known Traveler Number when booking flights to get access to TSA PreCheck lanes.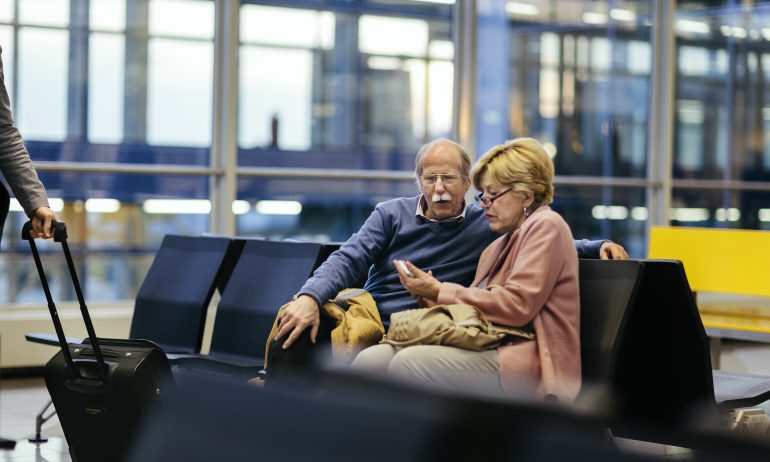 Many or all of the products featured here are from our partners who compensate us. This influences which products we write about and where and how the product appears on a page. However, this does not influence our evaluations. Our opinions are our own. Here is a list of our partners and here's how we make money.
The U.S. Transportation Security Administration launched TSA PreCheck in December 2013. This Trusted Traveler Program, designed to make airport security a smoother experience for its members at select airports across the U.S., is available to travelers who pay an $78 fee and complete a background check, in-person interview and fingerprint scan.
After completing the necessary application steps, approved TSA PreCheck members are given what's called a Known Traveler Number, or KTN.
What is a Known Traveler Number?
TSA PreCheck members aren't given identification cards like members of other Trusted Traveler Programs (e.g., Global Entry, Nexus, SENTRI).
Instead, the KTN is the primary identifier and effectively serves as your TSA number. Travelers are wise to keep this number handy, as it must be input into every eligible flight booking to take advantage of screening benefits.
How to get a Known Traveler Number
Any U.S. citizen, U.S. national and legal permanent resident — without a criminal history — is eligible for preapproval for the TSA PreCheck membership program. Immigrants can learn more about the necessary application materials on the Department of Homeland Security website.
You can apply online quickly. Then, you'll need to schedule an in-person TSA PreCheck interview appointment at an enrollment center. The interview process is fairly straightforward; most importantly, you will need to bring several documents and proof of identity to your appointment. Examples of approved unexpired U.S. government-issued photo identifications include your passport, driver's license or birth certificate.
Children 12 and younger don't need their own TSA PreCheck membership. As long as they are traveling with an adult who is a member, they can use the TSA Security lanes, too. Children 13-17 can as well, but only if the TSA PreCheck indicator appears on their boarding passes.
You can find out more about applying for TSA PreCheck to get a Known Traveler Number in our full article on how to get TSA PreCheck.
How long does it take to get a KTN number?
Most applicants will get their KTN within three to five days of membership approval. The TSA PreCheck website also states that it can take up to 90 days to receive a KTN.
Can I add my KTN to an existing reservation?
Now that you have a Known Traveler Number, it's time to start taking advantage of the benefits. Because airlines are unaware of which passengers have TSA PreCheck screening benefits and which don't, you'll need to add your KTN to each flight booking.
This is most easily done at the time of booking. Your boarding pass should show something like "TSAPRECHK," "TSA PRE," or "TSA Pre✓" to indicate that your KTN was successfully added to your reservation. The specific type of indicator depends on the airline and type of boarding pass (i.e., digital or printed).
However, if you forget, it's still possible to add your KTN to your ticket ahead of travel. We've broken down the steps in this article for passengers flying on Southwest Airlines, American Airlines, Delta Air Lines and United Airlines: How to Add TSA PreCheck to Your Airline Ticket.
Can you add a KTN after checking in?
If you have a flight coming up shortly and have yet to add your KTN to your ticket, you're not out of luck. But there are a few extra steps involved before you're able to enjoy the security benefits.
For those who've checked in online without a KTN in the system, you may need to call the airline's customer service to add your KTN and have a new boarding pass issued.
If call wait times are long, you can also add your KTN to your ticket at the airport. Visit a service desk agent or check-in agent before passing through security. After providing your KTN, these agents should be able to print your boarding pass with the necessary information so you can use the faster security lines.
You might be wondering: How do I find my KTN number? If you've forgotten your KTN, the process to retrieve it is simple. Head to the TSA website and click the link to "Look up your KTN online." You'll input your full name, date of birth and at least one method of contact (phone or email).
If you're an automatic member of TSA PreCheck due to your Global Entry enrollment, you won't be able to do a Known Traveler Number lookup through the TSA website. Instead, log into your Global Entry account on the Homeland Security website and locate your PASSID. This applies for Nexus and SENTRI members as well.
You can also use your Universal Enroll ID, or UEID, number and date of birth to conduct a Known Traveler Number lookup. Your UEID is assigned when you apply for TSA PreCheck online and before your interview; see your confirmation email to find this information.
What if I can't find my KTN number?
You might input your information into the KTN lookup link and receive a denial message that says "No status found."
In the case that your information is correctly provided and you're still unable to be located in the system, you can call Homeland Security at 855-347-8371 for assistance.
Where is a Known Traveler Number on a Global Entry card?
Your Known Traveler Number, also known as PASSID, can be quickly retrieved by reading the back of your Global Entry card. This number is typically nine digits long and begins with 15, 98 or 99.
A Known Traveler Number unlocks TSA PreCheck
TSA PreCheck members are identifiable through a Known Traveler Number. This number needs to be added to individual flight bookings to ensure access to expedited airport security screening; it can be added to flight reservations at the time of booking, after booking and even after checking in.
If you've lost your KTN, you can use a Known Traveler Number lookup online to retrieve your identification number or find it from the back of your Global Entry card.
---
How to maximize your rewards
Get more smart money moves – straight to your inbox
Sign up and we'll send you Nerdy articles about the money topics that matter most to you along with other ways to help you get more from your money.