The Pros and Cons of the Marriott Rewards Program
Marriott has one of the largest portfolios of hotels worldwide, but award availability is sometimes limited.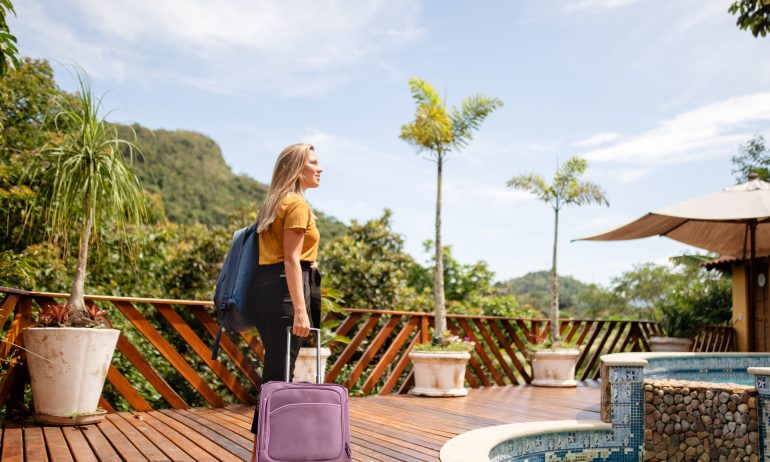 Many or all of the products featured here are from our partners who compensate us. This may influence which products we write about and where and how the product appears on a page. However, this does not influence our evaluations. Our opinions are our own. Here is a list of our partners and here's how we make money.
What loyalty program is Marriott?
It's a fair question for those new to the world of . Whether you're starting to dabble in award travel or feel ready to commit to a primary hotel chain, the Marriott hotel rewards program, known as Marriott Bonvoy, is worth considering.
Signing up is free (but an email address is required), and members earn points redeemable for hotel stays and more. Plus, members automatically earn access to perks like free Wi-Fi for their hotel stays.
Here's a closer look at the pros and cons of .
Marriott is one of the largest hotel companies in the world, so it's likely you'll come across properties from the chain's 30 hotel brands when booking travel. As a member of the Marriott loyalty program, you can earn points and enjoy loyalty perks at these :
Ever wonder how cost-conscious travelers get to vacation at exotic and pricey hotels like or ? Many redeem Bonvoy points to put an otherwise expensive stay within reach.
Bonvoy members primarily earn points on paid hotel stays, so if you travel infrequently, it may seem impossible to earn enough points to book a stay. Fortunately, there are other ways to get Marriott points. For example, Marriott is a transfer partner for and , which means points from these programs can be converted into Marriott Bonvoy points. Terms apply.
Additionally, there are several credit cards that earn you Marriott Bonvoy points for making purchases not just at Marriott properties, but also on your everyday spending, too. Most of these cards pay thousands of for new cardmembers who meet a minimum spending requirement in the first few months. Terms apply.
Marriott offers a single small-business card, the  ( annual fee). Terms apply.
Marriott loyalty program members are rewarded for longer award stays via the hotel's Stay for 5, Pay for 4 program. For every five consecutive nights redeemed with Marriott Bonvoy points at a single hotel, you will receive the lowest point-value night free.
This can come in handy when you're considering adding an extra night to your vacation, as paying for four nights and getting five nights isn't a bad deal. A 50,000-point award stay redemption might only end up costing you 40,000 points.
If you're ready to , you'll likely enjoy that your Marriott Bonvoy points can be transferred to more than  at the rate of 3 Marriott Bonvoy program points for 1 airline frequent flyer mile.
In addition, for every 60,000 points transferred to a frequent flyer program, Marriott Bonvoy will add a 5,000-mile bonus, providing members with a total of 25,000 miles in the airline program of their choice.
If you need to top off an airline account to book an award flight or don't foresee using your hotel points for a stay anytime soon, this can be a nice alternative use.
It can be extremely frustrating to spend months, or even years, saving up points for a redemption to learn there's no availability for your travel dates at the you've been eyeing.
Marriott's award night availability policy is less favorable than other chains, as individual hotels can limit the number of room nights you can book with Bonvoy points. That means you may not find available award nights during peak travel times at popular hotels. But if you can or don't have your heart set on a single property, you'll typically find more options when trying to book a Marriott stay with points.
Unlike and , which waive resort fees on free night awards, Marriott typically doesn't waive resort fees when you use points to book a stay. This means you'll still pay out-of-pocket when booking a "free" night at any hotel with a resort fee.
For example, the JW Marriott Miami Turnberry Resort & Spa has a $44 (plus tax) daily resort fee. A three-night stay with points will save you on the room rate, but you'll still have to pay more than $130 to cover the daily resort fees.
Unfortunately,  if you don't have qualifying activity from the past 24 months. Qualifying activities include making a purchase on a Marriott credit card, earning points by staying at a hotel, earning points through a Marriott Bonvoy partner, redeeming points or purchasing points.
Examples of activities that don't qualify include gifting or transferring points to another member or receiving points as a gift or transfer yourself.
Joining the Marriott Bonvoy rewards program is free and gives you an opportunity to earn and redeem points across a vast portfolio of properties. Even if you stay rarely at Marriott hotels, it's possible to accumulate enough points to cover an award stay via a co-branded Marriott credit card or by transferring points from eligible programs.
Drawbacks of the Marriott Bonvoy program include resort fee charges on award stays, potentially limited award availability on your desired travel dates and the possibility that unused points expire.
You want a travel credit card that prioritizes what's important to you. Here are our picks for the , including those best for: