Sweet Spots of the IHG Mr & Mrs Smith Hotels Collection
There are plenty of unique hotel options to access through this partnership.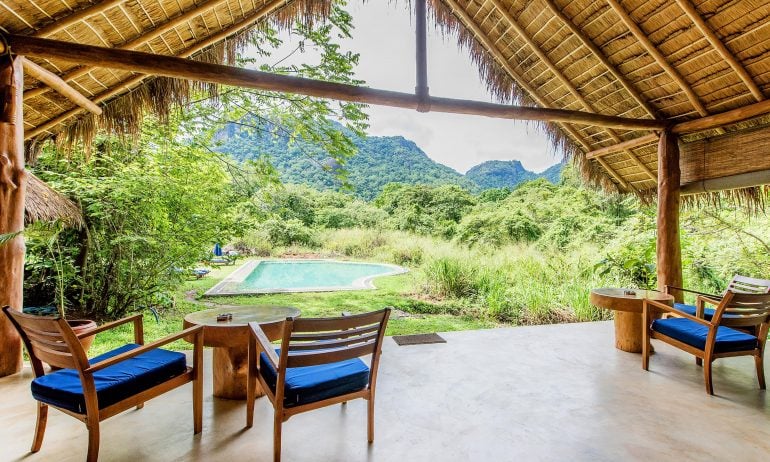 Many or all of the products featured here are from our partners who compensate us. This may influence which products we write about and where and how the product appears on a page. However, this does not influence our evaluations. Our opinions are our own. Here is a list of our partners and here's how we make money.
In late 2019, the InterContinental Hotels Group inked a partnership with a group of boutique properties called Mr & Mrs Smith hotels. Hundreds of Mr & Mrs Smith hotels are now bookable through IHG's website and app. IHG Rewards members can redeem points at these hotels or earn points for stays.
Here's a look at this partnership, along with some sweet spots you can find when booking Mr & Mrs Smith hotels with IHG Rewards points.
Many haven't heard of Mr & Mrs Smith hotels, but if you're seeking a unique hotel on your next trip, you should know about this so-called "Travel Club for Hotel Lovers."
Mr & Mrs Smith hotels are billed as some of "the world's most seductive hotels." These include suites on Iceland's Blue Lagoon, a mountain lodge in the Himalayas and even a "bird's nest" at the Treehotel in Sweden.
Currently, 1,600-plus Mr & Mrs Smith hotels stretch across 90 countries, though only about a quarter of these properties are part of Mr & Mrs Smith's partnership with IHG Rewards.
Mr & Mrs Smith won't become a fully integrated IHG brand, and some IHG Rewards elite benefits won't be available at participating Mr & Mrs Smith hotels. But IHG Rewards members will be rewarded for booking through IHG.
All IHG Rewards members will earn IHG points on paid stays. IHG elites will get their standard bonus points on stays:
All IHG Rewards members will get "Smith Extras" like a complimentary room upgrade where available. InterContinental Ambassadors, Royal Ambassadors and Kimpton Inner Circle elites receive a complimentary room upgrade where available plus a Mr & Mrs Smith GoldSmith welcome gift.
IHG Rewards credit card holders who get a free anniversary night through their credit card cannot, unfortunately, redeem it at a Mr & Mrs Smith hotel. Cardholders also won't be able to take advantage of their fourth-night reward free benefit at these hotels, either.
The Mr & Mrs Smith hotels available through IHG are found in more than 40 countries. We found Mr & Mrs Smith hotels ranging from just 15,000 points per night all the way up to 187,500 points per night. Keep in mind that due to IHG Rewards' dynamic award pricing model, award rates will change depending on demand and seasonality.
Not many travelers have enough IHG Rewards points to stay multiple nights at these higher-priced hotels. So here's a look at eight spectacular Mr & Mrs Smith hotels available for under 50,000 points per night.
The cheapest points rate that we could find for a Mr & Mrs Smith property is a five-room guesthouse in Jaipur, India called 28 Kothi. For the nights we searched in June 2021, we found availability at just 15,000 IHG Rewards points per night.
But don't let the low price fool you. This is not a budget stay. Located in the heart of Jaipur, 28 Kothi features a lush garden, terraces, a library and reading corners. The property offers Mr & Mrs Smith travelers a high-tea platter at the on-site restaurant, Cafe Kothi.
The next-cheapest award rate we found was in Morocco. Once a traditional Moroccan house, Dar One has been transformed into a unique hotel with just a handful of rooms. Despite being near the city's busy marketplace, the property is gated and quiet. Visitors can enjoy an included breakfast on the roof terrace before setting out for a day of exploring the wonders of Marrakech.
The points rate for this incredible experience is just 20,000 IHG Rewards points per night. And if the property is full, there are two other nearly-as-affordable Mr & Mrs Smith hotels nearby.
If city experiences aren't really your thing, don't worry. There are plenty of Mr & Mrs Smith hotels near beaches. Located in Khanom, Thailand, Aava Resort & Spa sits on what Mr & Mrs Smith dubs an "eye-bogglingly beautiful beach." We found rooms for just 22,500 IHG points per night.
As a welcome gift, Mr & Mrs Smith guests receive a fruit basket, homemade chocolate and a bottle of sparkling wine. Most stays include free breakfast and Wi-Fi. Plus, if you stay five or more nights, the resort offers free round-trip airport transfers.
If you're looking forward to taking a trip to Europe, you're in luck. There are dozens of Mr & Mrs Smith properties throughout the region that cost less than 50,000 IHG Rewards points per night.
Cortijo del Marques is a 19th-century manor located "in the middle of glorious Spanish nowhere." This stunning property is surrounded by fields of olive trees and sunflowers, with a rooftop pool giving visitors a view of it all.
This property won't break the points bank either, with award nights available for around 25,000 points per night.
If you like to travel where the wine is, head down to Grand Provence in South Africa. Located on the winery sporting the same name, Grand Provence offers wonderfully appointed rooms in "chic modern villas."
On site, you'll find an art gallery and restaurant in addition to the winery. Nearby, you can explore nature reserves and mountains. Mr & Mrs Smith guests enjoy a tasting of four house-bottled wines with canapes, plus one bottle of Grande Provence wine. All of this for around 32,500 IHG Rewards points per night.
The Kumaon is a stunning mountain lodge located in the foothills of the Himalayas. The property looks over Nanda Devi, India's second-highest peak at over 25,600 feet.
The property has just 10 rooms spread across five minimalist buildings. Make the Kumaon your base for exploring the Himalayas or enjoy the property as a destination in itself. Mr & Mrs Smith guests get a rather special welcome gift: a woolen shawl hand-woven by artisans of the local region.
For such a spectacular property, the award rate is surprisingly affordable, sometimes as low as 45,000 IHG Rewards points per night.
Santorini, Greece, is home to multiple Mr & Mrs Smith hotels, but the most points-affordable we found here is the Astra Suites.
Visit Santorini during the shoulder season in May and pay just 47,500 points per night at the Astra Suites, or book one of the other Mr & Mrs Smith hotels in Santorini for more points.
Stay for at least two nights to get the welcome gift for Mr & Mrs Smith visitors: a bottle of cava and chocolates, served before sunset on the second evening.
In Sri Lanka, you'll find another extraordinary Mr & Mrs Smith property: Gal Oya Lodge is located in a remote national park, also called Gal Oya. In this remote location, you may be one of only a few visitors to see incredible sights like Asian elephants swimming.
The Smith Extras welcome gift here is truly incredible: Guests will be taken on a guided discovery walk with the chief of a local tribe who will show you ancient hunting grounds and medicinal herb gardens. That's an amenity you're not likely to find at any other hotel.
The price here for this and another nearby ecolodge is only 47,500 IHG Rewards points per night.
IHG's partnership with Mr & Mrs Smith hotels opens the door for redeeming IHG Rewards points at hundreds of stunning luxury hotels. Now, the IHG Rewards points that you earn from a stay at a Holiday Inn Express can be redeemed at a winery in South Africa, a national park in Sri Lanka or the bustling markets of Marrakech.
You want a travel credit card that prioritizes what's important to you. Here are our picks for the , including those best for:
Top photo courtesy of IHG.