How I Traveled for Free: A Roman Holiday at IHG's Hotel Indigo
Many or all of the products featured here are from our partners who compensate us. This may influence which products we write about and where and how the product appears on a page. However, this does not influence our evaluations. Our opinions are our own. Here is a list of our partners and here's how we make money.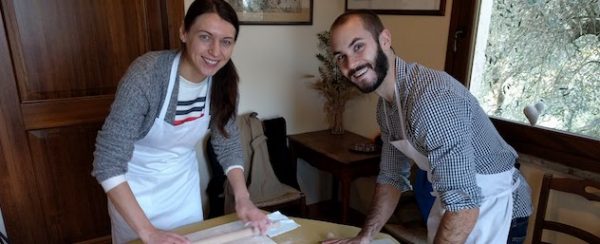 Scott Keyes, founder and CEO of Scott's Cheap Flights, knows his way around airline deals. But he and his wife also know a thing or two about staying in hotels for free.
They used free night certificates from their IHG credit cards to get a free two-night stay in Rome. The stay would have cost them 100,000 points, making this an excellent use of the annual benefit.
Dates of stay: Dec. 14 - 16, 2017
What kind of room? Standard room with one queen bed
Q: What amenities did you take advantage of?
Q: Did you travel alone or with someone?
A: I took a fun vacation trip with my wife. She had never been to Rome, and our vacations mostly consist of walking around until it's time to eat something new and delicious. Plus, I had to be in Madrid for work in December, so we decided to make a trip out of it and pop over to Rome.
Q: What card did you use to get a free stay?
A: We each had a free award night saved from our IHG® Rewards Club Premier Credit Cards. Those free nights were set to expire soon thereafter, so the timing was perfect to use them.
Q: How long were you a cardholder at that time?
A: I'd first opened my IHG® Rewards Club Premier Credit Card in April 2016 and have had it ever since. I rarely pay annual fees, but $49 a year for a free night at any IHG hotel was well worth it. My wife opened up her card in February 2016. (Note: The newer IHG Hotel card has an annual fee of $89 and reins in the free night benefit.) 
Q: How long were you planning/saving for this stay?
A: We'd gotten our free night certificates in February and April, so they each only had a few months left before expiring. We booked the stay about a month before arriving.
Q: What's your favorite perk of this card?
A: The annual free night. Even though the perk was somewhat devalued in 2018 — so it now excludes the top quality hotels — it's still excellent value for $49 a year, especially if you have a significant other so you can pair the free night certificates and have a two-night stay.
Q: Did you take advantage of promotions while earning points for this trip?
A: No. I've participated in IHG's promotions in the past, but this stay used free night certificates rather than points.
Q: Where/how did you book?
A: We booked directly on IHG's website.
Q: How many points/rewards did this cost?
A: We used two free night certificates, but it would have cost 50,000 points per night.
Q: Did you book in conjunction with a promotion or deal?
A: The hotel itself was incredible. A perfect location in the heart of Rome, tucked away in an alley, but footsteps from everything. I remember two distinct things about the hotel: First, the delicious lemon ginger turmeric drink they had for guests in the lobby, and second, the look of surprise on the receptionist's face when my wife asked where she could get her nose pierced in the area. It did not seem like the type of question they typically got, but they were gracious and able to figure out a great spot.
What's your next travel rewards goal?
We had a baby in the fall, so travel plans are on pause for a bit. But hoping to be back on the road for a Hawaii trip in the first half of 2019. We redeemed 200,000 Marriott points for a free seven-night hotel stay and a boatload of airline miles; hoping to use that certificate for a free family stay on the Big Island or Kauai.
How to Maximize Your Rewards