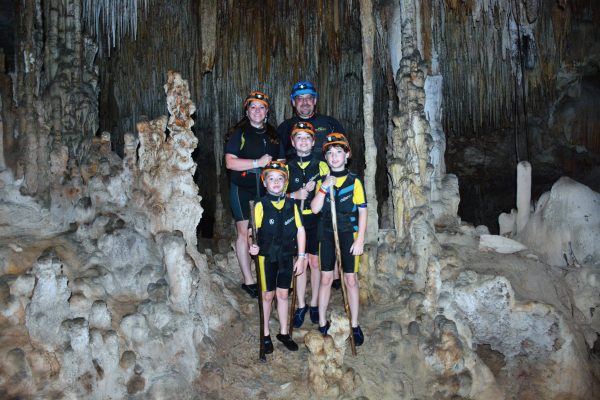 Family members:
Nicole Thibault: Travel agent
Chris Thibault: IT professional
Tristan Thibault, 12
Sebastian Thibault, 10
Emerson Thibault, 9
Hometown: Fairport, New York
Annual household income: $120,000
Destination: Cozumel, Mexico
Vacation dates: Feb. 16-20, 2017
Transportation: Royal Caribbean Cruises
Cost: $5,200
Nicole Thibault works in the travel industry, so she's always looking for good deals. And when it comes to traveling with her own family, she's most interested in balancing memory-making with careful budgeting. That takes careful planning, which has another benefit. Her and her husband Chris's eldest son, Tristan, has autism, so anticipating stress-inducing moments ahead of time helps the entire family travel anxiety-free. The following interview has been edited for length and clarity.
Vacationing in the Thibault household
Nicole: "We try to do one vacation a year. We're a family of five, which makes it more difficult, because flights alone can kill the budget. So, what I look for is what can we do that will be maximum impact for the kids, but minimum impact on the budget. Having a child with a disability can throw additional kinks into the mix."
Traveling with an autistic child
"We credit a vacation to Disney for alerting us to Tristan's autism in the first place. When he was 2, his brother was born, and when he was 2 1/2, we went back to Disney. Everything he had previously loved about it was a nightmare that time. He screamed at every character, every parade, every loud noise. Right after we came home, someone suggested we have him evaluated. We did and received his diagnosis."
Fitting travel into the budget
Choosing cheaper rooms. "We debated on whether to do a suite on the ship, so all five of us could be together, but decided to save more by opting for separate interior rooms. My husband was in one cabin with one kid and I was in the room next door with the other two boys. Some people hate being split up, but we spent so little time in the room, it really didn't matter."
Being flexible with dates. "It was crazy the amount the cruise cost the week before our kids' February break compared to the week of. I used to be more rigid about them missing school, but now I see the cost savings. Education is always very important, but I'm also a big supporter of travel being an educational experience."
Working with an agent. Nicole explains that most travel agents will work with clients to create payment plans. That's how she budgets for trips. "I know the importance of putting a deposit down as soon as possible. Once we do that, we try to schedule regular payments, but with three kids and unexpected expenses, that's not always possible. We do fairly well with putting down large amounts of money when we get some unexpectedly, like work bonuses and tax refunds."
Parting travel tips
Splurge on unique adventures. "We looked at all of the available excursions and tried to find something we couldn't do anywhere else. We felt like the Rio Secreto cave excursion they offered was unique and something the boys would really enjoy. It was our biggest splurge, but we wanted to make sure we did something absolutely memorable for them."
Prepare your kids (and tour guides) for potential rough patches. "We were a little nervous about the caves because Tristan has a lot of anxiety issues with his autism, and going into a deep dark cave can be hard for anybody. Before we even started the tour, I pulled the guide aside and told him that we may just need a few extra minutes to talk him through any anxious moments. At one point when we were in the caves, the guide had us stand in a circle and all hold hands and told us to shut off the lanterns on our helmets. I told Tristan, 'OK, we're going to turn the lights off but we're all holding hands and we're all here together. You can feel mom's hand in yours and we're all going to be fine.' And he did great. Over time, as we do things like this, his confidence grows by leaps and bounds."
If you're cruising, BYOB. "We didn't even get a drink package on the cruise. The kids drank lemonade, water or tea, and we brought alcohol with us. I don't know if everyone knows you can do that. For our cruise, each state room could bring up to two bottles with them. Then you can just keep it in the room and bring your own wine to dinner with you."
A Nerdy perspective
The Thibault family found a way to make payments on their vacation. Even if you don't work with an agent, you can use a similar approach by budgeting a portion of each paycheck toward next year's vacation. By automatically depositing these funds into a savings account, you can keep them safe from impulse spending and earn some interest.