Crowdfunding online is a relatively new way to raise money for a cause, and according to four major websites, that cause is increasingly expenses related to the death of a loved one.
Crowdfunding — donations from friends, relatives and even strangers — helps families cover expenses for funerals and memorials when personal savings and life insurance aren't available or fall short. Some of these expenses, especially the cost of funerals, have increased sharply in recent decades, while at the same time Americans are saving less, according to a data analysis.
NerdWallet obtained data from four crowdfunding sites — GiveForward, GoFundMe, Plumfund and YouCaring, which are all less than 10 years old — and found fundraising for funeral expenses is one of the most common charitable causes online. One site, GiveForward, reports that fundraising campaigns after a death have increased at twice the rate of other crowdfunded causes.
Our analysis found this growth may be linked to rising costs and fewer options to cover death expenses. The median cost of a funeral has increased from $983 in 1971 to $7,180 in 2014, according to the National Funeral Directors Association. Meanwhile, the number of Americans who've purchased life insurance policies to help cover funeral costs has dropped.
Funeral campaigns and crowdfunding
"The 'Funerals, Memorials & Tributes' category is among our largest," says GoFundMe's Kelsea Little. GoFundMe, which launched in 2010 and focuses on charitable campaigns, is the biggest crowdfunding platform in terms of money raised on the site.
Although GoFundMe declined to divulge the percentage of campaigns that are for funerals and memorials, other platforms provided the data in the table below.
| Crowdfunding site | Funeral campaigns as share of all campaigns |
| --- | --- |
| GiveForward | 20% |
| Plumfund | 4.30% |
| YouCaring | 5% |
At GiveForward, the number of funeral fundraising pages is second only to medical-expense campaigns, according to the data.
More money than other crowdfunding
Crowdfunding sites say online fundraising can help pay for a significant portion of death-related expenses.
"Since our launch in May of 2010, more than $340 million has been raised in this category, across over 113,000 campaigns," said GoFundMe's Little.
For each campaign, that's about $3,000 — similar to what the data from other sites show. NerdWallet also found that funeral and memorial campaigns, on average, are given more donations than other charitable fundraisers.
| Crowdfunding site | Average amount raised per memorial campaign | Amount raised compared with all campaigns |
| --- | --- | --- |
| GiveForward | $2,400 | +10% |
| GoFundMe | $3,000 | * |
| Plumfund | $2,358 | +12% |
| YouCaring | * | +200% |
* Data not available
Funeral and memorial campaigns growing
Plumfund hosted 255 campaigns for funerals in 2015, a 263% increase from 2014, a rate that is on par with growth in other categories, according to CEO Sara Margulis. YouCaring, which provided data on the number of funeral campaigns for one year, said it hosted 10,117 campaigns in 2015.
At GiveForward, the number of campaigns for funeral expenses has grown twice as fast as all other fundraising categories over the past three years, says CEO Josh Chapman. What's more, these fundraisers receive an average of 50% more page views than other campaigns, something Chapman attributed to the often tragic nature of the stories behind the fundraising.
"People tend to plan for these expenses when they're older or if they have a terminal illness, but these campaigns often involve unexpected deaths and, unfortunately, younger people," he says.
Families aren't prepared financially
In the absence of burial insurance or life insurance, families will have to consider using savings for a funeral.
On average, Americans saved 5.1% of their disposable income in 2015, according to federal data from the Bureau of Economic Analysis. While that is about twice as much as the 2.5% savings rate in 2005, it's much less than recommendations that Americans save from 10% to 20% or even more.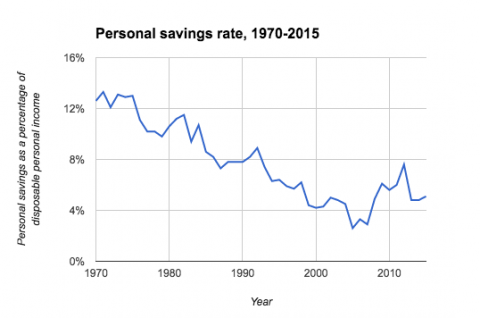 Source: U.S. Bureau of Economic Analysis
Funeral expenses outpacing other costs
In 1971, the median cost of a funeral, viewing and burial was $983, or $5,780 in 2016 dollars, according to data from the National Funeral Directors Association. By 2014, funeral costs were $7,180, outpacing the general inflation rate. Although a cremation and funeral is less expensive than a burial, the cost for that option was $6,078 in 2014.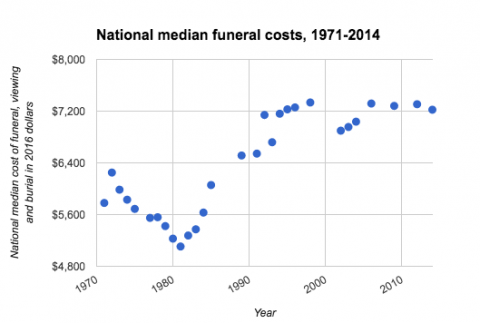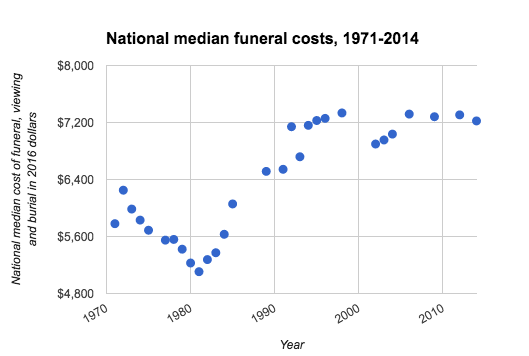 Source: National Funeral Directors Association
Life insurance sales have dropped
Funds raised by funeral and memorial crowdfunding are being used for expenses traditionally covered by a life insurance payout.
The cost of life insurance has dropped in recent years because of better risk analysis, longer life expectancies and other factors, according to Whit Cornman of the American Council of Life Insurers. But these lower prices haven't translated into more people getting coverage, Cornman says. According to the insurance group's 2015 Fact Book, sales of insurance policies decreased 32% from 2001 to 2014.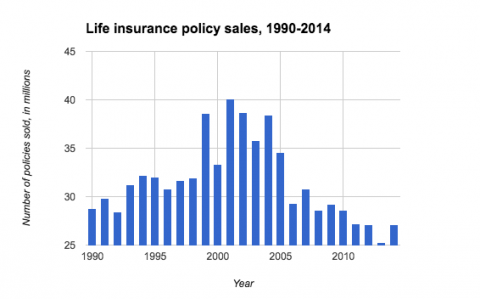 Source: American Council of Life Insurers 2015 Fact Book
"Tough economic times often discourage people from planning long-term," Cornman says. "Americans are underinsured. As a result, many families could face serious financial hardship following the unexpected death of a parent or spouse."
Elizabeth Renter is a staff writer at NerdWallet, a personal finance website. Email: [email protected]. Twitter: @ElizabethRenter.
A previous version of this article included a chart that misstated the number of life insurance policies sold from 1990-2014. The chart has been corrected.