Advertiser Disclosure
Backed Personal Loans: 2018 Review
You can trust that we maintain strict
editorial integrity
in our writing and assessments; however, we receive compensation when you click on links to products from our partners and get approved. Here's
how we make money
.

NerdWallet rating: 4.0 / 5.0
Good for: Good credit, co-signers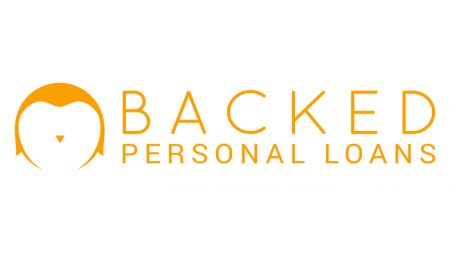 Backed wants to give low-interest loans to millennials with thin credit.
The online lender uses a simple co-signer model. It allows someone with stellar credit (typically a family member or friend) to "back" a borrower. You can qualify for a personal loan without a backer, but the addition of one will reduce your interest rate by as much as 41%, the company says.
Backed's starting interest rate is among the lowest that NerdWallet has seen for borrowers who have well-qualified co-signers. But the lender operates in just a handful of states: Arizona, Arkansas, Florida, New Jersey, New York and West Virginia.
Backed could be a good fit for you if:
You have a willing co-signer
Your co-signer has a credit score of at least 720
Your co-signer earns at least $50,000 a year
With a co-signer, you won't have to meet any minimum requirements yourself. Without a co-signer, Backed could still be a good fit if:
Your credit score is 660 or higher
You earn at least $18,000 a year
You have a FICO score, which typically means you have at least six months' credit history
Backed at a glance
| | |
| --- | --- |
| Typical APR | 2.9% to 15.99% |
| Loan amounts | $3,000 to $25,000 |
| Time to funding | 2 to 4 business days |
| Origination fee | 0.8% to 2.0% of loan amount |
| Soft credit check with application | Yes |
Clicking "Check rates" will take you to the Backed site for an online application.
» MORE: Other lenders that accept co-signers
Backed personal loan review
To review Backed, NerdWallet collected more than 30 data points from the lender, interviewed company executives, completed the online loan application process with sample data, and compared the lender with other companies that seek the same customer or offer a similar personal loan product.
For borrowers with a well-qualified co-signer, Backed's starting annual percentage rate of 2.9% is among the lowest offered by online lenders. Only the best applicants get that low rate, though. The average rate for a co-signed loan is 11.28%, according to Backed.
You can apply for a Backed loan on your own. If the the rate you receive is too high, you can apply again with a co-signer to try to qualify for a lower rate. According to Backed, one customer who applied on her own was offered a loan with an APR of 15.97%; after adding a parent as co-signer, the rate was lowered to 9.59%.
"The whopping majority of our Backed borrowers are millennials that have reached out to us and then approached their parents for backing," says Nufar Segal, Backed's chief revenue officer.
Co-signers help keep your repayments on track
Backed offers ways to reduce risks to co-signers, giving them early warning about any missed loan payments.
Not all lenders inform co-signers about the status of a loan, making it tough to monitor a borrower's payments. If the loan goes into default, the co-signer's credit can be dinged along with the borrower's. Depending on state law, lenders also can collect debt from the co-signer without first trying to collect from the borrower, according to the Federal Trade Commission.
Backed automatically sends co-signers email notifications of all regular payments. If the borrower misses a payment, Backed immediately texts or calls the co-signer and offers a grace period to make the payment. The co-signer has 15 days to step in and get the borrower back on track before he or she incurs penalties or gets late payments reported to a credit bureau. If that happens, it will impact the credit histories of the borrower and co-signer.
While the notification feature allays some concerns, NerdWallet recommends that consumers avoid co-signing a loan unless they can afford to take over the payments themselves.
How to apply for a Backed loan
You can start applying on Backed's website by answering questions about why you need the loan, how much you need and for how long, as well as about your college degree or diploma. The site ranks you in comparison with other applicants ("top 30%") as you provide further details on your job, housing situation, address and birth date.
If you want to compare an offer from Backed with those from other lenders, click the button below to fill out a pre-qualification form. NerdWallet will check its lender marketplace and display the loans and rates for which you qualify. Pre-qualifying won't affect your credit score.
More about Backed
Backed loan requirements
Minimum credit score: 660 if applying without co-signer; 720 for co-signer
Minimum income: $18,000 without co-signer; $50,000 for co-signer
Credit history: You must have a FICO score if you don't have a co-signer
Debt-to-income ratio: Maximum of 35% excluding loan
Backed terms
APR range: 2.9% to 15.99%
Loan amount: $3,000 to $25,000
Loan duration: 12 to 36 months
Backed fees and penalties
Origination fee:

0.8% to 2.0%

Prepayment fee: None
Late fee: $20 after 15-day grace period
Personal check processing fee: $10
Unsuccessful payment fee: $15
Before you take a personal loan
Check your free credit report.
Learn how personal loans work.
Check what you need to know before co-signing a loan.
Amrita Jayakumar and Jeanne Lee are staff writers at NerdWallet, a personal finance website. Email: ajayakumar@nerdwallet.com or jlee@nerdwallet.com. Twitter: @ajbombay or @jlee_jeanne.
Updated Jan. 2, 2018.
---
Personal Loans Ratings Methodology
NerdWallet's ratings for personal loans awards points to lenders that offer consumer-friendly features, including: soft credit checks, no origination fees, payment options, short time to funding, interest rate caps of 36%, and absence of prepayment penalties. Features are considered for their positive impact on consumers' credit history and financial health. We only review lenders that cap interest rates at 36%, the maximum rate financial experts and consumer advocates agree is the acceptable limit for a loan to be affordable. NerdWallet does not receive compensation of any sort for our reviews. Read our editorial guidelines.

— Among the very best for consumer-friendly features

— Excellent; offers most consumer-friendly features

— Very good; offers many consumer-friendly features

— Good; may not offer something important to you

— Fair; missing important consumer-friendly features

— Poor; proceed with great caution