To clean your home from top to bottom, you need the right machine — and you shouldn't have to push a heavy vacuum around to get the job done.
The Dyson DC40 Origin is the company's lightest upright vacuum. It's smaller in stature than its bigger counterparts, but thanks to Dyson technology, it packs much the same punch.
If you're looking for an upright that's easy to maneuver and can dig up deep-seated dirt, the Dyson DC40 Origin might be the right choice for you.
The vacuum
The DC40 Origin is a bagless, upright vacuum — the lightweight predecessor to the Dyson Ball Multifloor Upright. It can handle most tasks on both carpets and hard floors, where it picks up dirt, dust and finer debris other machines might miss.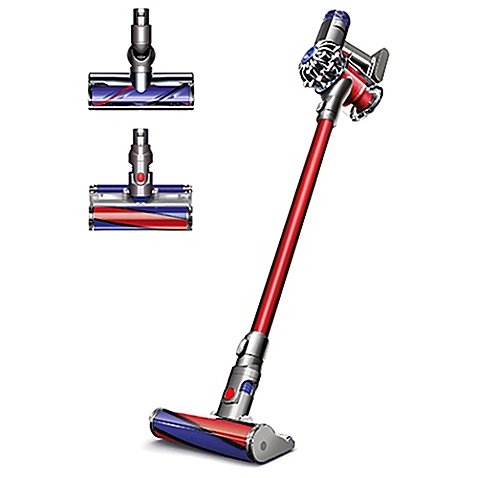 Like other Dyson models, the DC40 Origin uses Dyson's Ball technology for easy maneuvering. Instead of relying on wheels that only move back and forth, the vacuum's body sits on an actual ball that rotates in all directions with a twist of the user's wrist. And each Dyson model has Radial Root Cyclone technology that creates a 200-air-watt turbine with high-powered suction capabilities.
The Origin itself comes with a 24.7-foot cord and an instant-release wand, which extends up to five times its length to tackle stairs, walls and high ceilings. It also includes a combination debris nozzle and dusting brush tool, as well as a stair tool to reach corners and vertical edges.
The Origin's cleaner head automatically adjusts to different floor types. When it senses a hardwood floor, the brush bar pulls up so the bristles won't scratch and damage the wood. Users can also disable the bristle bar manually. When it senses carpet, the brush drops down to dig in.
The transparent bin makes it easy to tell when the vacuum needs emptying, which users can do by pushing a button at the top of the canister.
The DC40 Origin vacuum is discontinued on Dyson's site, but Amazon sells it for $329.
The reviews
We analyzed reviews of some of the most popular vacuums on the market to come up with a definitive buyer's guide. We looked at expert opinions from review sites such as The Sweethome, Good Housekeeping and CNET and compared those to user reviews. These reports covered various attributes of each vacuum. We noted what users liked and didn't like, in addition to what stood out and what didn't work.
Our scores range from a low of 1 to a high of 10. We scored the vacuums on overall performance, plus other categories, such as cleaning ability and ease of use. We also considered any user observations on characteristics including noise level, durability and accessories.
The Dyson DC40 Origin came in fifth on our list of the top Dyson vacuums. It scored an 8.5 overall and earned decent marks in how well it cleans (7.6) and ease of use (8.3). Read on for more detailed information about the Origin.
» MORE: Dyson Ball vs. Shark Rotator
The pros
The Origin wouldn't be a Dyson without the signature Ball technology and bagless bin.
Part of the reason the Dyson Ball allows for turn-on-a-dime maneuvering is because it also houses the vacuum's motor. This lowers the vacuum's center of gravity, so users don't feel the bulk of the Origin's weight when they're pushing it around.
The Origin's bin holds 0.42 gallon, a little over .1 gallon smaller than that of other Dyson models — but users complimented how easy it was to empty. Some, however, were unhappy that they had to clean the filter every 30 days.
It excels at picking up dirt and fine particles on low carpets. Some users also noted that its tool attachments work well along the edges of carpets and stairs.
Many liked how the brush tool slid right over the debris nozzle for seamless switching. And others liked that the wand slid into the hose when not in use, keeping the vacuum compact.
The cons
The DC40 Origin received decent marks overall, but certain aspects were drawbacks for users.
For example, many reviewers had concerns about the Origin's durability. Some users described the hose as stiff, the lightweight body as flimsy and the back wheels that lock the vacuum upright as delicate and difficult to secure.
Some reviewers also disliked the vacuum's cleaner head, especially across smooth flooring and when picking up hair. Users said that if they didn't disable the bristle bar, hair would get tangled around it, forcing them to manually unwind the hair. Many said they had to pick up anything other than dirt with the debris nozzle.
» MORE: Dyson DC50 Animal vs. Dyson DC65 Multifloor
Is the Dyson DC40 right for you?
The Dyson DC40 Origin vacuum is a decent option for moderate jobs, such as cleaning low carpets and ceilings. Its lightweight body and maneuverability let users zip around the house with minimal effort, which resulted in high marks for ease of use.
But figuring out the appropriate tool for specific tasks — and switching between them — can be troublesome. Some might find it annoying to attach the debris nozzle to pick up larger particles, then tuck away the stiff hose and wand and disable the bristle bar to tackle hardwood or linoleum. If you're willing to spend more than $300 for a vacuum, you might want to consider one that operates more seamlessly.
Remember, the Origin is an older model, so there are other options available. If the unit's upright, lightweight body is appealing, but you want better overall performance, we recommend the Oreck Insight.
If you want to stick with a Dyson but have to deal with pet hair, check out other models in our Dyson vacuums guide.
More from NerdWallet
The best vacuums
How to get the best deal on a vacuum
5 things you should know before buying a vacuum
Nina Tabios is a staff writer at NerdWallet, a personal finance website. Email: [email protected].