ACH Transfers: What They Are, How They Work and How Much They Cost
ACH, or Automated Clearing House, transfers are electronic money transfers between banks.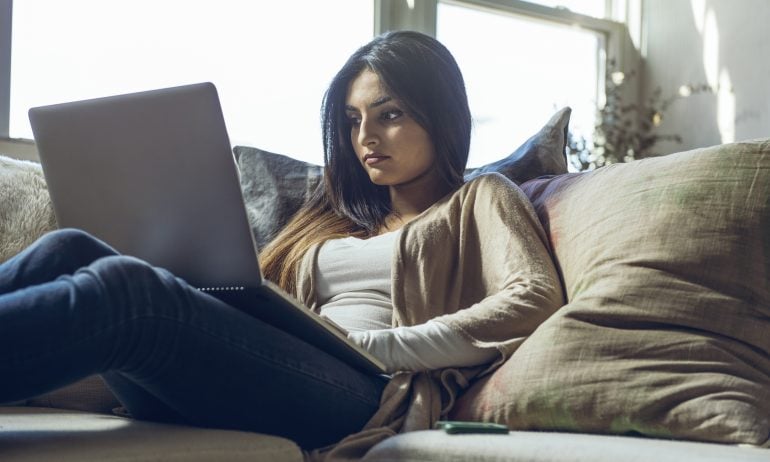 Many or all of the products featured here are from our partners who compensate us. This influences which products we write about and where and how the product appears on a page. However, this does not influence our evaluations. Our opinions are our own. Here is a list of our partners and here's how we make money.
Discover the bank accounts that fit your financial goals
Just answer a few questions to compare bank accounts that meet your needs.
An ACH, or Automated Clearing House, transfer is one of the main ways to send or receive money online. ACH transfers account for the online bill payments you make and the direct deposits you receive, along with other transfers. Here's a guide to how they work and how much they cost.
An ACH transfer is the electronic movement of money between banks through the Automated Clearing House network.
ACH transfers include external funds transfers, person-to-person payments, bill payments and direct deposits from employers and government benefit programs. Business-to-business payments are another example. (If you own a small business, see our guide to ACH transfers for businesses.)
For sending money to friends and family, many transfer providers — including banks and third-party apps like PayPal, Venmo and Zelle — use the ACH network.
There are two types of ACH transfers and they vary in delivery speed and cost:
ACH credit transfers let you "push" money online to accounts at different banks, either accounts you own or friends' and family members' accounts.

ACH debit transfers involve money getting "pulled" from an account. When you set up a recurring bill payment, for example, the company you're paying can pull what it's owed from your account each month.
SoFi Checking and Savings

APY
4.60%SoFi members with Direct Deposit or $5,000 or more in Qualifying Deposits during the 30-Day Evaluation Period can earn 4.60% annual percentage yield (APY) on savings balances (including Vaults) and 0.50% APY on checking balances. There is no minimum Direct Deposit amount required to qualify for the stated interest rate. Members without either Direct Deposit or Qualifying Deposits, during the 30-Day Evaluation Period will earn 1.20% APY on savings balances (including Vaults) and 0.50% APY on checking balances. Interest rates are variable and subject to change at any time. These rates are current as of 10/24/2023. There is no minimum balance requirement. Additional information can be found at http://www.sofi.com/legal/banking-rate-sheet.
How long ACH transfers take
Delivery of ACH transfers can take several business days, meaning days that banks are open — typically not weekends or holidays. ACH transfers are processed by a network operator in batches only seven times a day, unlike the real-time processing of wire transfers.
ACH credit transfer speed: Financial institutions can choose to have ACH credits processed and delivered within the same day, or in one to two business days.

ACH debit transfer speed: In contrast, ACH debit transactions must be processed by the next business day.
These timelines are based on rules from the National Automated Clearing House Association, or NACHA, the trade group that oversees the network. Upon receiving the money, a bank or credit union might also hold these transferred funds for a period of time, so the total delivery time varies.
NACHA rules ensure that banks can process payments the same day they're sent, but it's up to each bank whether it charges you for expediting a payment.
ACH credit transfer cost: Banks might charge a fee of around $3 for sending money between accounts that you have at different banks, but many offer these so-called external funds transfers for free. There's usually no fee to receive them.

ACH debit transfer cost: These transfers, which include payroll direct deposits and most bill payments, are typically free. If you need expedited bill payments, there can be fees.
Person-to-person payments that you initiate through your bank or third-party apps such as PayPal can cost a small fee, depending on the platform and payment method.
External ACH transfer fees by financial institution
The table below lists the costs to transfer money between banks for some of the country's largest financial institutions, including Chase's external transfer fee and Bank of America's transfer fee.
+ See table of ACH transfer fees by financial institution
Restrictions on external ACH funds transfers
Sending money via ACH between banks can be convenient, but check with your financial institution to find out more about their ACH policies and any limitations, which could include:
Amount limits: You may have a daily and monthly cap on how much money you can move.

Cutoff times: After a certain hour, a transfer won't be processed until the next business day. If you send money on a Friday, for instance, processing might not start until the following Monday. Weekends and bank holidays don't count as business days. If you initiate a transfer request at 11 p.m. on the Friday before a three-day holiday weekend, the money might not reach its destination until the following Thursday.

Fee for insufficient funds: If you don't have enough money in your account, your bank might charge you a fee and stop the transfer.

International transfer restrictions: Your bank might not allow consumer ACH transfers to banks outside the U.S.

Transfer limits for savings accounts: Banks were previously required to limit the combined number of certain withdrawals and transfers from savings accounts to six per month. Although that is no longer the case, many banks will charge a fee for more than six transfers or withdrawals per month. (If you're sending over the limit, consider opening a second account. Compare NerdWallet's picks for best savings account.)

Fee for staff-assisted banking transfer: If you call a customer service representative or visit a branch to request a bank transfer, your financial institution might charge you — even if online transfers are free. Before you make a transfer with assistance, make sure you know your financial institution's policies.
ACH transfer vs. wire transfer
ACH transfers differ from wire transfers, a type of bank transfer that's usually faster and more expensive. Whereas ACH transfers may take days, domestic wire transfers may be completed in minutes or hours.
ACH transfers cost a few bucks at most, but sending a bank wire transfer within the U.S. tends to cost from $20 to $30, and there's usually a fee to receive one. The wire network, however, processes transactions in real time, so you can generally expect U.S. wire transfers to be delivered within hours, if not minutes. Because of its cost and speed, a wire transfer is best for large-sum and time-sensitive transfers, either in the U.S. or abroad.
The smartest place to shop
Compare top high-yield savings accounts side-by-side, complete with objective reviews from the Nerds.
How to make ACH transfers more quickly
Nearly every financial institution has a cutoff time for transfer requests; respecting those will help your money arrive on time. If you submit a transfer request after the cutoff — around the end of the business day — it generally won't be processed until the next business day.
You can also pay to upgrade the delivery speed of your ACH transfer if your financial institution offers the option. Some banks offer next-day delivery, usually for an extra cost. Even then, "next day" usually means "next business day," not "next calendar day." But rules implemented in March 2018 make it possible for most ACH payments, including payroll and account-to-account transfers, to be processed the same day they're requested.
You can also use Zelle, a payment app that works directly with hundreds of banks and credit unions. Zelle delivers money to the recipient right away and the transfer is finalized later through normal ACH processing or in real time if the bank uses the RTP network, a real-time payment system. Zelle doesn't charge fees, but some banks might.
ACH transfers can be a cheap way to move money, but if you're the one sending funds, check out your bank's policies first. This will help you avoid fees, unexpected processing delays and potential limits so you can make the most out of the service.
APY
4.60%
With $0 min. balance for APY
Bonus
$300
Earn up to $300 with direct deposit. Terms apply.
Get more smart money moves – straight to your inbox
Sign up and we'll send you Nerdy articles about the money topics that matter most to you along with other ways to help you get more from your money.