Why Don't I Always Have to Sign for Credit Card Purchases?
Signatures were always a weak method to verify cardholders' identity and prevent fraud. We've found better ways.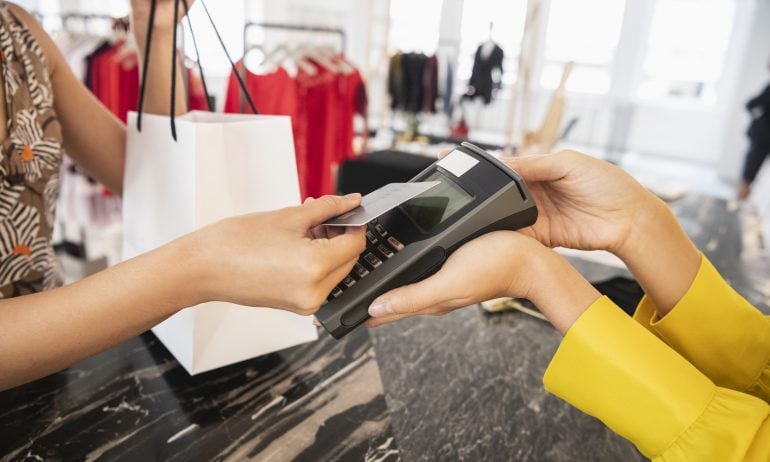 Many or all of the products featured here are from our partners who compensate us. This may influence which products we write about and where and how the product appears on a page. However, this does not influence our evaluations. Our opinions are our own. Here is a list of our partners and here's how we make money.
At one time, just about every credit card purchase required a signature from the cardholder. When you bought something, the merchant wrote up the sale and gave you a slip to sign. Those days are gone. Nowadays, more often than not — way more often than not — you don't have to sign your name when you use your credit card.
What prompted the change? As with everything else, technology.
Signatures used to be the preferred method of authenticating a credit card transaction. It wasn't a very secure system, though, and it didn't do much to deter fraud. Credit card companies came up with better, more secure ways to do things, and now you rarely have to ask the clerk for a pen when you check out.
The signature requirement for credit card transactions was originally an identity-verification step. Signing your name was how you "proved" you were you.
Although many people don't bother to do so, you're supposed to sign the back of your credit card. The signature panel was added to cards so merchants could compare the signature on your card to the signature on your receipt. If the signatures didn't match, the merchant could stop the transaction. In practice, clerks checked signatures infrequently. After stores installed card readers — which allowed customers to simply swipe their card rather than hand it over — signature checks became even more rare.
A signed receipt also provided evidence in the event the cardholder disputed a purchase. If a strange charge appeared on your bill and you challenged it. The investigation might involve looking at the signature to see if it matched yours.
Expecting checkout clerks to be handwriting analysts didn't make for a very secure system. And once online shopping took off, verification-by-signature became impossible anyway. Credit card companies began adding security features that did a better job of preventing fraud. Among them:
Electronic card readers. Credit-card transactions used to be written up by hand on paper forms. There was no easy, instantaneous way to check whether a card had been reported stolen. Electronic card readers are now ubiquitous. As they verify transactions, they check whether the card has been reported stolen or has been frozen by the cardholder.

CVV numbers. These three- or four-digit security codes are printed on the face of the card but aren't actually stored in the data on the card. They can be used to verify phone or online transactions in lieu of a signature.

The ability to "freeze" or "lock" a card. If your card goes missing, most major issuers allow you to deactivate it temporarily online or even through their mobile app. When you do, all attempted purchases will be declined.

EMV technology. A chip embedded in the credit card transmits information to the card reader. That information includes a one-time-only code that prevents the card data from the transaction from being reused in the event of a data breach. In 2015, merchants who weren't using EMV technology began shouldering greater financial liability for fraudulent purchases.
As new security features piled up over the years, the payment networks that process credit card transactions — Visa, Mastercard, American Express and Discover — began loosening their signature requirements. Mastercard, for example, had stopped requiring signatures for purchases under $50 by 2012. And by 2018, all four payment networks were no longer requiring signatures.
But you may have noticed that you still sometimes have to sign. What's up with that?
When you might still sign
Although the payment networks have moved away from signatures, individual merchants still have the right to require signatures on any transaction. Among the reasons they do:
Store security policies. Some merchants require that every transaction over a certain amount be verified by signature, in an attempt to deter fraud.

Technical reasons. Some merchants are still using older technology that requires a signature. In other cases, when a card terminal's EMV reader isn't working, the machine may default to asking the customer to swipe their card's magstripe and sign for the purchase.

Business processes. Most U.S. restaurants don't have pay-at-the-table technology. For these places, maintaining the signature requirement creates an opening for the customer to add a tip for the wait staff. You give your credit card to the server at a restaurant, and they bring back a slip for you to sign — after you add the tip.
Find the right credit card for you.
Whether you want to pay less interest or earn more rewards, the right card's out there. Just answer a few questions and we'll narrow the search for you.
Get Started
Get more smart money moves – straight to your inbox
Sign up and we'll send you Nerdy articles about the money topics that matter most to you along with other ways to help you get more from your money.