Budgeting for College Students: Where to Start
To create a college student budget, talk about money and put a plan in place to track your spending.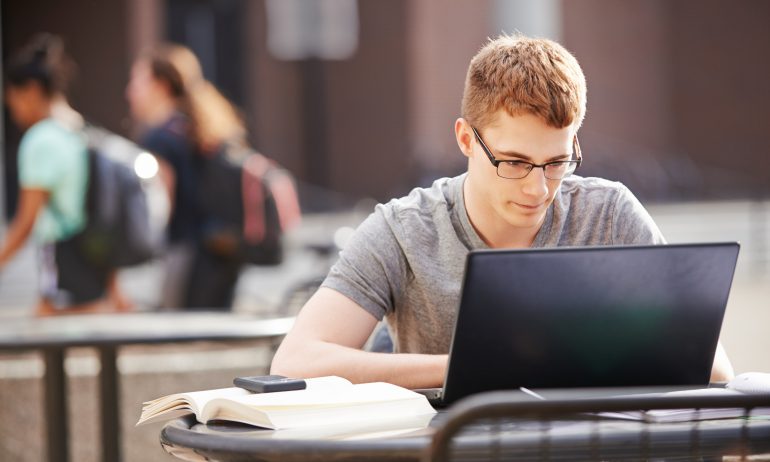 Many or all of the products featured here are from our partners who compensate us. This influences which products we write about and where and how the product appears on a page. However, this does not influence our evaluations. Our opinions are our own. Here is a list of our partners and here's how we make money.
A college budget that accounts for textbooks, housing and other expenses can cut stress and overspending. It can also shape healthy financial habits for the future. Start here.
Before you build a budget, go over some important details with the people — parents, guardians or a partner — who will be involved in financing your education. Discussing your situation together will ensure everyone is in the loop and understands expectations.
"One of the biggest obstacles we have [with] teaching young people financial literacy and financial skills is not making money and expenses a taboo subject," says Catie Hogan, founder of Hogan Financial Planning LLC. "Open lines of communication are far and away the most important tool, just so everyone's on the same page as far as what things are going to cost and how everybody can keep some money in their pocket."
Here are some topics to start with:
To determine what you'll spend each term, keep these college-related expenses on your radar:
Textbooks and school supplies. Course materials could eat up a large chunk of your budget. The average estimated cost of books and supplies for in-state students living on campus at public four-year institutions in 2016-2017 was $1,250, according to the College Board. Also plan for purchases like notebooks, a laptop, a printer and a backpack, and read the do's and don'ts of back-to-school shopping for money-saving tips.

Room and board. When it comes to food and living arrangements, weigh your options. Compare the cost of living on campus and getting a meal plan versus renting an apartment and shopping for groceries.

Transportation. Will you take a bus, bike or walk to and from campus or work? If you absolutely need a car, be prepared to cover gas, maintenance and insurance.

Clothing. Budget for seasonal clothing and job-fair outfits.

Discretionary spending. You deserve a break from studying. Leave room in your budget for fun stuff like entertainment, travel and social activities.
Track your spending and cut back where you can
The basic principles of budgeting, like living below your means, still apply regardless of the source of your funds. Whether you make money from side gigs, receive help from your parents or get financial aid — or all of the above — figure out how much money flows in and out.NerdWallet's free budget worksheetis a good starting place.
"

You don't have to go through a grueling process, like filling out a spreadsheet every day; you'll have enough homework.

"
You don't have to go through a grueling process, like filling out a spreadsheet every day; you'll have enough homework. Just set aside some time at least once a month to review your money situation. Budgeting apps and online banking can help make the process more manageable.
"Just knowing that you can log in to your online banking and take inventory of what you have and the income coming in, I think that's more than enough," Hogan says.
Start with the common culprits: food and fun. "Looking at what is the least expensive meal plan you can get without going hungry is a big money-saving tip," Hogan says. "And a lot of campus activities and groups and all that [are] really great, but they can weigh really heavy on your budget, so don't overcommit."
Keep your future self in mind
If you've managed to stay afloat as a student, you're in good shape. Continue on a financially healthy path by thinking about life after graduation. If you're working and able to build a cushion, set financial goals, like creating an emergency fund or saving for a trip — and don't forget about any student loans you might have to pay off after graduation.
"You obviously don't want to burden yourself so much that you have anxiety about it while you're in college, but I think having a healthy grasp of reality ... is helpful in terms of knowing what kind of lifestyle you can really afford to live in college," says Kyle Moore, a certified financial planner in St. Paul, Minnesota.
4 steps to creating a college budget
1. Talk it out. Before building a budget, chat with everyone who will be involved in financing your education. Discuss who is paying, expected expenses, financial aid and perhaps opening a new credit card or checking account.
2. List expenses. Anticipate the costs of textbooks and school supplies, room and board, transportation, clothing and discretionary spending.
3. Track your spending. Once at school, monitor your spending. Determine needs and wants, and decide which nonessentials you can trim.
4. Take budgeting to the next level. If you're in good financial shape, start setting yourself up for the future. Create an emergency fund, for example, or plan for paying off student loans.

Find and move all your old 401(k)s — for free.
401(k)s left behind often get lost, forgotten, or depleted by high fees. Capitalize will move them into one IRA you control.