3 Ways to Say No at a Car Dealership
Preserve the good deal you negotiated on the car sales lot by being ready to say no in the finance office.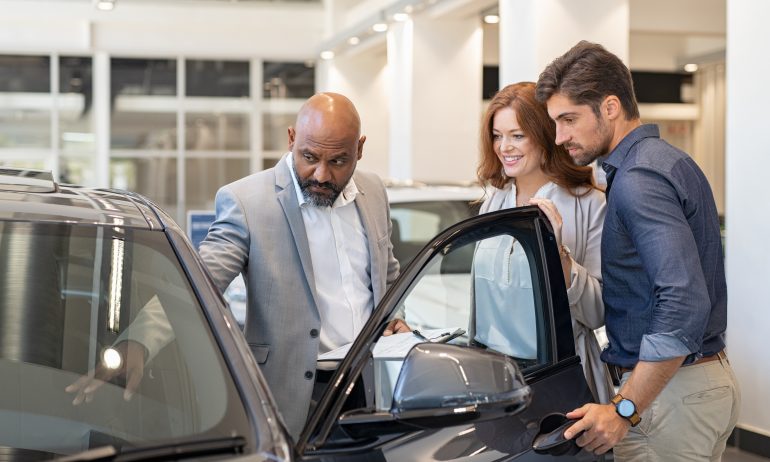 Many or all of the products featured here are from our partners who compensate us. This influences which products we write about and where and how the product appears on a page. However, this does not influence our evaluations. Our opinions are our own. Here is a list of our partners and here's how we make money.
I was buying a new car when the finance manager began pitching a wheel and tire protection plan. He even pulled out his cell phone and showed me a picture of a damaged wheel.
"My wife has used it five times," he said. "So I'm sure you'd like it to protect your new car."
"No, thank you," I said, and clamped my mouth shut. He heaved a disappointed sigh and drew up the sales contract without the addition. Now, 18 months later, my tires and wheels are in perfect condition and that money is still in my bank account.
When a car dealer pitches a host of items at a car buyer already worn down by a prolonged sales process, it's no accident that you want to say yes or offer a reason for saying no to the upsell.
"As children, we are taught not to go against authority," psychotherapist F. Diane Barth writes in Psychology Today. "We are supposed to do what parents, teachers, and others in power tell us to do."
I think you could add "car salesperson" to that list of authority figures.
As a veteran finance and insurance manager once told me, if you can get people saying yes, they will keep saying yes. Your job is to be able to say no to items you really don't want or will possibly never use.
Auto loans from our partners


The most popular item that is upsold is the extended warranty. But there are plenty of other goodies the dealer just knows you'll love:
Anti-theft products such as additional alarms or a vehicle locating device.

Paint protection and pinstriping.

Fabric protection for the upholstery.

Wheel and tire protection plans.

Prepaid maintenance plans.

Paintless dent repair for door dings.
Some dealerships have an even more direct way of upselling items: They install them ahead of time on the car. Then, if you protest, they say, "Sorry, it's already on the car."
Dealerships often give you advanced warning of these upsells by posting an "addendum" to the window sticker on the car. This addendum is usually a slim sticker next to the official factory window sticker, and it lists extra products — such as custom wheels, running boards and mud flaps. The total price of all the items is added to the sticker price of the car, even though most people negotiate a below-MSRP price.
How many ways do I need to say no?
Knowing that the upsell is coming puts you ahead of the game.
You can decide, in advance, if there is something you want, such as gap insurance or an extended warranty. And you can have, in advance, an answer for the pressure tactics you are likely to face.
Here are three strategies to emerge unscathed from the dealership.
Strategy 1: Negotiate the out-the-door price
The sooner you know about add-ons, the easier they will be to decline. If you've seen an addendum to the window sticker, you know what you're up against and can politely say, "I want the car, but I'm not going to pay for the extra items that were added." But if there is no addendum, there still might be add-ons or extras on the cars such as a pre-installed car alarm.
To smoke out extras and add-ons simply say, "I'd like to see a breakdown of the fees and what my out-the-door price is." Any experienced salesperson knows exactly what you're asking.
Strategy 2: Make a preemptive refusal
Car salespeople are very alert to the customer's knowledge level. If you seem savvy, they are more likely to streamline the deal and accept a lower profit just to move the metal. So one experienced car shopper recommended saying no firmly and politely right upfront.
You can say, "I know you have to present these items to me. But I'm not interested in buying anything extra." At this point, the finance and insurance manager will probably back off.
Strategy 3: Have a fallback answer
You don't have to justify your decision not to buy the dealership's add-ons. But aggressive salespeople will probe for a reason for your refusal and then try to overcome it with a scripted response. If this happens to you, here's a handy approach: Just tell them you don't plan to keep the car for longer than three years. This means you will always be covered by the included factory warranty.
Get more smart money moves – straight to your inbox
Sign up and we'll send you Nerdy articles about the money topics that matter most to you along with other ways to help you get more from your money.