How to Trade In a Car: What You Need to Know
Do your homework before trading in your car to put yourself in a strong position to get the best deal possible.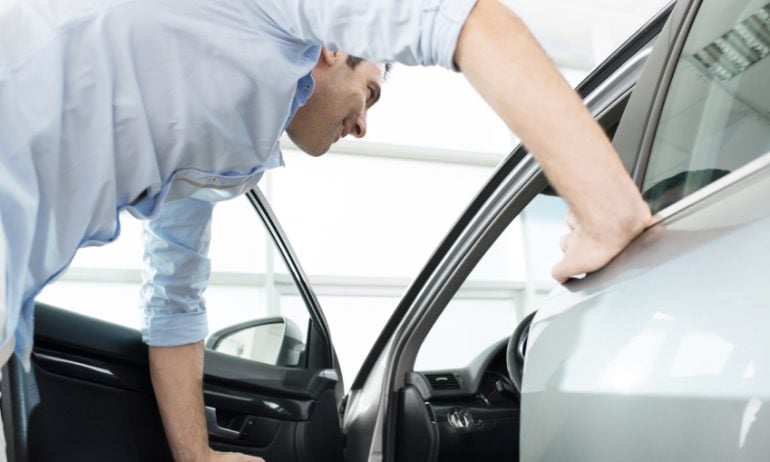 Many or all of the products featured here are from our partners who compensate us. This influences which products we write about and where and how the product appears on a page. However, this does not influence our evaluations. Our opinions are our own. Here is a list of our partners and here's how we make money.
When you trade in your car, your old vehicle's value is deducted from the purchase of your next car.
There are a few things to keep in mind when trading in your car. For example, to get the highest amount, it's essential to know that you can separately negotiate the trade-in value, and the new or used car price.
It's tough to get the dealer to give you the full value of your old car. But understanding how to trade in a car and how to gather offers will help you maximize your trade-in's value and get a better overall deal.
How does trading in a car work?
When you own your car outright, the process of trading in your car is simple: The trade-in value is deducted from your next car's price. You then pay the remaining amount owed for the car with cash or with an auto loan — or both.
If you're downsizing and your trade-in is worth more than the new car, the dealership will give you a check for the balance. If money is owed to you, be sure to get the exact amount in writing.
Things can get a bit more complicated if you still owe money on your trade-in. If the trade-in value is worth more than the remaining balance on your auto loan, this difference (the equity) is credited to the sale price of your next car. But if you're upside-down on your car loan for your trade-in, meaning you owe more than your car is worth, you'll have to pay this difference when you trade it in. For example, if your vehicle is valued at $3,500 but you owe $4,000, you'll need to pay an extra $500.
If you're upside down on your car loan, avoid rolling the negative equity into the new car loan if you can: only do so if it's a small amount.
When should I trade in my car?
If you're ready for a change and want to upgrade to a newer or lower mileage car, trading in your current car can help offset the cost of a new one.
Trading in also makes sense if it will cost more to repair your car than your car is worth. If you're unsure about whether to sell your car or repair it, get a trade-in offer to see how much your car is worth before you spend money on repairs.
If you're significantly upside-down, consider waiting until you have equity in the car before you trade it in.
Guide to trading-in your car
These are the most important steps to take when trading in your car.
Find out how much your car is worth
The first step is to estimate your car's trade-in value with online pricing guides. It's a good idea to consult trade-in values from multiple pricing guides, like Kelley Blue Book and Edmunds. These appraisal tools ask for additional details about your car. Be sure to include all the car's options, the correct mileage, a realistic condition level and your ZIP code for the most accurate value. With these figures, you can set a target trade-in price range for your negotiations.
When using a pricing guide, check the trade-in value and not the retail cost. The retail value is the price at which the dealer sells the car and is usually higher than the trade-in value (how much the dealership thinks your car is worth).
Before you get trade-in quotes from dealerships, collect the documents and other items you'll need, which may include vehicle title (often called a "pink slip"), auto loan payoff amount and account information (if you have an auto loan), current vehicle registration, driver's license and all vehicle keys.
Request quotes from dealers via phone or email. Tell them you'd like to buy a car from them but are also looking for a fair price for your trade-in. They may give you a trade-in estimate based on your description of your vehicle's condition. Most dealers will only give firm trade-in quotes after a physical inspection of the car.
Call at least two dealerships to make an appointment for a trade-in appraisal with the used-car manager. Consider starting at CarMax, if there's a branch near you, to secure a no-haggle offer that's good for seven days.
To get the best price for your trade-in and on your new car, negotiate each one separately. To get an overall good deal, you'll need to get a good interest rate on your new loan and a fair price for both the trade-in and the new car. Make sure both the trade-in value and sale price you're offered are in line with those listed on online pricing guides.
Remember, the trade-in price is really just a credit deducted from the negotiated new car price. So, look for the lowest overall price after making this calculation.
Trading in vs. other methods of selling
Trading in a car conveniently bundles the car-buying and the car-selling experiences. You might get a better deal if you decide to sell your car yourself — but be prepared to do more work. It's worth considering the pros and cons of all your options before you decide which route to take.
Selling your car directly to someone else, also called a private-party sale, can usually fetch a higher price than selling to a dealer or an online marketplace. Selling a car this way — like on Craigslist or Facebook Marketplace — does come with risks. You can avoid scams by vetting the buyer over the phone, being wary of deals that are too good to be true and finalizing the sale in a safe zone, like at a police department or a crowded shopping center.
Online marketplaces are a relatively new way to sell cars. Generally, you'll get an instant quote after submitting your car's information online. If you accept, the company will pick up your car — and then turn around and sell it. Sites that buy cars include Algo, CarGurus, Carvana, Peddle and Vroom.
There's usually no room for negotiating price with online marketplaces, but the efficient process with minimal back-and-forth can be attractive.
Get more smart money moves – straight to your inbox
Sign up and we'll send you Nerdy articles about the money topics that matter most to you along with other ways to help you get more from your money.