Should I Co-Own a Car With My Partner?
Purchasing a car with a partner or spouse can help save you money, but there are risks to consider.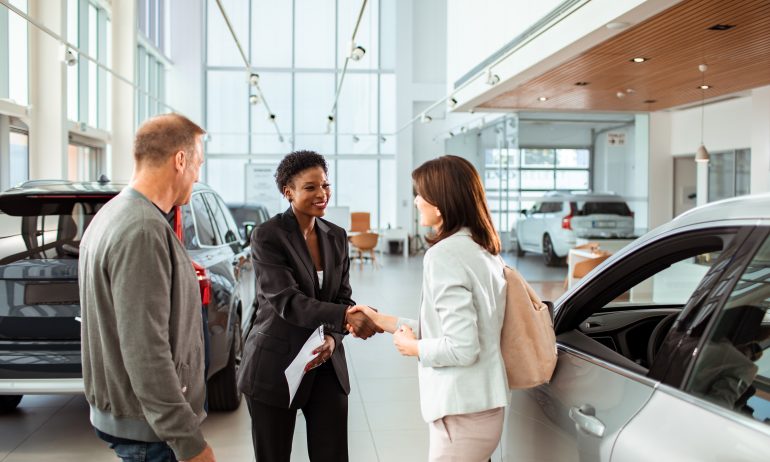 Many or all of the products featured here are from our partners who compensate us. This influences which products we write about and where and how the product appears on a page. However, this does not influence our evaluations. Our opinions are our own. Here is a list of our partners and here's how we make money.
Buying a car with someone, or co-owning a car, may make sense for several reasons. It can be a convenient option for you and your partner, lessen the financial burden of a down payment and increase your chance of loan approval. Despite these potential benefits, knowing what to expect can help you avoid the potential risks of owning a car with someone.
What to know about co-owning a car
When purchasing a car with someone, you can decide to split the down payment however you like. However, some dealers or sellers only allow a down payment to be processed as a single transaction, so you may have to divide funds and send it to one buyer beforehand.
Buyers should aim to put down 20% of the purchase price for a new car and 10% for a used one. So splitting a car's down payment with someone can help you put down more and lessen the financial burden of making the initial upfront payment.
Co-signing vs. joint car loans
When it comes to financing a car with someone, you have two options: You can co-sign or take out a joint auto loan.
Auto loans from our partners

When someone co-signs a car loan, it means they are agreeing to make the loan payments if the primary borrower doesn't. Co-signers typically have higher credit scores than primary borrowers and therefore can help them qualify for a loan and/or a lower interest rate that they might not be able to qualify for on their own. A co-signer doesn't have their name on the car's title and has no legal rights to the financed car — even if it's paid off.
When taking out a joint loan or co-borrowing, two borrowers share equal responsibility for loan payments and both have ownership rights to the financed car.
Should I buy a car with someone?
Although there are cases in which a joint loan or co-signing for a car loan might seem convenient, there are risks that come with this financial relationship — including debt liability and possible damage to one's credit and relationship.
A co-signer or co-owner can improve the chances of qualifying for a loan or getting a lower rate. But note that in both cases, both individuals will be financially responsible for the loan. For both co-signers and co-owners, this means the loan is reported to credit bureaus as theirs, and as a result, they can face collections and any missed payments can show up on their credit report.
If you have the income and strong credit to support a loan by yourself, it probably doesn't make sense to add another borrower to a loan or title.
Additionally, removing someone from a car loan or refinancing can be difficult, especially if you don't have the income to repay alone.
How to remove someone from a car loan
If you want to part ways with your co-owner or co-signer — due to a deteriorated relationship, divorce or death, for example — you have the following options:
Refinance: You can refinance the loan to remove a co-signer or co-owner from your loan. This entails taking out a new loan in one person's name to pay off and replace your current joint or co-signed loan. This means that one borrower is then solely responsible for paying off the loan. Note that while you can potentially get a lower loan rate and longer loan term by refinancing, you'll typically need to show a history of timely payments on your current loan, as well as have good credit. Depending on these factors and your income, you might not qualify for the refinance.
Pay off the loan: Paying off the loan amount plus interest in full will relinquish all borrowers of financial responsibility. Be sure to review your loan agreement before buying the vehicle so you know your lender's terms and conditions for paying off a car loan early.
Co-signer release: If your credit score improves and you no longer need a co-signer, or if your co-signer decides they no longer want to be on your loan, you can opt for a co-signer release. You may have to ask for this option to be added to the loan agreement at the time of signing, and both the lender and the primary borrower have to agree on the release. Lenders might not grant a release if the primary borrower's score remains poor because it poses a risk of default. Plus, some loan terms — like the interest rate — will most likely change for the primary borrower when the co-signer is removed.
Sell or trade in the car: You can choose to sell or trade in the car, which will close the loan and release the title. If both borrowers are on the title (in the case of a joint loan), both owners will be required to sign off if the car is sold or traded in, depending on the state. Note that this is the only option if you want to remove a co-borrower from the loan and car title.
Frequently asked questions
Is a co-signer on the title of the vehicle?
Get more smart money moves – straight to your inbox
Sign up and we'll send you Nerdy articles about the money topics that matter most to you along with other ways to help you get more from your money.