Payday vs. Installment Loans: Compare Costs and Risks
Payday and unsecured installment loans have different repayment structures, costs and underwriting methods.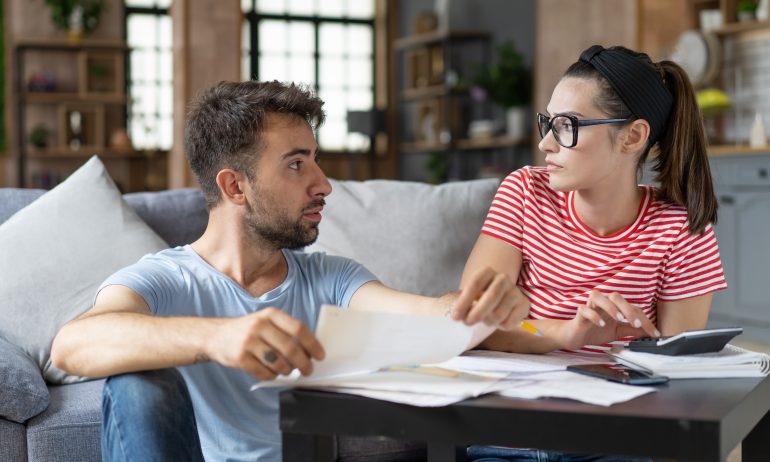 Many or all of the products featured here are from our partners who compensate us. This influences which products we write about and where and how the product appears on a page. However, this does not influence our evaluations. Our opinions are our own. Here is a list of our partners and here's how we make money.
Payday loans are smaller and have shorter repayment terms than installment loans. They're also more expensive, don't require a credit check and don't impact your credit scores.
Perhaps the biggest difference between payday and installment loans is how you repay them. Payday loans are repaid all at once, usually on your next payday, while installment loan repayments are due in smaller amounts over longer periods.
Payday loans vs. installment loans
Payday loans are small, short-term loans that you repay within two to four weeks after borrowing. Payday lenders typically don't check your credit or review information about your ability to repay the loan before lending.
Payday loans are fast and easy to get, but they also have fees — from $10 to $30 for every $100 borrowed — that equate to high annual percentage rates. Their high costs and short repayment terms make payday loans difficult to repay and put borrowers at risk of falling into a borrow-to-repay cycle.
Installment loans are usually larger than payday loans, with some unsecured personal loan amounts as high as $100,000. They're repaid over months or years rather than weeks.
Most personal installment lenders check your credit and review your ability to repay before providing a loan. Installment loans with APRs below 36% from reputable lenders come with less risk than payday loans, but you usually need consistent income and at least fair credit (a score of 630 or higher) to qualify.
Summary of payday vs. installment loans
| | |
| --- | --- |
| Lender does not review credit or ability to repay before approval. | Lender does a hard credit pull and reviews income and existing debts before approval. |
| APRs can reach 400% or higher. | Reputable lenders keep APRs below 36%. |
| Repaid on your next payday. | Repaid in smaller amounts over months or years. |
| Loans are typically a few hundred dollars to $1,000. | Loan amounts up to $100,000. |
| Payments are not reported to the three major credit bureaus. | Payments are typically reported to at least one major credit bureau. |
How do payday loans work?
Payday loans are available online and from storefront lenders in states that allow them. Once approved, borrowers usually get the funds the same or next day.
When you get a payday loan, you sign a contract that outlines the loan's APR and repayment terms. On the due date, the lender will withdraw payment from the account where your income is deposited, or you'll repay the loan in person.
An active bank, credit union or prepaid card account.
Key facts about payday loans
They can be difficult to repay. Payday loan amounts may be a substantial portion of a borrower's income, according to The Pew Charitable Trusts, and their high fees and short repayment terms can make it difficult for borrowers to repay the loan and cover everyday expenses. This is how the payday loan debt cycle begins.

They're popular, fast and easy to get. Millions of Americans use payday loans each year, according to Pew. That's because they're a fast cash source, and most borrowers are approved regardless of credit history or income.

Payday loan fees are high in order to cover lenders' risk. Payday lenders don't assess your ability to repay a loan and instead charge high fees to make up for the risk that you default. 

Lenders don't report to credit bureaus; they do report to collections. Payday lenders don't report payments to the three major credit bureaus, so repaying a payday loan on time won't improve your chances of qualifying for a lower-rate loan later. However, unpaid payday loans are reported to collections, which can hurt your credit.
How do installment loans work?
Personal installment loans can come from banks, credit unions or online lenders. Many personal loan lenders let you pre-qualify online with a soft credit check. This process lets you check your potential loan amount, rate and repayment term without affecting your credit score.
You can pre-qualify with multiple lenders to gauge your likelihood of approval before applying. Once you apply, the lender will do a hard credit check.
Approval can be instant or take a couple of days. Once approved, you'll sign a contract that details the APR and repayment terms. It typically takes a day or two for the lender to send loan funds after approval.
Repayment typically starts 30 days after you sign a loan agreement. Most installment lenders put borrowers on a monthly repayment schedule.
Installment loan requirements
A credit score above 550 (a higher score improves your chances of qualifying).

A debt-to-income ratio below 50% and enough income to make your monthly debt payments and repay the new loan.

Typically must be a U.S. resident and at least 18 years old.
Key facts about installment loans
They can have long repayment terms. Most personal installment loans have repayment terms from two to seven years. Longer terms typically mean lower monthly payments but higher total interest costs.

Good credit and strong income is often required. The majority of installment lenders like to see good credit (scores above 689), stable income and a long credit history showing on-time loan and credit card payments. Some lenders provide personal loans for bad credit, but those borrowers should expect an APR on the high end of a lender's range.

Most lenders report to the credit bureaus. On-time installment loan payments typically help you build credit, meaning you could qualify for a lower rate on your next loan or credit card. However, late and missed installment loan payments could drop your credit score significantly.
High-cost installment loans
High-interest installment loans are a mix between payday loans and traditional personal loans. They're typically offered by online lenders in amounts roughly between $1,000 and $10,000. Repayment terms are between nine months and five years, and triple-digit APRs are common.
Some high-cost installment lenders do a hard credit check before approval, while others do a soft check or no credit check.
High-cost installment loans can have biweekly or monthly payments. If the borrower is unable to pay, the lender may offer to refinance the loan to a longer term. Refinancing can make the loan's total interest costs higher than the amount originally borrowed.
Most consumer advocates say a 36% APR is the maximum rate a loan can have to be considered affordable. NerdWallet recommends high-interest loans only as a last resort in a true emergency because getting one can damage your finances in the long term.
Financial assistance without borrowing
Before applying for a loan, consider borrowing alternatives that may help free up cash or get you through a difficult time.
For help with rent, bills and utilities: Contact your landlord, utility company, credit card issuer or mortgage lender to request a payment deferral or set up a payment plan. This may require a phone call or online application. You can also reach out to a housing counselor for advice about defaults, forbearances, foreclosures and credit issues.
For help with medical bills: Compare options to pay off your medical bills, including setting up a payment plan, requesting a hardship plan and negotiating with the provider's office.
Comparing options? See if you pre-qualify for a personal loan - without affecting your credit score
Just answer a few questions to get personalized rate estimates from multiple lenders.
Get more smart money moves – straight to your inbox
Sign up and we'll send you Nerdy articles about the money topics that matter most to you along with other ways to help you get more from your money.