How to Know If a College Is For You: Making an Affordable Choice
Compare colleges' net prices and factor in your out-of-pocket costs.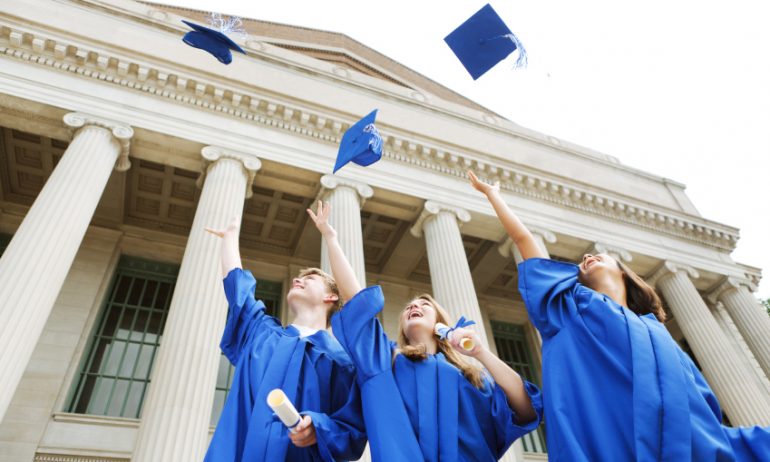 Many or all of the products featured here are from our partners who compensate us. This influences which products we write about and where and how the product appears on a page. However, this does not influence our evaluations. Our opinions are our own. Here is a list of our partners and here's how we make money.
Cost may be the factor that tips the scales toward one school over another when you decide where to apply to college.
Follow this three-step process to help you find schools you can afford:
Get an accurate picture of school costs.

Nail down extra expenses.

Determine how much debt you can handle.
Student loans from our partners

Get an accurate picture of school costs
If you're concerned with affordability, have at least one public college on your list. They're generally cheaper than private options. Here's how average college tuition and fees and room and board stack up using the College Board's most recent data for students who attended college in 2021-22.
| | | | |
| --- | --- | --- | --- |
| | | | |
| Public four-year (in-state) | | | |
| | | | |
Public colleges will cost more if you're applying as an out-of-state resident.
But a school's "sticker price" isn't the most accurate depiction of its cost. Instead, look for a school's net price calculator on its website. That's the best way to compare costs because it shows you how much you'll pay after factoring in the grant aid you're likely to receive to attend the school.
Once you've narrowed down schools by cost, assess the track record of the colleges you're considering when it comes to financial factors. Use the College Scorecard to compare graduation rates, post-graduation salaries and more.
Your lifestyle needs will also play a role in whether a college is affordable. Ask yourself:
Is there mass transit available nearby, or a campus shuttle?

Will you live off campus?

If you need part-time work, are there jobs available?

Will you travel home frequently?

Do you plan to study abroad?
Also consider what internships are available to students. Getting an internship will improve your job options and future income.
What you plan to study will also affect your ability to repay debt. How much you'll earn years from now is anybody's guess. But sites such as Payscale and Glassdoor can help you research entry-level incomes in various fields and locations to estimate your earning potential.
By factoring in all the potential expense variables, you'll have a fuller picture of how much you'll pay to attend each college. To make the choice that's right for you, weigh costs against academic quality and programs, campus lifestyle and overall fit.
Determine how much debt you can handle
Whether a college is affordable will ultimately depend on how much financial aid you qualify for and how much you're expected to pay out-of-pocket using loans, private scholarships, savings, income and other sources.
You won't know exactly how much financial aid you'll receive until you apply. Full-time undergraduate students for 2020-2021 received an average of $14,800 in aid, according to the College Board's Trends in College Pricing and Student Aid report.
Include each school you're considering on your Free Application for Federal Student Aid, or FAFSA. You can include up to 10 schools on your application and submit your results to other schools after you receive your Student Aid Report.
Your report will show all the federal aid you qualify for and your expected family contribution — the bottom line on what you'll have to come up with. It includes federal grants, scholarships, work study and student loans.
The schools on your list may also want you to submit the CSS Profile, which some colleges use to determine state and institutional financial aid. Check this list to whether any schools you're interested in require the CSS Profile.
After applying, you'll soon find out where you've been accepted and how much money you can expect. Compare each school's award letter to see what costs you'll be expected to cover after any free aid, like grants and scholarships.
Consider how much you'll need to borrow
You may need to cover some or all of the remaining expenses with a loan. Most students do. Two-thirds of the class of 2017 graduated from public and private colleges with student loan debt, according to the Institute for College Access and Success.
To figure out how much you might need, the math is pretty simple. Say a college you're considering costs $45,000 per year. If you receive $15,000 in grants and scholarships to attend your first year of college, you'll have $30,000 to pay that year. If you max out your first-year federal direct loan at $5,500, the remaining $24,500 must come from private loans if you can't cover any of it from savings and income.
By contrast, let's say a public in-state college you're considering costs $20,000 a year. And let's say you're offered $5,000 in grants and scholarship aid in your first year of college, leaving you to pay $15,000 for that year. After maxing out your federal loans ($5,500), you'd need to borrow $9,500 in private loans or pay out-of-pocket.
Always max out federal undergraduate student loans before applying for private loans. Federal loans may be subsidized, which means they don't accrue interest while you're in school, and they carry fixed interest rates that are usually lower than those on private loans. Federal loans also offer loan forgiveness and income-driven repayment, unlike most private loans.
Student loans from our partners