5 Steps to Get a Letter of Recommendation for Grad School
Getting a great letter of recommendation for grad school can depend on whom you ask, when and how.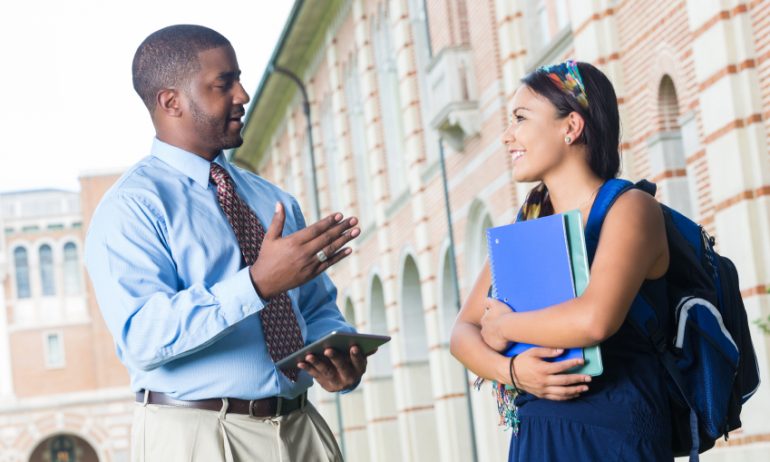 Many or all of the products featured here are from our partners who compensate us. This may influence which products we write about and where and how the product appears on a page. However, this does not influence our evaluations. Our opinions are our own. Here is a list of our partners and here's how we make money.
Dive deeper into attending grad school
When you ask a professor for a letter of recommendation for graduate school, you hope he or she can tell great stories about you. What you don't want is to be known as "the student who asked for a reference two days before the deadline" or "the student I barely know."
Getting a great reference to grad school doesn't have to be complicated, but it does depend on whom you ask, when and how. Here's how to get a letter of recommendation for grad school which could help make your application stand out.
1. Decide whom to ask for a recommendation
Choose someone who can talk about your academic performance, who you are as a person and your career aspirations. Avoid anyone who you think might give you a negative reference. If you're not sure, it's OK to ask a possible recommender if they can give a positive reference.
As bad as a negative reference can be, a lukewarm one can be just as poorly received. Ideally you want a letter from someone you've worked with in a classroom setting, through volunteer work, on a research project or in any other one-on-one situations.
Even if you did well in a large enrollment or lecture class, if you didn't interact with a professor individually, he or she is not the right person to ask, says Todd Timberlake, chairman of the physics, astronomy and geology department at Berry College in Mt. Berry, Georgia.
"You may get a positive letter, but I won't be able to say much beyond, 'This student took my class and they did very well,'" he adds. "It's not going to carry the same weight as a letter that can talk much more in detail about personal interactions."
2. Pick the right time to ask
The timing of your request will likely depend on when you plan to submit your application. Experts are split on when to do it. At least two weeks to one month is preferred, but you may even begin conversations about a recommendation as soon as you're thinking of applying. Whatever you do, don't wait too long.
"I think professors can be very busy, and a lot of times their deadlines for other things can come up and the recommendations may have to be postponed," says Timberlake, adding he prefers at least a month's notice. Popular professors may also get many requests from other students. If those other requests are made before yours or they all come in at once, your letter may hit the back burner.
Remember that anyone who writes a letter for you is doing you a favor, says Adam Ruben, a molecular biologist, comedian, teacher and author of "Surviving Your Stupid, Stupid Decision to Go to Grad School." He adds, "You should not put them in a weird situation of having to do something with very little time."
"I had a student once who gave me a recommendation letter to write at 3:30 p.m. after class ended and she said it was due at 5 p.m," says Ruben, adding that he agreed to do it, but had to rush. "She was a good student and a nice person so I did it, but it was not as good a letter as it would have been if I had more time to work on it," he said.
3. How to request a letter of recommendation
Whether you should ask in person or by email depends on what you know about the potential recommender. Asking in person is more personal and gives you all the advantages of a face-to-face meeting, including the benefit of speaking about your letter right away.
"I think asking in person is more powerful. When somebody comes to my office and talks to me about the program they're applying for and why they want to do it, it's more powerful than just shooting me an email," says Mohammad Khasawneh, professor in the department of systems science and industrial engineering at Binghamton University in Binghamton, New York.
If you ask by email, however, it gives a potential reference the opportunity to think and respond to your request without having to make a decision on the spot. "I think email much easier for me to deal with that because if I'm busy I can wait and respond to it later in the day or the next day, but it can also give me a chance to think about, 'is this a student for whom I can write a good letter?'" says Timberlake. "If I'm going to write a letter, I want to write a supportive one."
4. Provide the right information
Your recommendation is only as good as the information you give your reference. You want someone who can write about you as a student and will have anecdotes ready to illustrate your character.
In your initial or a follow-up email include:
The university you're applying to

The degree you're pursuing

Why you want to attend graduate school and your career aspirations

A reminder of the courses you took with a professor and any other relevant interactions
5. Follow up with your recommender
Once you find out where you have been accepted, it's common courtesy to follow up with anyone who gave you a recommendation letter to let them know.
"Most of the letters I've written for people I have no idea what happened to them," Ruben says. "I'd like to hear they've done well and that my letter did some small part of getting them in somewhere."
Spot your saving opportunities
See your spending breakdown to show your top spending trends and where you can cut back.