How to Get Student Loan Relief During COVID-19 and Beyond
The feds, states and even private lenders are offering relief for student loan borrowers.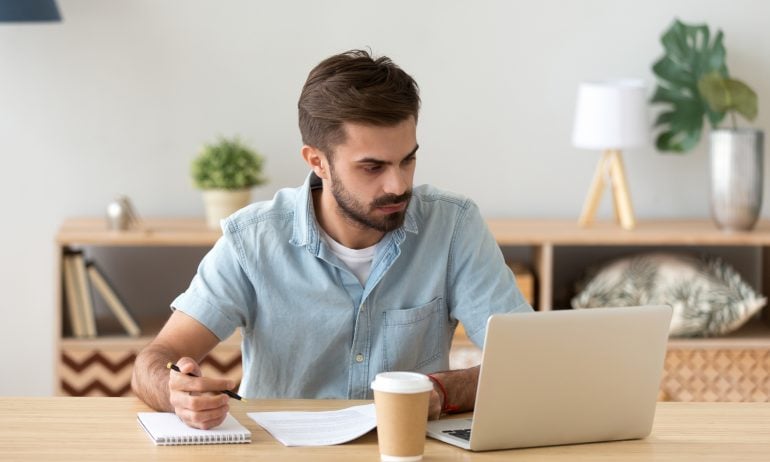 Many or all of the products featured here are from our partners who compensate us. This may influence which products we write about and where and how the product appears on a page. However, this does not influence our evaluations. Our opinions are our own. Here is a list of our partners and here's how we make money.
Lost wages due to the coronavirus and the disease it causes, , may affect your ability to manage and repay student loans. The federal government, private lenders and others are offering student loan relief to help you manage the economic fallout.
Here are the current options you have for student loan relief. As new programs are introduced, this page will be updated with additional information.
The federal government is offering options for borrowers who need help with their student loans. The following measures last through January 2022.
Here's more information about these programs, as well as existing repayment options student loan borrowers can take advantage of for payment relief.
Borrowers with federally held student loans automatically receive a forbearance through January 2022. No payments will be due during this break. Additionally, no interest will accrue, which is typically not the case with forbearance.
All auto-debit payments will be automatically suspended.
This forbearance is automatic, but you can still make payments of any amount over the next six months if you want to reduce your balance. About 500,000 borrowers (or 1.16% of all 42.9 million federal borrowers) continued making payments during the pause, according to the most recent federal data.
Or use the pause to prioritize other money moves, such as starting an emergency fund or paying down high-interest debt, since your student loan balance won't increase during this break.
Due to the forbearance, your repayment term may be extended so your final payment date will be eighteen months later than you originally thought.
Here are other scenarios the forbearance might affect:
If you're entering repayment for the first time, there may be some overlap with your grace period. That means if you were supposed to start making payments during the forbearance period, your first payment won't be due until February 2022. Usually interest on unsubsidized direct loans continues to build during the grace period, but if your grace period overlaps with the administrative forbearance, interest will not accrue during those months.
You can use this time to find out who your servicer is, what your first bill will look like and how to apply for income-driven repayment if you can't meet your payment.
This administrative forbearance supersedes all other deferments or forbearances. If your prior forbearance or deferment's original end date was after Jan. 31, 2022, it will be reinstated beginning Feb. 1, 2022.
If you have federal student loans and leave school for any reason, you typically have six months before you must start repaying the debt. For example, if you last attended school in the spring and plan to take the fall semester off, your payments would normally come due in the fall. But the extended forbearance delays your first payment until February.
Whenever you start back up again at college (attending at least half-time) you can defer payments until you finish school or leave again. But since you already used up your grace period, when  you graduate or leave again your loans would be due right away.
The interest rate on most federal student loans is set to 0% through Jan. 31, 2022. During this time, no new interest will accrue on federally held student loans.
If you repay loans during this period, your entire payment will go toward your principal balance, provided you have no other outstanding interest or fees on the loans. This will save you money overall, though your actual payment amount won't change.
The federal government has ceased all collection activities on federal student loans through January 2022. These activities include wage and Social Security garnishment, tax refund seizure and collection calls and letters.
This policy is retroactive to March 13, 2020, meaning you'll receive a refund for any forced student loan payments since that date. But if your 2019 refund was seized before March 13, 2020 it is not required to be returned.
Federal loans with delinquent payments will return to "good standing" status when payments start again in February 2022. However, default loans will still be in default when payments restart, unless you take action.
If you're currently , any nine months of the forbearance from March 13, 2020 through Jan. 31, 2022 will count toward the nine you need to complete this process.
won't be taken due to defaulted student loans.
As of March 30, 2021, collection activities and interest is halted for commercially owned FFEL debt in default — approximately 1.14 million borrowers, according to the education department. The relief is retroactive to March 13, 2020 so borrowers whose tax refunds were seized or wages garnished since then will receive those funds back and their loans will return to good standing.
Borrowers who receive loan forgiveness through usually are required to submit annual earnings documentation for the following three years. Loans can be reinstated If their earnings exceed state poverty guidelines for a family of two during that time, or, more commonly, if borrowers fail to provide earnings documentation at all.
On March 29, 2021, due to the COVID-19 emergency, the education department suspended its requirement to submit annual earnings documentation retroactive to March 13, 2020. The change is intended to prevent borrowers whose loans were discharged due to Total and Permanent Disability from having their loans reinstated during the pandemic.
Federal student loan borrowers can choose from a number of different repayment options. If you'll be unable to afford your student loan payments in the long term, enrolling in an is typically your best option.
These plans base your monthly bills on your current income and family size. Payments can be as little as $0.
If you already use an income-driven plan and your financial situation has changed, you can request a new payment amount. If you were supposed to before Jan. 31, 2022, you'll now have an additional time to do so. IDR recertification dates have been extended until repayment restarts. Borrowers will be notified when it is time to recertify.
You should still use the time during the government's payment suspension to complete your enrollment paperwork or provide updated financial information. That way, your new payment will hopefully be in place once your forbearance ends.
Be extra wary of any company that reaches out with an offer to forgive your loans; it's likely a .
Existing student loan forgiveness programs such as Public Service Loan Forgiveness, or PSLF, are still available.
Government and nonprofit employees pursuing PSLF do not need to keep making payments during the automatic forbearance. Those months will still count toward the 120 payments needed to qualify for PSLF — provided you meet the program's other eligibility requirements. For example, if you don't work full-time for an eligible employer during those months, your waived payments won't count toward forgiveness.
If you remain steadily employed in a qualifying job, don't make your payments until February 2022. Your money has better uses until then, even if it's just building emergency funds.
For borrowers already enrolled in an income-driven repayment plan, all suspended payments through the end of the year will count toward IDR forgiveness.
You do not need to contact your to receive the payment postponement or interest waiver. But if you wish to continue making payments during the waiver period, contact your servicer for instructions.
Private lenders typically offer opportunities to pause payments for up to 12 months or longer with forbearance or deferment policies. These policies vary from lender to lender and, unlike current federal loan forbearance, interest will continue to accrue.
But some lenders are offering additional relief options, including short-term emergency forbearance or deferment. Others are waiving or refunding fees for late payments.
Many lenders are continuing relief plans into 2021.
When in doubt, contact your lender to find out what options are available.
Student loan refinancing rates are currently low due to the economic climate. If you already have private student loans, strong credit and steady income, see if you can save money — monthly or overall — by qualifying for a lower interest rate.
If you have federal student loans, don't refinance while payments aren't due. By refinancing, you'd lose existing federal loan benefits, such as access to interest-free forbearance and income-driven plans — as well as any new relief programs the government offers in response to the pandemic.
If colleges offering in-person classes close due to COVID-19, schools will take similar action as they did during 2020:
If your college moves to online learning this fall during the semester, call the school's financial aid office to inquire about its refund policy. If you have no other suitable housing options, contact your college's housing office to inquire about options for staying on campus.
The original stimulus bill amended the tax code so you won't pay taxes on  The second relief package extended this measure through the end of 2025. Previously, this money was treated as taxable income.
This change won't offer relief from your student loans, as employer contributions are on top of what you pay. But it may incentivize more companies to offer this benefit — they now get a tax break, too — or to increase their payments.
These programs often top out around $1,200 annually. But this tax benefit covers amounts up to $5,250. That total is for all education assistance an employer provides, including tuition reimbursement programs.
The survey was conducted online within the United States by The Harris Poll on behalf of NerdWallet from May 5-7, 2020, among 289 U.S. adults ages 18 and older who have private student loans. This online survey is not based on a probability sample and therefore no estimate of theoretical sampling error can be calculated. For complete survey methodology, including weighting variables and subgroup sample sizes, please contact Chloe Wallach at ."