Training for the Future: The Most In-Demand Jobs
This list has jobs that are expected to pay well and grow substantially in this decade, according to federal data.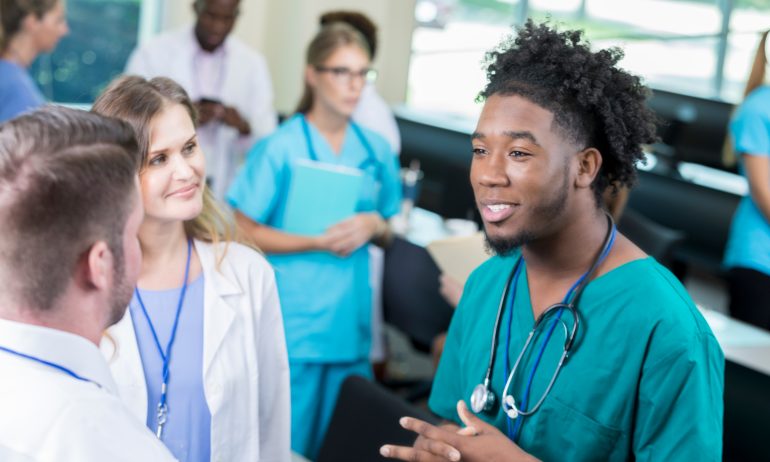 Many or all of the products featured here are from our partners who compensate us. This influences which products we write about and where and how the product appears on a page. However, this does not influence our evaluations. Our opinions are our own. Here is a list of our partners and here's how we make money.
Whether you're planning for college or thinking about retraining, consider setting your sights on jobs that will be most in demand in the future. Not the sci-fi "hotel concierge on Mars" future, but the next-decade future.
The best jobs for the future are ones that are expected to grow and pay well between now and 2030. The most in-demand jobs on this list come from data by the U.S. Bureau of Labor Statistics' Occupational Outlook Handbook — a guide that includes information on work, training and education, earnings and future job prospects for hundreds of different occupations.
This list includes jobs with an annual projected growth rate that's much faster than average and a high projected number of new positions (50,000 or more).
We included jobs with median pay that starts at $34,000 a year — ones that provide, at minimum, a subsistence wage for an individual. The availability of training programs and employment — as well as wages — will largely depend on where you live, along with your education level and other demographic factors.
Here's what jobs will be in demand in the future:
In-demand jobs that pay $80,000 or more
Postsecondary health specialties teachers
Medical and health services managers
Software developers and software quality assurance analysts and testers
In-demand jobs that pay $60,000 to $79,999
Market research analysts and marketing specialists
In-demand jobs that pay $40,000 to $59,999
Exercise trainers and group fitness instructors
Tutors and teachers and instructors
Substance abuse, behavioral disorder and mental health counselors
Industrial machinery mechanics
In-demand jobs that pay $34,000 to $39,999
Passenger vehicle drivers, except transit and intercity bus drivers
Social and human service assistants
How to pay for education and training for future jobs
For all jobs that require more than a high school diploma to enter, you'll likely need some level of postsecondary education. The type of education you'll need will depend entirely on the field you plan to enter and may range anywhere from a certificate to a Ph.D. These programs vary in cost.
Short-term certificate programs: Short-term programs at bootcamps, trade schools and community colleges are rarely eligible for federal financial aid. Due to the length of time it takes to complete a program, they can be less expensive than traditional college programs, but they may be more costly than certificate or associate degree programs at community colleges. You'll usually pay out of pocket to cover costs and aren't eligible for need-based aid programs like the federal Pell Grant.

Trade school certificate programs: Certificate programs at trade schools are eligible for federal student aid only if the school is eligible for what is known as Title IV funding. The Department of Education's College Scorecard has a section on training programs that includes schools that accept Pell Grants.
Two-year certificate and associate degree programs at community colleges: Certificate and degree programs at community colleges are typically covered by federal financial aid. You'll need to submit the Free Application for Federal Student Aid, or FAFSA, to qualify.

Four-year bachelor's degrees: The cost of attendance at any four-year institution will depend largely on whether it's a public or a private college or university. Compare college costs and other financial aid data using the College Scorecard. Most students (62%, according to The Institute of College Access and Success) require student loans to complete a college degree. Submit the FAFSA to find out if you're eligible for free aid, like the Pell Grant, and access federal student loans. Consider federal loans before turning to private student loans; federal loans offer more options for repayment and opportunities for forgiveness.

Master's, professional and Ph.D. programs: These programs, available at colleges and universities, are typically the most expensive. However, some programs offer free tuition and/or housing in exchange for teaching classes. If you need loans, you may be eligible for unsubsidized federal student loans, which are subject to limits. You are also eligible for federal direct graduate PLUS loans, which have no limits beyond the cost of attendance minus other aid; however, this leads some students to take on more debt than they can handle. Private student loans for graduate work are also an option and have similar parameters to graduate PLUS loans.
Spot your saving opportunities
See your spending breakdown to show your top spending trends and where you can cut back.