What Credit Score Do You Need to Buy a House?
Most borrowers have scores in the high 600s to 700s. Lenders set their own minimum requirements by loan type.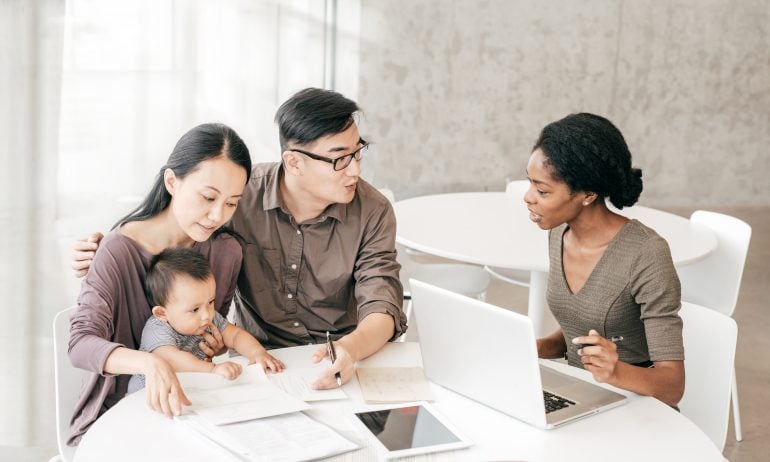 Some or all of the mortgage lenders featured on our site are advertising partners of NerdWallet, but this does not influence our evaluations, lender star ratings or the order in which lenders are listed on the page. Our opinions are our own. Here is a list of our partners.
Often, a mortgage is the biggest loan you'll take out in your lifetime, so it makes sense that lenders require a minimum credit score for mortgages. A good score suggests to lenders that you can make your payments on time.
If you have below average credit, you still have options when it comes to a mortgage. But if you have a higher credit score, you'll generally qualify for more loan options and lower interest rates.
Credit score requirements differ by lender and loan type. For example, conventional loans typically require a higher credit score than government-backed loans insured by the Federal Housing Administration.
Whether your credit is flawless or average, here's what to expect when you apply for a mortgage.
What credit score is needed to buy a house?
For most loan types, the credit score needed to buy a house is at least 620. However, a higher score significantly improves your chances of approval. Borrowers with scores under 650 tend to make up just a small fraction of closed purchase loans.
Applicants with scores of 740 or higher generally get the lowest interest rates. Mortgage lenders use a FICO score to determine your creditworthiness.
If your credit score is on the low side, it may make sense to work on building it up before buying. Due to current economic uncertainty, many lenders have raised minimum credit score requirements on loans — even those that allowed for lower scores in the past.
Mortgage credit score minimums by loan type
Though you may be able to get a conventional loan with a credit score as low as 620, these mortgages often require higher scores. And again, a higher credit score can help you get a lower interest rate. Borrowers with higher scores also earn a break in the cost of private mortgage insurance, or PMI, which is required if you make a down payment of less than 20% on a conventional loan.
With a 10% down payment, a 620 borrower will pay 1.1% in PMI, according to Joe Parsons, a branch manager and senior loan officer at Pinnacle Home Loans in Dublin, California. A 760 FICO borrower would pay just 0.30%, he says.
If you have a credit score in the 500s, your best chance for a home loan will be one insured by the Federal Housing Administration. That said, lenders can impose their own credit minimums for FHA loans, and borrowers who just meet these minimums will likely have a harder time getting approved.
FHA loans allow down payments as low as 3.5%. However, to qualify for a low-down-payment FHA loan, you'll need a FICO score of 580 or better. With a credit rating of 500 to 579, you'll be required to make a 10% down payment.
If a borrower has a credit score below 600, a lender would likely lend to them only if other aspects of their financial situation were secure.
"Someone with a 500 credit score is likely to have some combination of collection accounts, liens and judgments," Parsons says. "Even though FHA will insure a loan with a 500 score, the lender will require that collections, judgments and most liens be paid off before closing."
Mortgage loans from our partners