Best Cash Registers for Small Businesses
An electronic cash register or POS system can ring up customers. The best choice depends on your business.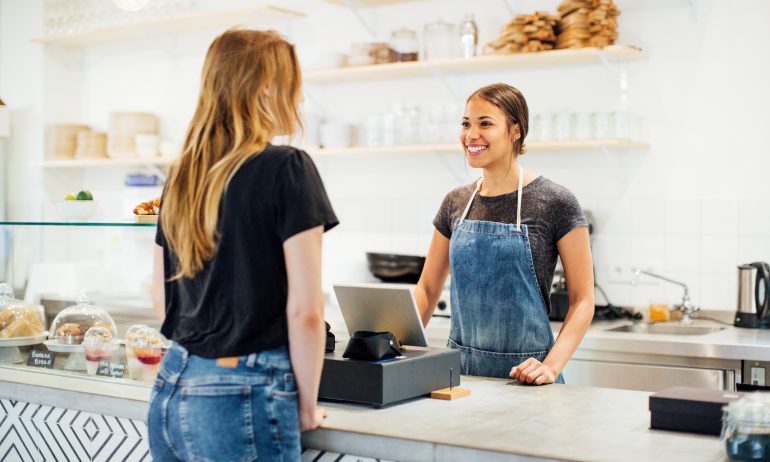 Many or all of the products featured here are from our partners who compensate us. This may influence which products we write about and where and how the product appears on a page. However, this does not influence our evaluations. Our opinions are our own. Here is a list of our partners and here's how we make money.
The best cash registers are simple to set up, are reasonably priced and offer the features your business needs to get the job done. After all, an unnecessarily complicated system can turn checkout into a headache for you and your customers.
Standard electronic cash registers often work best for brick-and-mortar businesses that need to take payments only. But if you want additional business management capabilities, consider a point-of-sale, or POS, system with register functionality. Here are some of the best cash registers for small businesses.
Find the right payment provider to meet your unique business needs.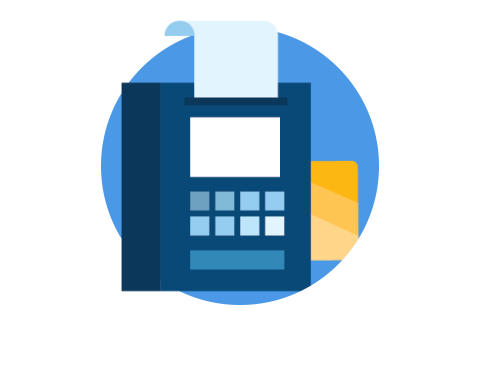 For this list, we looked at two types of cash registers:
Simple electronic cash registers (that ring up sales but do little else).

POS-based cash registers. These devices function as accessories or components of a larger, more sophisticated POS system.
You can purchase a basic electronic cash register online or at an office supply store for a few hundred bucks, but a POS-based cash register with all the features and accessories can cost thousands of dollars. What you pay depends on what you want; for example, with both types of cash registers, you might want to buy bar-code scanners and separate credit card readers in addition to your base setup.
Best simple electronic cash registers, or ECRs
A traditional cash register may be a good choice if you don't want many features or don't want or aren't comfortable with a tech-forward checkout system. Many are easy to use and have simple, essential features for ringing up sales.
The best options may let you calculate sales tax, tips and discounts; process returns and exchanges; print daily sales totals; connect with external bar-code scanners (purchased separately); and/or track employee use. Here are some ECRs to consider:
Sam4S ER-900 Series: Good overall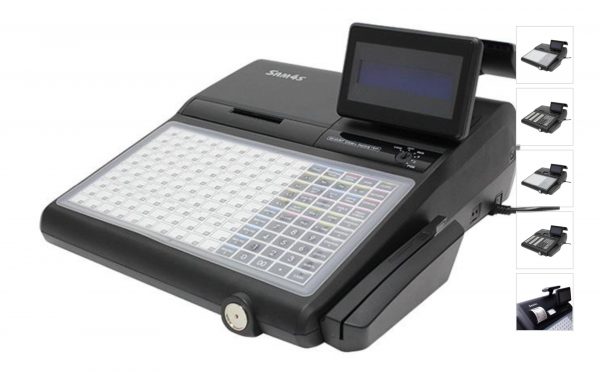 Works with up to 20,000 price look-up codes, or PLUs.

Comes with a magnetic stripe reader.

Different keyboard layouts to suit your needs.
Stores only 90 days' worth of data.

Must back up sales data to an SD card.

Swipe-only card reader. Additional hardware is required to process contactless payments and mobile payments.
Why we like it: The ER-900 series, made by South Korean firm Sam4S, is a reasonably beefy cash register with a large cash drawer and an attached card reader. It can handle sales tax and up to 20,000 PLUs (those five-digit numbers often spotted on produce stickers). You can track up to 99 different clerks. Also, you can add scanners, remote printers, scales, coin dispensers and other peripherals.
Sam4S ER230-EJ: Good for mobile businesses
Payment processing: Price varies depending on which processor you use.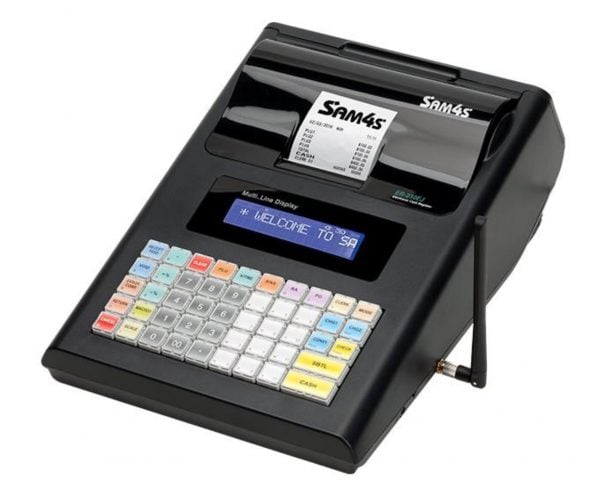 Photos courtesy of Sam4S.
Has a backup power battery.

Programmable, moveable keys allow for customization.
Stores only 90 days' worth of data.

Must purchase separate cash drawer.
Why we like it: If you're running a food truck, selling at fairs or operating some other pop-up-type business, this portable, battery-powered cash register could come in handy. But if you want to take credit cards, debit cards or mobile wallets, you'll need to get additional hardware and use the device's ethernet and UBS ports to devise a workaround, which could be a headache.
Royal POS 1500: Good for restaurants
Payment processing: Price varies depending on which processor you use.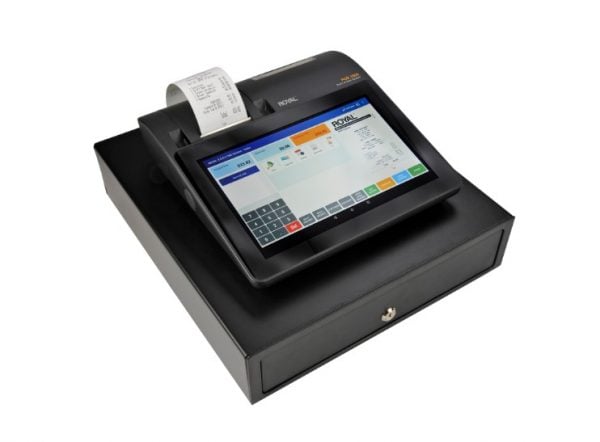 Can split tickets, give discounts, suggest tips and print cooking instructions.

Works with card readers, bar-code scanners, scales and kitchen printers.

Can create some reports; must be exported to Microsoft Excel or PDF.
Tailored to restaurants but could work in retail environments.

The cash drawer costs an extra $129.95.
Why we like it: The Royal POS 1500's touch screen design gives it a streamlined look and allows users to customize their checkout processes more easily. It also works in 17 languages and can be programmed for use by specific staff members. In addition, you can customize how receipts look. But, at 22 pounds, it's hefty.
Best POS-based cash registers
POS-based cash registers may be a better choice for businesses with multiple locations — or that also sell online or on the go. These systems can match all the features of an ECR but also often offer more add-ons and have credit card processing built in. (Payment processing fees apply.) This type of cash register can be a more sophisticated, flexible way to process payments.
Hardware: Register is $799; contactless and chip card reader, compatible with Apple and Android devices, is $49.

Payment processing: Varies by plan. A free retail plan is 2.6% plus 10 cents per in-person transaction, 2.9% plus 30 cents per online transaction, and 3.5% plus 15 cents per keyed transaction.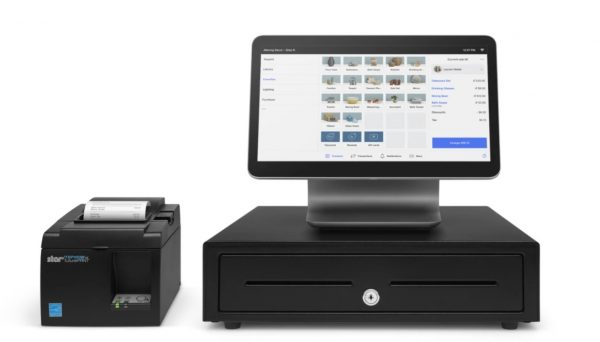 Photo courtesy of Square.
The first magstripe credit card reader is free; a free plan is available.

Offline mode allows you to accept magstripe payments without internet access.

Live support by phone, chat or email.
Loyalty program and email marketing features cost extra.

Can't create and print bar codes in the free version.
Why we like it: Square's point-of-sale system stands out with its transparent pricing, live support and many valuable features. No monthly fees (unless you have add-ons). Because Square works on iPhones, Androids and iPads, you can ring up sales on a brick-and-mortar-store cash register and mobile devices, which might be handy if you do pop-ups at farmers markets, trade shows or music festivals.
Toast: Good for restaurants
Software: $0 per month and up.

Hardware: $600-$1,400 plus add-ons.

Payment processing: Quote only.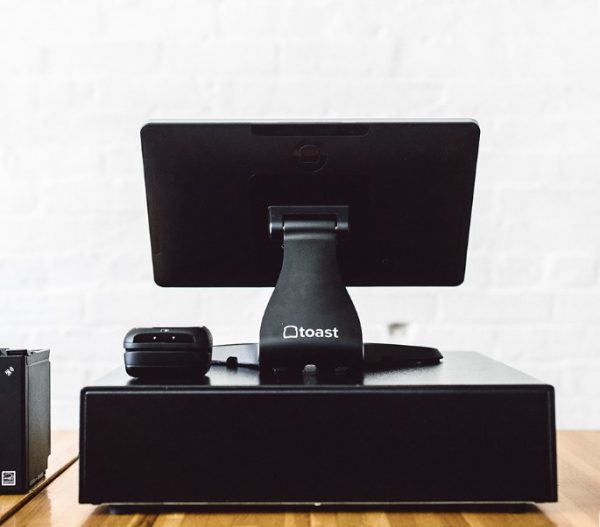 Multi-location management and the ability to publish different menus and set distinct prices at various locations.

A self-ordering kiosk system offers customers contactless order and payment options when paired with Toast Tap.

Live support is available by phone, email or chat.
Some features, like online ordering and the loyalty program, may cost extra based on your package.

Primarily just for restaurants.
Why we like it: Toast's POS system makes it easy to change menus, track tables, split checks, add tips and apply discounts. It also lets you take online orders, manage multiple locations, track employee sales and accept payments at the table.
Clover: Good for hardware quality
Software: Pricing varies, as multiple third parties sell Clover.

Hardware: $99 for a card reader, $599 for a hand-held device, $899 for a mini system and $1,699 for a larger system with a cash drawer.

Payment processing: The same rate applies to all card types; it starts at 2.3% plus 10 cents per in-person transaction and 3.5% plus 10 cents for keyed transactions. If you use an outside processor, different rates apply.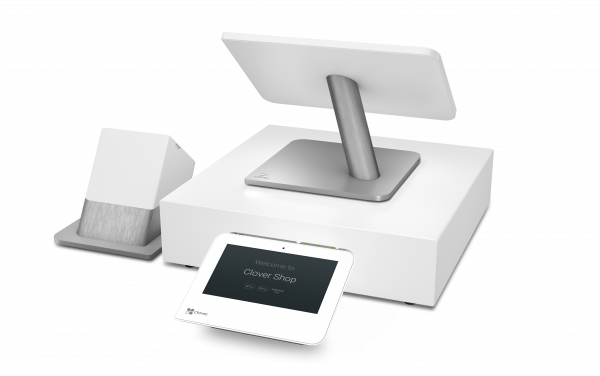 Photo courtesy of Clover.
Accepts payments when the internet is down and processes them when you are reconnected.

Equipment can be returned within 60 days for a full refund.
No free hardware options.

A virtual terminal costs $14.95 per month if you don't purchase a software plan.
Why we like it: Clover's POS system stands out with its durable and versatile hardware, making it easy to accept orders at the counter and on the go. You also can pair the hardware and software with a different merchant account, such as one from Wells Fargo, SunTrust, PNC, BBVA or Citi.