iPad POS System: The 5 Best Options for Small Businesses
There many iPad POS systems vying for your attention. Here are some of the best, with details on what sets them apart.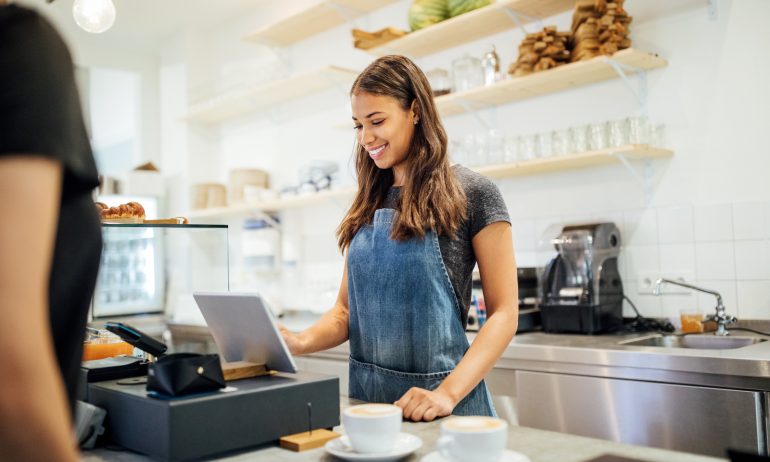 Many or all of the products featured here are from our partners who compensate us. This may influence which products we write about and where and how the product appears on a page. However, this does not influence our evaluations. Our opinions are our own. Here is a list of our partners and here's how we make money.
Since Square released its headphone jack card reader in 2010, iPad POS systems have become the go-to solution for affordable, easy payment processing. Many POS systems for iPads and tablets have flooded the market since 2010, so if you're looking for the right one for your business, you've got plenty of options to choose from. With all of the iPad POS systems on the market now, you might have a hard time figuring out which one would be best for your business.
Find the right payment provider to meet your unique business needs.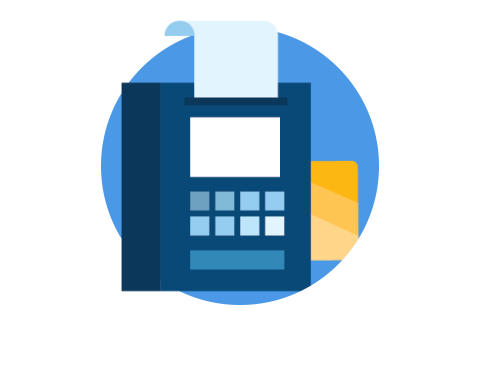 iPad POS systems can only do so much, and it's important to keep this fact top of mind as you search for one. Be sure to weigh your options as you decide which form of POS system your business needs, and know that, though they might be flashy, iPad POS systems are not as powerful or versatile as their self-sufficient counterparts.
Whether it's a more powerful version of a card reader or a full-blown countertop iPad POS system, you've got a lot of options that will deliver you far more than that first Square reader. Here are your top five options so that you can get an idea of which best address what your business needs out of a tablet or iPad POS system.
If you're looking for a countertop POS system powered by an iPad, then the Square Stand is your top option. The Square Stand iPad POS system is actually a bundle of three forms of Square POS hardware:
The Square Stand itself, complete with a magstripe reader and a three-port USB hub.

The Square Reader for contactless and chip payments.

A charging dock for the Square Reader.
All bundled together, this iPad POS system hardware will cost you $199. And if you don't already have an iPad at your disposal, you can order one through Square for an extra $329.
As far as software, you'll operate this iPad POS through the same Square Point of Sale app that you would run on a mobile device. Simply download the free point of sale app to your iPad, create a Square account and plug your iPad into your Square Stand hardware. Now, you've got yourself a fully-functioning iPad POS system.
With Square's POS hardware, you will be able to manage a variety of essential business tasks, including employee, inventory and customer relationship management. You'll also be able to run a variety of reports that can provide you with insight into the performance of your business. If you'd prefer software that is a bit more industry-specific, Square also offers a retail and foodservice version of its POS software, each of which cost $0, $60 or $299 plus per month, depending on the plan you choose.
One more thing to keep in mind: Beyond the cost of the hardware, iPad and software, you'll also have to use Square as your payment processor. This means you'll have to pay Square's processing fee of 2.6% plus ten cents every time you run a transaction in person.
Overall, the Square Stand is a very good option for a variety of different business types, particularly retail establishments and quick-service restaurants. If you're looking for a simplistic system with powerful hardware, Square's got you covered.
Alternatively, if you're looking for more mobility than a countertop iPad POS system can provide your business, then look to the aptly named Clover Go. In the years since Square first hit the scene, Clover POS systems has given it a serious run for its money. One of its most competitive iPad POS system offerings is its card reader, the Clover Go.
The Clover Go is a small, square, bluetooth-enabled card reader that processes magstripe, chip and contactless payments. This iPad POS system hardware will cost your business $69. But once you've purchased it, you'll simply connect your Clover Go to any bluetooth-enabled smart device — be it a phone, iPad or tablet — and you've got yourself a mobile POS system.
To access Clover POS software, though, you'll need to pay a monthly fee. Clover Register Lite will cost you $14 a month, and Clover Register will cost you $29 a month, although your first month of software will be free.
If you choose Clover Register Lite, payment processing fees will be 2.7% of the transaction value, plus ten cents per in-person transaction. In-person payments for Clover Register users will only cost 2.3% of the transaction value, plus ten cents per transaction.
All in all, if you're looking for a tablet POS system — rather than specifically an iPad POS system — then the Clover Go will be your best option that's compatible with non-Apple tablets.
PayPal Here Chip and Tap iPad
If your business relies heavily on PayPal for sending and receiving payments, then the PayPal Here iPad POS system could be the path of least resistance for your business to start accepting in-person payments. Its Chip and Tap credit card reader in particular could deliver a similar payment experience to other top readers, along with the convenience that comes with remaining within your PayPal account.
The PayPal Here Chip and Tap card reader will connect to your iPad or tablet via bluetooth and process magstripe, chip and contactless payments. Together with a charging dock, this card reader will cost $79.99, but it will unlock the lower payment processing fees that PayPal Here boasts. You'll simply have to pay 2.7% of each transaction that you process through your PayPal Here card reader.
This lower payment processing fee will be great for all businesses, but especially ones that tend to process larger transactions. That said, if you're looking for a particularly powerful POS system software for your iPad POS system, then this might not be your best option, as PayPal's POS software is lacking. PayPal Here is best as a supplement to a PayPal account, rather than a fully powered iPad POS system in and of itself.
If you're looking for the most bang for your buck out of your iPad POS system, then consider the QuickBooks GoPayment All-in-One Card Reader. Just like the other mobile iPad POS system options, this one will connect to your iPad or tablet via bluetooth and process magstripe, chip and contactless payments. QuickBooks GoPayment's All-in-One Card Reader, however, will only cost you $50 to purchase.
Plus, the QuickBooks GoPayment app is totally free to download onto any smart device. That said, the different payment processing fee structure for this iPad POS option might not be so ideal for businesses with smaller transactions: You'll have to pay 2.4% of each transaction, plus 25 cents per transaction. This larger 25 cent lump sum, per-transaction fee will be easier for businesses with larger average transaction amounts to handle.
Don't forget one of the main draws of this iPad POS system option, though: All of your payment information will sync directly with your QuickBooks Online account, making bookkeeping a breeze. So, even if you're running smaller transactions, that extra cost might be worth it.
If you're in the restaurant business, you're going to want an iPad POS system that speaks directly to your needs. For you, we recommend the Lavu POS Simple Bundle. The price tag is reasonable — $399. For your money, you get an iPad stand and credit card reader that can accept magstripe, chip card and contactless methods of payment — everything you need when operating a quick-service restaurant.
Once you have your hardware set up, download the Lavu POS app — which is only available on iOS devices. This software will provide you with many of the essential back-office tools needed to run a food service business. With Lavu POS you can route orders and accept payment tableside, designate orders for takeout or delivery, customize menus, manage floor plans, inventory and employees and view reports that provide insight into your restaurant's performance. The cost for using this software is $69 per month if you use it on only one iPad device. Lavu also offers multiple terminal and enterprise plans, but the pricing for these is quote-based and tailored to your restaurant's needs.
If you choose to use Lavu as your payment processor, your payment processing rates will also be quote-based. However, Lavu also integrates with a variety of third-party payment processors, including Square, Worldpay, PayPal and Heartland Payment Systems.
Should you upgrade from an iPad POS system?
Do none of these iPad POS systems sound quite right for your business? Whether you want a bigger, more powerful POS system or you're looking for something as simple as a built-in barcode scanner, it might be time for you to consider upgrading beyond an iPad POS system.
iPad POS systems are great — don't get us wrong; they provide a valuable payments solution for businesses that are looking for a low overhead cost and have an iPad or two on hand. But what happens when you lose service? Or your customer wants a physical receipt rather than a texted or emailed one?
That's when you might consider a POS system that doesn't rely on a smart device to run. Luckily, many of these same names have come up with their own POS systems that are fully functioning, self-sufficient payment machines. For instance, some of our favorite mobile POS systems that don't rely on smart devices are the Clover Flex and the Square Terminal. If you want a more solid countertop POS system that runs on its own, look to the Square Register, which provides even lower payment processing fees and a more powerful POS software.
On the other hand, if you want to stick with your iPad POS system, you can also purchase additional POS hardware from your POS provider. Square, PayPal, Lavu and Clover all have online stores where they sell third-party POS hardware, including receipt printers, barcode scanners and cash drawers. It will cost you extra money, but you can integrate these pieces of POS hardware into your current POS system, providing you more options when it comes to serving your customers.
A version of this article was first published on Fundera, a subsidiary of NerdWallet.