Best Craft Business Ideas
These craft business ideas involve different materials and skillsets, but they also have low overhead costs.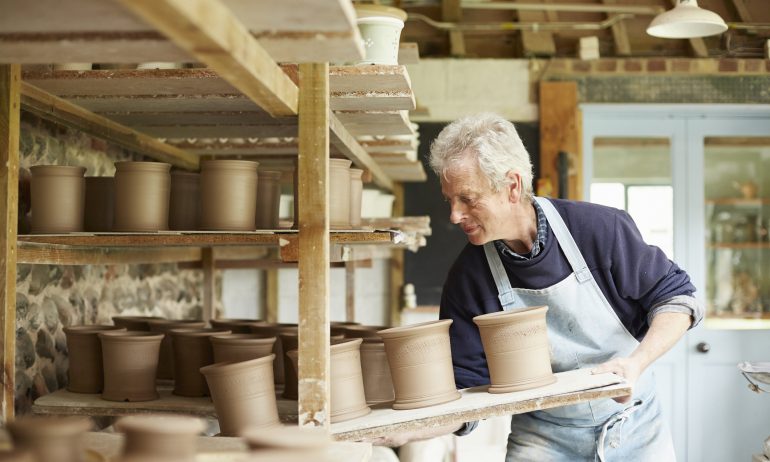 Many or all of the products featured here are from our partners who compensate us. This influences which products we write about and where and how the product appears on a page. However, this does not influence our evaluations. Our opinions are our own. Here is a list of our partners and here's how we make money.
Thanks to the popularity of craft-focused, online marketplaces like Etsy, starting a business making crafts can be a lucrative endeavor for creative types. And depending on your bandwidth, it's certainly possible to turn any of the following craft business ideas from an entrepreneurial hobby to a full-time gig.
If you're inspired to take up a new, potentially monetizable hobby — or if you're one of the gifted few whose artistic talent spans several mediums — then consider giving one of the following craft business ideas a go.
These 10 craft business ideas all involve different materials and skillsets. But they all require relatively few upfront and overhead costs, they're totally viable home-based businesses and there's a market for all of these products, which makes them ideal if you want to dip your toe in the field.
10 craft business ideas to try in 2021
If you're ready to explore the best craft business ideas, the following options have something for everyone.
Refurbishing or flipping furniture is an excellent craft business idea for people with basic carpentry, upholstery and furniture stripping and painting skills (and with a garage or basement space that can double as their home studio). An overall aptitude for fixing fiddly things is key here too, as upcycling old furniture often involves revamping or replacing broken knobs, legs and drawers. However, it's entirely possible to learn these skills as you go, simply by searching for tutorials on YouTube. However, do make sure that you understand how to properly repair antiques and other fragile furniture before you dive in.
For this side hustle, your main upfront cost will be the furniture itself. Look for inexpensive vintage or secondhand furniture at antique stores and outlets, garage sales, flea markets and on eBay. You won't know what materials you'll need to purchase until after you've picked up your furniture and evaluated its condition, but you can find basic upcycling tools and materials (like paints, stains and sprayers) relatively cheaply online.
Whether you like to work with beads, precious and semi-precious stones, charms, metals, or more unconventional materials like rope, leather and resin, there's a market for every style of jewelry you want to create.
When you're just starting out, you can purchase materials and basic jewelry-making equipment relatively cheaply at crafts stores like Michael's. Use these preliminary pieces to "test-run" your designs and processes. At this stage, you can ask your family and friends to wear your pieces and provide feedback about their comfort, the integrity or strength of the construction and any other helpful advice.
As you nail down your aesthetic, branding, designs, market and the materials you enjoy working with, you can purchase higher-quality materials in bulk from wholesale suppliers. And when you feel ready, consult our guide on how to start a jewelry business for step-by-step advice on how to turn your craft into a full-blown business.
In this context, "printmaking" can refer to a number of mediums. Platforms like Printful and Society6 enable illustrators and designers to print their designs on virtually any product you can imagine: blankets, apparel, tapestries, laptop and phone cases, yoga mats, stickers, mugs, pillows… the list truly goes on. Of course, you always have the option of going traditional and sticking with framed wall art. Both of these particular services handle shipping and fulfillment processes as well, which cuts out one of the major lifts involved in running your own craft business.
A knitting business is potentially the lowest-cost venture on this list, as your material costs are essentially limited to yarn and knitting needles (though we assume you already have the latter). If you're already a hobbyist, we can also safely assume that you know where to buy high-quality yarn, potentially in bulk, so you won't need to sink time into finding a vendor.
To start, focus on creating simple, smaller items — more hats and potholders, less sweaters and blankets — so you can more quickly produce, sell, make a profit, and garner feedback from your customers so you can shape your offerings and branding accordingly. As a supplement to selling your knit products, consider designing your own knitting patterns and selling them along with instructions.
5. Stationery and greeting card design
If you have a talent for lettering, illustration and calligraphy, and you're interested in the printing process, consider putting your unique skill set to use as a stationery and greeting card designer. (Bonus points if you love a good pun, too.)
Spend some time researching the market and industry so you know how to tailor your designs and branding, and how to position your own designs in the market. Spend some time coming up with your preliminary designs in a range of formats, like bespoke stationery, wedding and other event invitations and several types of greeting cards. Test out a few materials and colorways, as well. In addition to your design materials, like papers and pens, you'll also need to invest in stationery tools like paper cutters and trimmers.
When you're just starting out, you can likely print your own work with an inkjet printer. But ultimately, you'll likely need to find a trustworthy printer who can print your designs in larger volumes. Look into both local printers and online print services, and ask for sample prints from both. Work with the service that prints your work in a timely manner, according to your standards, who works within your budget and who can answer your questions about the printing process (which can be tricky and complex for people with no prior experience).
To start a ceramics business, you'll need a dedicated studio space with a sink, kiln, clay, shaping and finishing materials and glazes. A pottery wheel is incredibly useful as well, but it's possible to make ceramics without a pottery wheel. We'd recommend scouring Pinterest, Etsy, design blogs and magazines and both small and large retailers to get a pulse on current ceramics trends, and forge your own aesthetic from there (without compromising your own design values in the process, of course).
In addition to creating custom and readymade flower bouquets, floral designers are responsible for the greenery displays and designs at various events, in stores and restaurants and, potentially, in people's homes as part of a holistic interior design strategy.
It helps to have an existing network of potential clients, so people with home or interior design experience, or who have previously worked in floral shops or in landscaping, will likely find the most (or the fastest) success in this field. That said, if you have a natural flair for floral arranging and a good eye for design in general, it can't hurt to start by designing for your family and friends and letting them talk up your skills to their networks.
Either way, consider taking a floral design class, either in-person or online. These classes teach you how to properly handle several types of flowers and plants, key design elements to floral displays and how to tailor your designs to particular events or clients. Some courses even specialize in starting a floral design business.
You only need to glance at Instagram, Pinterest, or candle hauls on YouTube to know that there's a huge demand for candles, especially those with yummy scents and design-forward packaging. (Maybe it's an enduring obsession with hygge, the Danish and Norwegian term for coziness that's become a home-decor phenomenon in the English-speaking world.)
Other than learning how to make candles (which you can easily learn through your own research and handy YouTube tutorials), the first step in starting a candle-making business is to develop your scent and gather your materials. Purchase a collection of fragrance oils and develop a few scents you're happy with. Then, you can purchase your other materials — including paraffin, soy, or beeswax, plus wicks, measuring instruments, a thermometer, molds and containers for your candles — either from a wholesaler in bulk, or with a readymade DIY candle-making kit. We'd recommend the latter when you're just starting out, then seeking wholesale vendors when you're ready to make bulk orders.
In order to price your items, you'll need to define your market. Candles run the gamut from $1 unscented tea lights to $85 luxury candles (check out Byredo for some serious candle envy). Your price point depends on the quality and type of materials and ingredients you're using, of course, but you should also shape your pricing around what your target market will realistically spring for.
This craft business idea may require more overhead costs than others on this list, since you'll have to source and purchase several items and gift wrapping material for each type of gift basket you offer. But your offerings can be incredibly varied, so your market may be less limited than other craft businesses we've mentioned here.
Most importantly, you'll need to develop your angle. Think about theming your gift baskets according to an occasion or event — back-to-school for college students, baby showers, sleepaway camp, holidays, anniversaries, bachelor and bachelorette parties, graduation and retirement are just a few options. You can also design specialty baskets for certain food or beverages, like a wine-and-cheese lovers' box, an all-chocolate basket, or a basket that sources from local businesses. Get creative with the items you provide within each theme, too. Thinking outside the box, so to speak, along with a sense of humor (like laundry detergent and aspirin for your college freshmen box) will help set your gift basket business apart from your competitors.
10. Bath and body products
Much like starting a candle business, creating bath and body products firstly involves deciding which products you want to create and nailing down your formulas and scents. This step might take some experimentation, so enlist your (consenting) friends and family to find out what works, what doesn't and the scents and ingredients people respond to best. You can start by sourcing your ingredients from local crafts or beauty supply stores, but eventually, you'll want to work with vendors who can supply you with ingredients in bulk.
Your packaging is almost just as important as your product, so take the time to design a logo and packaging that aligns with your overall brand strategy and market positioning. If you're not confident in your own design skills, hire a graphic designer to do this for you.
The next step: Selling your crafts
Until you actually sell your crafts, your craft business is actually just a crafting hobby — and since you're reading this article, we'd guess that you'd prefer to achieve the former. But as we mentioned earlier, the barrier to entry for selling your crafts is very low when you leverage craft-centric online marketplaces or build an e-commerce website. And since most people shop online these days, we'd seriously recommend that you leverage as many relevant online sales channels as you're able.
Etsy is hands-down the best marketplace for crafters to sell their work online, but it's worth looking into selling on Amazon and eBay, as well. You could also look into selling on Society6, an online gallery geared toward crafters.
At the same time, prioritize building a business website with e-commerce functionality. That way, you can redirect all the customers you'll garner from these highly trafficked platforms onto your own, dedicated store — and, hopefully, start to build up a loyal customer base. Don't forget to create a Facebook Business page and Instagram account dedicated to your craft business, too
All your online sales channels should be supplementary to in-person sales tactics, like crafts fairs, trunk shows, asking local businesses if they'd consider selling your work and word-of-mouth marketing. Start by selling your crafts to your friends, neighbors, colleagues and family members, and ask them to spread the word to their network about your new venture.
This article originally appeared on JustBusiness, a subsidiary of NerdWallet.