Dropshipping Business Ideas for 2022
Our list of dropshipping business ideas can help you narrow the field of profitable products to sell as you launch.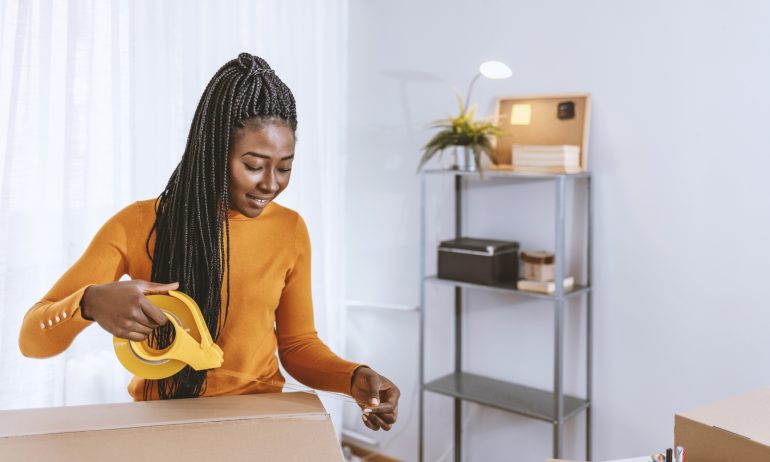 Many or all of the products featured here are from our partners who compensate us. This may influence which products we write about and where and how the product appears on a page. However, this does not influence our evaluations. Our opinions are our own. Here is a list of our partners and here's how we make money.
When starting a business, there are a lot of factors to consider. Among them, how you will source the products you'll sell. If you won't be making them yourself, you'll need to decide who will supply them, how you'll obtain them, and more. One popular method, for ecommerce businesses in particular, is dropshipping.
In fact, 33% of ecommerce stores use dropshipping as a fulfillment method because it's simple, cost-effective, and convenient. Upfront costs are minimal and you only pay for what you sell, which means no hanging onto inventory that never moves.
Learning how to start a dropshipping business is fairly easy to do, but once you understand the how, you'll need to decide what to sell. With the sheer availability of products to dropship, you can easily find yourself in analysis paralysis when choosing a product. Fortunately, we are narrowing down the top dropshipping business ideas for 2021 to kickstart your dropshipping business.
How to choose a profitable product to dropship
If you're new to the dropshipping business, you'll want to research the various dropship marketplaces. These businesses work specifically with ecommerce dropshippers and offer a wide variety of products. Some big-name dropship marketplaces you can check out are:
In addition to checking out the market, you'll also want to use online tools to verify whether sourcing that product will yield a reasonable profit margin. Some online tools include:
Salehoo Market Research Lab
Product research and development can be a time-consuming process. In this guide, we will simplify that process and showcase the top 50 dropshipping business ideas for 2021.
50 dropshipping ideas for 2021
The following dropshipping business ideas can help you decide which items your ecommerce store should sell. Not only are these products in demand, but they can also be easily sourced from a marketplace.
1. Insulated water bottles
If you go into your local store, you'll often find an entire aisle dedicated to water bottles. Reusable water bottles are gaining in popularity as more research shows how plastic water bottles are harming our environment. Water bottles are joining the eco-friendly movement as more brands offer reusable insulated water bottles. These containers can keep your beverages hot or cold, and come in a variety of sizes, colors, and more.
A National Pet Owners survey shows that Americans spent US $72.56 billion on their pets in 2018. The pet industry is booming and a great way to tap into this industry is by selling pet beds. Pet owners love to splurge on their pets and pet beds are a great and profitable addition to any online pet retail store.
Avocados, everybody's favorite superfood, largely due to their buttery texture and amazing nutrient profile. However, avocados can be messy and even dangerous to cut. Avocado slicers are making it safer, easier, and quicker to get avocado slices onto your favorite salads and sandwiches. Also, it's a great dropshipping product because you can source them for about $0.50 on Alibaba and sell them for around $10 on Amazon—a solid profit margin for your dropshipping business.
Sunglasses are often a favorite dropshipping business idea because they are inexpensive to manufacture and there is a steady demand for them all year round. And with ever-changing styles, you don't have to worry about being stuck with inventory when trends change; simply change out your products.
Bluetooth speakers are no longer unique to big brands like Beats by Dre and Bose. More customers are opting for cheaper brands that offer the same sound quality as their more expensive counterparts, making this a promising dropshipping business idea.
You no longer need to schedule a costly dentist appointment to whiten your teeth. Many online retailers are selling DIY home kits for whitening your teeth for a fraction of the cost. With teeth whitening products expected to skyrocket to $7.4 billion by 2024, it can be a lucrative product to start dropshipping.
Scalp massagers are increasing in demand because they're known to relieve headaches, encourage hair growth, and increase circulation. Also, scalp massagers are quite inexpensive to source (only about $0.50 on Alibaba) and you can easily sell for a healthy profit margin on Amazon or another marketplace.
These convenient charging docks make charging your phone easier than ever. No more fiddling with inserting the charging port. Just rest your phone on the dock and you're done. This dropshipping business idea appeals to customers looking to outfit their home or office workspace with an easier way to charge their devices.
It's interesting how we're seeing a rise in both technology and natural products at the same time. While smartwatches are exploding on the market, you'll also find a trend in natural accessories. Wooden watches create a fashion statement that combines eco-friendliness and style.
As we touched on with the earlier stat, owners love spoiling their pets. Beyond pet beds, pet clothes are another great dropshipping idea with year-round demand. With 85 million families owning at least one pet, you can bet that there is a market for dog jackets and cat coats—not to mention pet costumes.
Sports bras have transitioned from exercise gear to a fashion piece. With celebrities like Gigi Hadid, Jennifer Lopez, and the Kardashians wearing sports bras in everyday life, consumer demand has multiplied. It's a great opportunity to start dropshipping sports bras, especially when the health and wellness industries have achieved peak consumer interest.
Consumer demand for LED bulbs has skyrocketed as we move toward a more environmentally friendly society. Adding LED bulbs to your home conserves energy, cuts costs, and adds lovely ambience within your home. The LED lighting market is expected to reach a staggering $54.28 billion by 2022.
Cleaning your microwave is one of those chores that you probably don't do as often as you should. Microwave steam cleaners are selling in waves because of how easy it makes cleaning your microwave. Just microwave with water and vinegar and then wipe the residue with a clean cloth.
Demand for seamless underwear continues to grow, whether as the perfect accessory to an athleisure outfit or evening gown. This is an easy dropshipping business idea, as manufacturing costs are low, and there are plenty of styles to offer.
Phone holders that are worn around the neck are one of those products that's strange but still somehow popular among consumers. If you're tired of holding your smartphone, just wear a phone necklace. It will keep your phone floating inches from your face while freeing your hands for other activities.
Did you know that you may be at risk for electronic pickpocketing? New technology allows for pickpockets to scan your credit cards' information wirelessly. That means that the person behind you may actually be attempting to hijack your card information. RFID wallets act as a shield from this invasion, giving dropshippers an opportunity to tap into a profitable consumer need for privacy.
The waterproof bag is a staple in any camper or hiker's toolkit. Usually crafted from synthetic materials, waterproof bags protect your electronics, clothes, and other belongings from moisture and water activities, like sailing and swimming.
It's a universal feeling of annoyance when your smartphone's charging cable starts to break. Cable chompers add another line of protection from the daily wear and tear of your charging cable. They come in a variety of cute designs and, since they're inexpensive to source, you can sell them at desirable profit margins.
You may have pet-proofed your home furniture, but what about your car. Pet car covers are often made of waterproof materials to protect your car seats from fur and accidents. Pet car covers can be pricier to source than some of our other dropshipping business ideas, but they can be a great addition to your pet retail store.
If you want a natural remedy that seems to do it all, then tea tree oil is an attractive option. It's famous for its anti-inflammatory properties, skin-clearing effects, and even insect-repelling abilities. You will often need to buy tea tree oil by the liter but you can find top Amazon sellers pricing their products at $15 per four-ounce bottle.
Who do you know who doesn't have a tote bag these days? Tote bags offer style and utility, giving women and men the space to carry anything easily and on the go. On Alibaba, you can often source tote bags for under $1 and sell them from anywhere between $10 and $50 on Amazon.
22. Makeup brush cleaners
Makeup gurus on YouTube and social media have spread like wildfire. With new makeup palettes and foundations released every season, makeup enthusiasts will need an effective method for cleaning their makeup brushes. However, cleaning your makeup brushes can be tedious, and dropshipping a product catered to simplifying that chore can be profitable business move.
Online sellers are seeing an increase in market demand for electric massagers. The self-care industry is receiving much-needed attention and electric massagers are helping to alleviate everyday aches and pains in a more cost-effective way than getting regular in-person massages.
When Apple removed the headphone jack from their newer iPhone models, it sparked a spike in demand for Bluetooth headphones. Also, Bluetooth headphones are especially popular among active consumers who enjoy exercising without pesky wires restricting their movements, making this a popular dropshipping business idea.
The green smoothie and juicing trend is dominating the health and nutrition markets, meaning more people are looking to find a reliable blender for their needs.
The dangers of chemicals and pesticides in our product are pushing more people to buy organic. Eating organic products is linked to increased health and wellbeing. However, organic doesn't stop at just produce. Organic teas are making their way into more households, as more people are pursuing greener lifestyles.
If you've planned for a wedding, you know that flowers require a hefty budget. Artificial flowers are a cost-effective way to add floral beauty to your wedding venue without breaking the budget. Also, artificial flowers don't die, meaning that you can reuse your artificial flowers at different events or to furnish your home. Since they tend to be low-cost and easy to transport, many ecommerce stores love dropshipping artificial flowers.
It's rare that you won't find a knife block stand in a kitchen. Bamboo knife block stands can be purchased for as low as $4 on Alibaba and sold for about $30 on Amazon.
29. Crystal water bottles
A unique niche within the water bottle industry, crystal water bottles are adding a unique twist to your ordinary water bottle. Crystals are packaged into the water bottle base and are attributed spiritual properties that can promote healing and wellness. Also, crystal water bottles look beautiful on your desk.
When visiting your auto mechanic for a quick fix, you can often walk away with a costly bill. Replacing your wiper blades can be a quick and cost-effective DIY fix. If you have an online automotive products store, then wiper blades can be an interesting item to add to your product line.
Often popular as a night light, moon lamps can add a beautiful glow and ambience to whichever room you place it in. Currently, moon lamps are priced around $3 on Alibaba and you can find Amazon sellers selling them from $15 to $30.
It's hard to pinpoint the exact reason ukuleles are experiencing a growth in consumer demand. However, it's a growing market and has made our list of dropshipping business ideas accordingly. If your ecommerce store offers musical instruments, adding a ukulele can be a profitable move. You can source 21-inch ukuleles on Alibaba for around $13 and can sell them for up to $50 on Amazon.
The rising popularity of facial hair has created its own market. Among other products, beard oil only started gaining traction within the last decade but has already skyrocketed to a massive $925.9 million market in 2018.
Goal-setting and productivity, which fall under the larger umbrella of self-development is a huge market to tap into. Even with advanced productivity apps, people still love their pen-and-paper planners.
Matcha is a green tea powder that originates in Japan but it has garnered wide popularity in the United States. Known to detoxify, boost metabolism, and increase concentration, many people are adding matcha to their kitchen pantries.
Ecommerce stores are showing an increased demand for gilets—a sleeveless vest popular among men, particularly in the fall and winter seasons. With a wide range of materials and styles, you can cater to a specific group of consumers with this dropshipping business idea.
The socks market is expected to reach $24.16 billion by 2025 and you'll often notice a spike in printed socks sales around the holidays. Also, the shorter pant leg hems that are currently in style give people more of an opportunity to show off their eclectic socks.
Salad chopper bowls make it easier to get more greens into your diet without spending a ton of time prepping your meal. With the salad chopper bowl, just run your knife through the blade slots and you can have your salad ready in minutes. On Alibaba, you can source salad bowl choppers for as low as $1.
A common struggle among pet owners is how their pet's fur gets everywhere. Pet grooming gloves make grooming your pet easier than ever—simply pet them and remove excess fur at the same time. You can also use these gloves to remove fur from your furniture, making this a versatile dropshipping business idea.
Smartphones, smart watches, and now smart homes. Security systems are gaining more attention, as more people are investing in home and business security. While there are some popular brand names in the world of home security cameras, their rise in popularity also opens an opportunity to dropship less expensive options.
Reusable water bottles are slowly replacing the need for disposable water bottles, and we're seeing this same trend with disposable straws. More people are choosing to purchase reusable glass, metal, or bamboo straws so they don't have to rely on one-time use plastic or paper options.
Hunching over a desk for eight hours a day is enough to ruin anybody's posture. Wearing a posture correction belt can reverse this problem and correct your posture. Correction belts are available to order for around $2.50 and Amazon search results show that them selling for around $25.
Health and wellness is a growing priority among Americans. You can see this trend with the increased number of people who meditate and practice yoga. Yoga mats can be a profitable dropshipping business idea, as more at-home, studio, and corporate practices continue to pop up.
If you choose to offer yoga mats through your dropshipping business, you may also consider yoga leggings. Leggings are a staple in any woman's closet, but yoga-specific leggings offer increased comfort, flexibility, and movement when executing any yoga pose.
45. Men's grooming products
Men are receiving more attention in the skincare and beauty department, and it's not just shaving products. You can even find a men's section in popular makeup retailer Sephora. With more men making skincare, personal grooming, and even makeup a priority, you can find ample opportunities to dropship a product to fit into their daily grooming rituals.
The health and wellness industry is exploding and fitness trackers have generated about $2.57 billion in 2018. Fitness trackers are wrist-worn smart devices that measure steps, heart rate, and more. With more fitness gurus broadcasting the importance of nutrition and exercise, you can expect continued demand for fitness trackers.
47. Smart watch accessories
Smart watches continue to gain in popularity, with more options entering the market all the time. While the tech is better left to big players like Apple, accessories are a great dropshipping business idea that allows people to customize their smart watches. Bands of different colors and materials are especially popular.
48. Magnetic charging cables
Magnetic charging cables are one of those products that makes an everyday practice, like charging your phone, even easier. Magnetic charging cables only cost about $2 to source on Alibaba but you can find them selling for about $25 on Amazon.
Even with more communication taking place digitally, handwriting is far from dead. Journals and planners are still seeing steady sales and more people are using art and calligraphy to channel their creativity. Often costing under $2 to source on Alibaba, you can sell calligraphy pens at higher prices on Amazon and other marketplaces.
If you own a fitness business, then you might want to consider selling resistance bands. Resistance bands offer a versatile workout tool that can exercise various muscle groups. Also, it's an excellent tool for those who want to avoid crowded gyms and exercise in the comfort of their own homes.
Dropshipping business ideas: Final thoughts
Dropshipping can be a lucrative business model if you're willing to put in the time and research into finding which products will sell best to your target market. While this is an extensive list of dropshipping business ideas, this is only a preview into the profitable markets you can tap into. With a keen eye for creativity and innovation, you may be one of the first to explore undiscovered lucrative markets.
This article originally appeared on JustBusiness, a subsidiary of NerdWallet.