Best Invoicing Software for Freelancers in 2022
Here are the best cloud-based options for freelancers who need invoicing software to create, send and track invoices.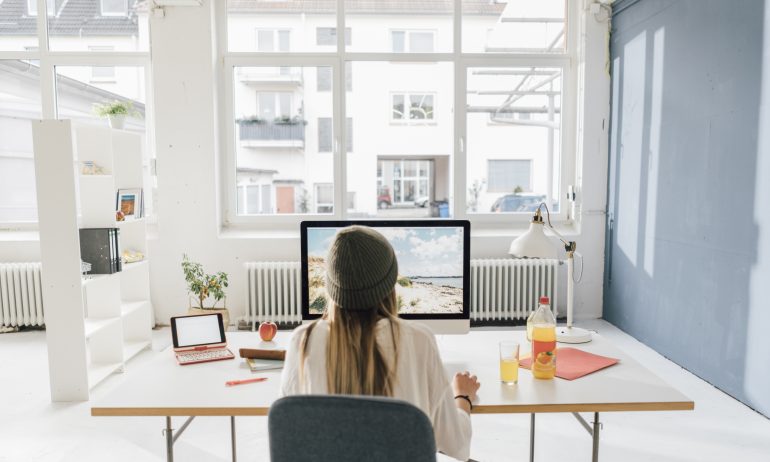 Many or all of the products featured here are from our partners who compensate us. This may influence which products we write about and where and how the product appears on a page. However, this does not influence our evaluations. Our opinions are our own. Here is a list of our partners and here's how we make money.
These invoicing software products make it easy for freelancers to create, send and track invoices and accept payments. Most of these platforms do more than that, too: You'll find a mix of accounting, project management, client relationship management and productivity tools, as well. And because all of these platforms are cloud-based, they all feature robust mobile apps that enable you to send invoices on the go (and access whatever other features the platform in question offers).
No matter which of these invoicing software for freelancers you choose, you'll be remunerated for your work in a timely manner — and, if not, an automatic payment reminder can do the awkward heavy lifting for you.
Bench: America's Largest Bookkeeping Service for Small Businesses.
Get 30% off Your First 3 Months!
Best known for its free accounting software for small businesses, Wave boasts an invoicing product useful for freelancers who want to streamline and automate basic invoicing needs. Even better: Wave Invoicing is also free. This is a great choice for freelancers who want to aggregate accounting and invoicing under one, extremely user-friendly platform (without paying for it).
With Wave Invoicing, you can create personalized, unlimited invoices in any currency with customizable payment terms, accept bank and credit card payments, set automatic payment reminders for your clients and more. Wave Invoicing will also automatically calculate sales tax — taking a burden off your shoulders.
You can access these features via the Wave Invoicing app for Android and iOS, which allows you to create, send and process invoices right from your phone. It's cloud-based, so everything between your app and dashboard syncs and backs up automatically.
Wave's accounting, invoicing and receipts services are totally free. If you want Wave to handle your payroll administration, you'll pay either $35 or $20 per month as a base fee, depending on whether you live in a self-service or tax-service state, plus a $6 per-employee fee. And if you use Wave as your payment processor, you'll need to pay standard payment processing fees.
If you're looking for a deeply integrated, all-in-one project management platform designed specifically for freelancers, Bonsai is it. This unique software aggregates and automates virtually every essential administrative process that freelancers have to manage — proposals, contracts, project management, time tracking, task management, taxes, miscellaneous forms and, of course, invoicing and payments — under one roof.
Bonsai automates everything on the invoicing front, including invoice creation, sending, nudging clients about late payments and sending late fees when necessary. You can also set up payment terms like recurring payments, tipping and partial payments. Clients can choose to pay you via credit card, ACH payments and PayPal in 180 currencies. Use the highly-rated Bonsai app to access everything from your phone.
Bonsai has two service plans, priced at $19 and $29 per month when paid on a monthly basis. Alternatively, you can choose to pay on a yearly basis for $192 or $288 per year, respectively. Choosing the yearly payment structure will get you your first two months free. The more expensive plan gets you a few additional features, like branding capabilities on your invoices and other business materials.
On top of your monthly service plan, you can add an accounting and tax assistance service for $10 per month. You can also add the ability to invite other users onto your Bonsai account for an additional $9 per month.
FreshBooks is one of the best-known accounting software providers out there, equally beloved among enterprises and self-employed individuals. Invoicing is just one feature integrated into the robust FreshBooks product suite, which also includes expense management, time tracking, project management, estimates and proposals, payments and reports.
FreshBooks' invoicing feature is robust. Some of the more unique features here include creating customized, branded invoices in a matter of seconds with its invoice generator, the option to request a deposit on your invoice and the ability to add tracked time and expenses on your invoices. FreshBooks also offers a host of features specific to retainer invoicing and project management, like generating retainer summaries, managing scope creep and monitoring your time spent on retainer projects. It has a mobile app, too.
The Freshbooks plan that's most suitable for freelancers is its Lite plan, which allows five billable clients and unlimited invoicing. Typically, this plan costs $15 per month, but it sometimes runs specials for less.
If you work with more than five clients, you can opt for its popular Plus plan, which allows up to 50 billable clients for $25 per month (currently just $10 per month).
Perhaps the simplest and most straightforward option on this list, Square Invoices is a great choice if you want a simple, but reliable, invoicing software and not much else — unless, of course, you also want to take advantage of Square's merchant services and payment processing solutions.
Square makes the process of creating and sending invoices intuitive. It breaks down the process into steps: Enter your client's email either manually or pull from securely stored customer data; enter the amount (either a unit price or a customized amount) and send your invoice, which you can customize with your logo and a color scheme. Once your client receives the invoice, they can pay online with a debit card, credit card, Apple Pay or Google Pay.
Square Invoices has additional features, including invoice and payment tracking, automatic payment reminders, the option to set up recurring invoices and send clients estimates — all the essentials. It also has a powerful mobile app.
Because Square POS enables in-person payment processing, Square Invoices is also a good option if you run a brick-and-mortar business or want the ability to accept payments physically, in addition to digitally.
Square doesn't charge a monthly fee for its entry-level invoicing service, but you will pay a payment processing fee of 2.9% plus 30 cents per invoice if you're paid online. For $20 per month, you can opt for Square Invoicing Plus, which gives you access to additional features like custom invoicing fields and auto-converting estimates to invoices.
Like Bonsai, HoneyBook is an all-in-one, deeply integrated client and project management software for very small businesses and freelancers. But where Bonsai is an option for freelancers in any field, HoneyBook was designed with a special focus on creative professionals. Here, expect features like customizable contract templates, scheduling tools, contracts equipped with secure online signatures, automated workflow and productivity tools and integrations with super-popular apps like QuickBooks Online, Gmail and Zapier.
With its invoice feature, you can create and send a customized invoice in under 30 seconds. You can also set payment schedules, reminders and recurring payments, and clients can pay you via all major digital payment options, including credit, debit and bank transfers. You can access HoneyBook's invoicing and payment tools through its mobile app as well, which is available for iOS and Android devices.
HoneyBook only has one service plan, which gives you access to all of the platform's features. You can choose to pay on either a monthly or yearly basis; the former costs $40 per month and the latter $34 per month. Before you pick a payment plan, you can try HoneyBook for free for seven days.
A version of this article was first published on Fundera, a subsidiary of NerdWallet.