Best Places to Start a Business in Texas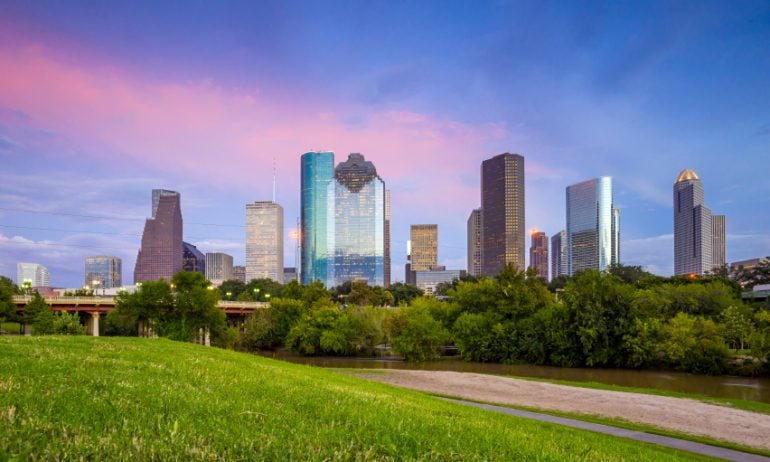 Many or all of the products featured here are from our partners who compensate us. This influences which products we write about and where and how the product appears on a page. However, this does not influence our evaluations. Our opinions are our own. Here is a list of our partners and here's how we make money.
Texas has weathered the country's economic turbulence well, with record-breaking annual job growth, and locals chalk it up to a business-friendly attitude and community mentality.
The Lone Star State typically receives the nation's fourth-highest amount of venture capital, says Walter Ulrich, CEO of Houston Technology Center, a nonprofit technology incubator and accelerator.
Ulrich finds that ironic. The top three states for venture capital — California, New York and Massachusetts — are, Ulrich says, known as unfriendly to big business. "Why would you create a new business in a state where, once it becomes a big business, the state is unfriendly to it?" Ulrich asks. He champions Texas, saying with its lower cost of living and lower taxes, the state encourages business success.
As a city on the forefront of technology, Houston is especially driving the state's strong economy. "In 10 years, when people tell you about technology centers, Houston will be at the same level or ahead of Silicon Valley and Route 128 in Boston," Ulrich says.
The Houston area is also a hotspot for breakthroughs in life sciences (due to the world's largest medical complex), aerospace (at NASA's Johnson Space Center) and nanotechnology (due to Nobel Prize-winning discoveries in nanotechnology at Rice University).
Ulrich says Texans — especially Houstonians — share a spirit of volunteerism and community, not to mention a strong work ethic. The Houston Technology Center is successful in large part thanks to its many volunteers and local investors who support Texas entrepreneurs, and Ulrich says this is also the case at a growing number of other tech incubators and accelerators in Houston.
To find the best places to start a business in Texas, NerdWallet analyzed 220 places, each with a population of at least 10,000. We calculated the overall score for every location based on the city's business climate and economic health using data from the U.S. Census Bureau. Learn more about our methodology at the end of this article.
Houston dominates. The Houston metroplex took the majority of the top 10 spots. Five of the top 10 cities are in the Greater Houston area (Webster, Stafford, Katy, Deer Park, Texas City). Dallas suburbs took two of the top spots.
Austin isn't so hot. Although the hip Austin area has been the darling of the press in recent years, no places in the area made this list — possibly due to the rising cost of living or because the energy industry lacks a strong presence when compared with Houston and Dallas. The San Antonio area also didn't show up on this list.
Best places to start a business in Texas
The Dallas suburb of Addison is its own incorporated town, and it has the second-highest median annual income in the top 10 ($50,280). It also has the second-highest number of businesses per 100 people (over 26) and a low unemployment rate of 3.9%. The town is under 5 square miles but has over 22 hotels and more than 170 restaurants. The community is home to Addison TreeHouse, a resource-filled co-working space for entrepreneurs founded by the town, and the Dallas Entrepreneur Center. Addison is also home to the headquarters of cosmetic company Mary Kay, plus the app development company Bottle Rocket.
Webster is less than 25 miles from downtown Houston, but it has a strong economy of its own. The city has the highest percentage of businesses with paid employees in the top 10, at 53%, plus a low median monthly housing cost of $973. Only a few miles from the NASA Johnson Space Center, the town is key to the aerospace industry and is a popular place for NASA employees to live. Another growth industry in Webster is the medical field — the Clear Lake Regional Medical Center, which opened in the 1970s, and the Bay Area Regional Medical Center, which opened in 2014, have led some to call the city Texas' "medical center of the south" (with Houston's as the north).
In the Houston metropolitan area, Stafford has the third-highest number of businesses per 100 people (15.26) in the top 10 list. Stafford, a former agricultural community, has grown significantly — especially after property taxes were eliminated for residents and business owners in 1995. Over 2,700 businesses are located here, including the headquarters of Seamar Divers, a subsea construction and inspection company, and General Technologies Inc., an equipment manufacturer.
Katy started as a small Houston suburb, but over the years has grown into a city of its own. This family-friendly city is tops among our top 10 for most businesses — a whopping 6,907. It also has the highest number of businesses per 100 people (over 46). Additionally, Katy is tied with Temple for second place among the top 10 for the lowest unemployment rate at 3.7%. The city serves as worldwide headquarters for Igloo, and the Katy Mills outlet mall brings shoppers from across the Houston area. The Katy Area Economic Development Council supports business growth in this area. Katy is also close to the Houston Energy Corridor, a district packed with energy companies.
Farmers Branch has the second-highest number of businesses, 4,158, in the top 10. This inner Dallas suburb also comes in second place in the top 10 for the largest number of businesses with paid employees (over 1,700). Many companies have their corporate headquarters here, including Taco Bueno, a fast-casual food chain, and Ironclad, a performance wear company.
Port Arthur has the second-highest population in the top 10 (nearly 54,200), but boasts the highest total revenue of businesses in the top 10 at $28.6 billion. There are nearly 3,000 businesses in this coastal town about 90 miles east of Houston. The Port of Port Arthur is a large part of the local economy and expansion projects aim to make it a bigger international cargo shipping center. Lamar State College-Port Arthur has a Small Business Development Center to help entrepreneurs. The Port Arthur Economic Development Corp. also helps support local business growth.
About 40 miles southeast of downtown Houston, this deep-sea port city is known for heavy industry. The Port of Texas City is one of the nation's largest ports, making it a shipping hotspot. The town also has some of the state's largest petrochemical manufacturing centers and refineries, such those operated by Marathon Petroleum Corp. and Valero. Texas City has the second-highest total business revenue in the top 10 list, coming in at $23.4 billion. It also came in second for average revenue per business ($8.9 million). Of the top 10 communities, median housing costs here are the third-most affordable at $818 a month.
Temple, with nearly 68,000 residents, is the largest city by population in the top 10 list. It's tied with Katy for the second-lowest unemployment rate in the top 10. Temple also has the third-highest number of businesses, at over 3,900. Located in central Texas, the town is nearly 70 miles north of Austin and 125 miles south of Dallas. Temple College is based here, and the city features a growing medical complex bolstered by Scott & White Memorial Hospital. Several major company headquarters are located here, including Wilsonart Americas, a company that produces countertops and walls, and McLane, a supply chain services company. Temple is 30 miles from Fort Hood, so members of the military also help support the town's economy.
Located about midway between Houston and Austin, the humble city of Brenham boasts the top 10's lowest unemployment rate — an impressive 2.8%. The city also has the top 10's second-most affordable median monthly housing cost at a reasonable $767. Brenham, known as an ice cream mecca, is home to Blue Bell Creameries, which is working to restart production after a listeria-related recall. The city is also home to a Blinn University campus, a two-year college, which has a Small Business Development Center offering free assistance to local businesses.
Located near the site where Texas won its independence at the Battle of San Jacinto, Deer Park is the self-proclaimed "birthplace of Texas." Near the Houston Ship Channel and in the Houston metroplex, Deer Park has the highest median annual income among the top 10 — nearly $52,000. It also has the third-highest total revenue of businesses (nearly $17 billion) of the top 10. Shell has a manufacturing site in Deer Park that employs over 1,600 people. Chemical companies Lubrizol and Dow also have locations in Deer Park.
Best places to start a business in Texas
NerdWallet calculated the score for each location using the following criteria:
Average revenue of businesses is 20% of the score. A higher average contributed to a higher score.

Percentage of businesses with paid employees is 25% of the score. A higher percentage contributed to a higher score.

Businesses per 100 people is 20% of the score. A higher number contributed to a higher score.
Median annual income is 10% of the score. A higher median income contributed to a higher score.

Median annual housing costs are 10% of the score. Lower median costs contributed to a higher score.

Unemployment rate for residents over 16 years old is 15% of the score. A lower rate contributed to a higher score.
NerdWallet staff writer Emily Starbuck Crone contributed to this article.
---
Houston, Texas, skyline via iStock.