Quicken vs. QuickBooks: 2022 Comparison
QuickBooks Online is accounting software for small businesses; Quicken is for managing your personal finances.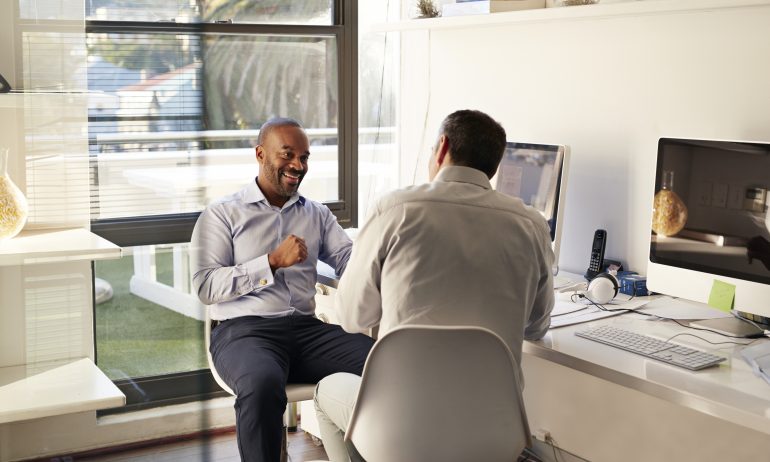 Many or all of the products featured here are from our partners who compensate us. This influences which products we write about and where and how the product appears on a page. However, this does not influence our evaluations. Our opinions are our own. Here is a list of our partners and here's how we make money.
Comparing Quicken and QuickBooks is a bit like comparing apples and oranges. Both are financial management tools and even share a few features and functions, but the two software programs are built for entirely different uses.
Quicken is for managing your personal or family finances, with a few business tools tacked onto its top-tier service, Quicken Home and Business. QuickBooks Online, on the other hand, is full-fledged small-business accounting software with inventory management, advanced financial reporting and hundreds of app integrations.
Which one to use depends largely on the size of your business and the features you need.
You want software to manage your own finances or your family's finances.

You have a new small business and want one tool to track personal and business finances.

You own a rental property and want to manage leases and collect rent online.
You want to keep your business books entirely separate from your personal finances.

You need advanced financial reporting, such as sales, inventory and profitability reports.
Quicken vs. QuickBooks: Deciding factors
Home and Business: $103.99 per year.

Simple Start: $30 per month.

Essentials: $55 per month.

Advanced: $200 per month.

Simple Start: 1 user; 2 accounting firms.

Essentials: 3 users; 2 accounting firms.

Plus: 5 users; 2 accounting firms.

Advanced: 25 users; 3 accounting firms.

Maximum number of accounts

Up to 512 accounts per account type. Account types include savings and spending (i.e., checking, savings, credit card); loans and debt; and business accounting.

Up to 250 accounts in the chart of accounts for Simple Start, Essentials and Plus plans.

Unlimited accounts in the chart of accounts for Advanced plan.

Poor. You need to download the reports and print or email them to your accountant. Exporting only business-related data may be a hassle.

Excellent. Simply invite your accountant to work on your books via the Manage Users page.

Poor. There is no upgrade option with Quicken Home and Business. If you outgrow it, you'll need to switch products.

Excellent. You can upgrade plans as your business expands and add other products, like QuickBooks Payroll, as needed.
Quicken vs. QuickBooks comparison
Property management tools
Quicken Home and Business comes with a suite of property management tools. Rental property owners can track leases, rental rates and tenants. You can also accept online rent payments (via PayPal), keep tabs on security deposits, and get a full report of paid and outstanding rents across your properties. Quicken can also help you track all tax-related transactions, which you can export to your tax prep software.

QuickBooks Online can also manage rental properties, but the setup is less intuitive and can take a lot of trial and error to get it just right.
Business and personal expenses
Few accounting software programs allow you to manage your personal budget and investments alongside business income.
Quicken is, first and foremost, a personal finance tool, and Quicken Home and Business gives you one view of all of your finances. You'll need to tag business-related accounts and expenses to track profits and loss, tax deductions and cash flow projections.

QuickBooks is not set up to manage personal accounts, budgets and investments. You can manage business and personal transactions with Quicken, but it's still best to keep the two separate and use a business checking account and business credit card.
At $103.99 per year, Quicken Home and Business is less than half the cost of QuickBooks Online's entry-level plan. The more affordable price tag is a draw for those with side gigs, freelancers and businesses just getting off the ground. You can still generate estimates, send invoices, accept payments, track profits and losses, and keep tabs on deductible business expenses.

Quicken won't grow with your business, though. You'll need to switch to a full-fledged accounting software to gain deeper insights and access more sophisticated reporting as your books become more complex.
Where QuickBooks stands out
QuickBooks Online makes it easy to upgrade plans as your business grows. Simply change your subscription from Simple Start to Essentials, for example, and you instantly add time tracking and bill pay functionality to your account. QuickBooks also has add-ons and app integrations to level-up your business with payroll, point-of-sale and inventory management.

By contrast, Quicken offers just one option for small-business owners, with no apps or add-ons. When you outgrow Quicken Home and Business, you need to switch services, likely to QuickBooks.
Quicken Home and Business includes basic accounting functions, such as accounts receivable and payable, profit and loss reports and cash flow projections.

QuickBooks Online goes beyond basic accounting features with time tracking, inventory management, sales tax and job-cost calculations. You can also manage payments to 1099 contractors and easily share your books with an accountant.
QuickBooks' marketplace of more than 650 apps helps streamline and customize things. If you sell on Etsy, for example, you can use the Sync With Etsy app to automatically import transactions from your Etsy shop to QuickBooks Online. There are more than a dozen payroll apps to help manage payroll, taxes and benefits. While some apps are free, others carry an additional monthly fee.

Quicken Home and Business lets you accept payments via PayPal but doesn't sync with other tools and services.
Alternatives to QuickBooks
QuickBooks is popular, but it's expensive and requires some accounting knowledge. Its customer support is not highly rated, and it may not have all the customization options your small business needs.
Alternatives to QuickBooks include:
FreshBooks, which is geared toward freelancers or sole proprietors.

Xero, which is popular outside the U.S. and has a more intuitive design.

Wave, which is a free option for accounting software.
While Quicken has useful features that go beyond basic personal finance budgeting, there are many free alternatives if you're simply looking for a way to manage your finances. Alternatives to Quicken include PocketGuard, Mint and You Need a Budget (YNAB).
A closer look at Quicken vs. QuickBooks
More than 650 apps including QuickBooks Time, QuickBooks Payroll and Gusto.

Yes. The Quicken Mobile Companion app syncs with the desktop version. It is available on iOS and Android devices.

Yes. The QuickBooks Online Accounting app is available on iOS and Android devices.

Included with Essentials, Plus and Advanced plans.

Use the Vehicle Mileage Tracker to manually enter trips and mileage.

Automatic mileage tracking with all plans.

No. Quicken doesn't offer a free trial but does have a 30-day money-back guarantee.

Yes. Choose between a 30-day free trial or 50% off for the first three months.

Support via phone available Monday-Friday from 5 a.m. to 5 p.m. PT. Support via chat available from 5 a.m to 5 p.m PT, seven days a week.

Simple, Essentials and Plus plans: Support via phone and online chat Monday-Friday from 6 a.m. to 6 p.m. PT and Saturdays from 6 a.m. to 3 p.m. PT.

Advanced plan: 24/7 customer support.

Unlimited with all plans.

Able to track income and expenses by project and job.

Ability to track costs, payroll and expenses by project included with Plus and Advanced plans.

Included with Essentials, Plus and Advanced plans.