10 Top Restaurant Franchise Opportunities
Consider the top restaurant franchise opportunities if you have an appetite for business and serving up great food.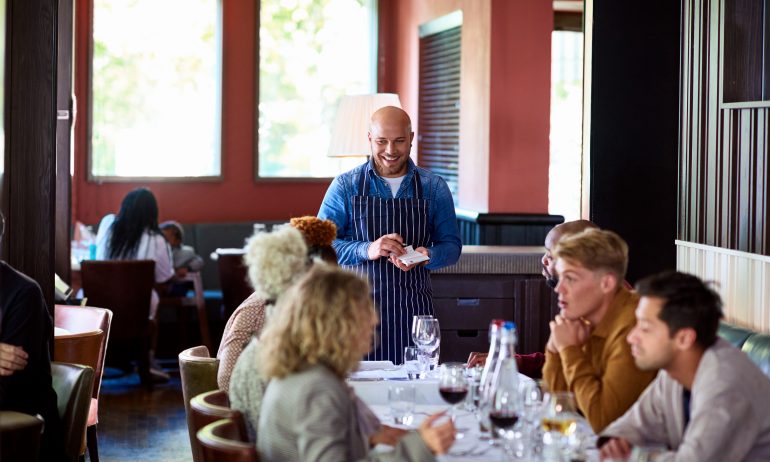 Many or all of the products featured here are from our partners who compensate us. This may influence which products we write about and where and how the product appears on a page. However, this does not influence our evaluations. Our opinions are our own. Here is a list of our partners and here's how we make money.
If you want to start a restaurant and are interested in franchising rather than building a brand from the ground up, there are a variety of flavors, brands, and styles to explore.
In this guide, we're listing some of the top restaurant franchise opportunities to consider.
Panera Bread's humble roots began in 1980 when they opened a single 400-square-foot cookie store in Boston, Massachusetts. Since then, they have expanded to over 2,300 bakery-cafes across the United States and Canada. Panera Bread has developed a loyal customer base with its freshly baked cookies and pastries, delicious salads, and hearty soups.
More than food, Panera Bread is dedicated to delivering a dining experience. They want guests to feel like they're choosing a healthier lifestyle when they chow down on their antibiotic-free chicken and zero-trans-fat selections. They also want guests to linger and chat or read next to their built-in fireplaces and free WiFi.
If you're interested in franchising with Panera Bread, you'll need to meet certain requirements. First, Panera Bread does not sell single-unit franchises. Rather, they require their franchisees to open multiple locations, usually 15 bakery cafes within six years.
Also, interested franchisees should expect to have a net worth of at least $7.5 million and $3 million in liquid assets. Since franchisees are expected to open multiple units, they encourage entrepreneurs with a track history of success and aggressive marketing experience to apply. If you fit what they're looking for, visit their website to inquire further.
Fuddruckers was founded in 1980 in San Antonio, Texas, and their goal is to deliver an irresistibly delicious burger. This single-minded goal has paved the way for them to deliver an extensive burger chain that reaches North, Central, and South America.
Moreover, Fuddruckers has earned some impressive rewards, including 2010: Better Burger in R&I Magazine Menu Trends and making the Franchise Times Top 200 list.
Fuddruckers is currently looking for entrepreneurs to open multiple locations. Franchisees should have a net worth between $750,000 and $1 million before applying to become a franchisee. Depending on the site and size of your restaurant, the total investment ranges between $490,000 to $1.56 million. To learn more about franchising, visit their website.
3. PITA Mediterranean Street Food
If you're looking to open a restaurant franchise with a Mediterranean focus, consider PITA Mediterranean Street Food. Founded in 2012, this chain has been expanding its locations in California, Georgia, South Carolina, and more.
PITA Mediterranean Street Food is dedicated to serving delicious and authentic Mediterranean food to its customers. Their handmade falafels, shawarma, and gyros keep hungry customers coming back for more.
If you choose to franchise with PITA Mediterranean Street Food, you'll enjoy extensive franchisee support. Their team will help you choose the right location and will even assist with the architectural design. Moreover, their training program in management and operating POS systems help you learn the ins and outs of how to run a smooth business.
PITA Mediterranean Street Food requires their franchisees to have at least $100,000 in liquid assets and a net worth of $300,000. Depending on your location, the total investment (including a $35,000 initial franchise fee per location) can range from $175,000 to $350,000, making the cost significantly lower than other restaurant franchisees. If you're ready to bring delicious Mediterranean food to your customers, apply to be a franchisee through their website.
Johnny Rockets opened their first restaurant in 1986 in Los Angeles, California, and has since expanded its reach to 25 countries. This franchise doesn't reinvent the wheel or serve up the newest trends. Instead, they capitalize on what works—a timeless all-American brand that serves classic burgers and hand-spun milkshakes.
Johnny Rockets has changed its infrastructure throughout the years, offering different ways to create a diner experience. Their Johnny Rockets Drive-Thru is excellent for customers who want to satisfy their burger and shake craving on the go. Their Johnny Rockets Express locations are larger locations often found in malls and airports. Finally, their Johnny Rockets Kiosks are compact enough to serve customers in high-traffic areas, like amusement parks.
Depending on the type of location you're looking to open, you can expect a total investment of $650,500 to $1,098,500. The initial franchise fee is $49,000, and you should have at least $1 million in liquid capital. If you're ready to partner with this beloved brand, you can complete a Consideration Request on their website.
The Melting Pot creates a unique dining experience with its fondue-style cooking. Their first location opened in 1975 in Florida, offering only cheese, beef, and chocolate fondue. Brothers Mark and Bob Johnston discovered the potential of this little restaurant, and in 1985, they purchased the brand to begin The Melting Pot Restaurants, Inc. franchise. The Melting Pot's menu has evolved with its rapid expansion. From artisan cheeses to delicious meat cuts to dessert dipping sauces, guests enjoy a full-course meal—fondue-style.
The initial franchise fee to open your own location costs $20,000. The total investment cost can range from $1,391,820 to $1,774,210, making this restaurant franchise on the pricier side. To learn more about the various investment costs and to become a franchisee, you can check out their website.
Another Broken Egg's story started in 1966 when founder Ron Green opened the first "Broken Egg Cafe" in Louisiana. The astoundingly positive response from the local community encouraged him to open a second restaurant in Florida: Another Broken Egg Cafe. Since then, this franchise has opened more than 69 cafes and has made the Top 500 Growth Franchises three years in a row. Plus, Another Broken Egg attracts many tourists, earning it a spot on Trip Advisor's Top 10 Best Restaurant Chains in America 2018.
Their menu is one reason why customers return to this cafe. Another Broken Egg serves your traditional breakfast items—pancakes, omelets, etc.—but also caters to the more adventurous foodies with crab cake benedict and chilaquiles. Guests can also enjoy a Bloody Mary or mimosa with their breakfast, creating a bubbly breakfast experience.
If Another Broken Egg has piqued your interest, here's what you need to know about becoming a franchisee: A $50,000 franchise fee applies for your first cafe and drops to $35,000 for any subsequent locations opened. After you sign your franchise agreement, you will pay a 5% royalty fee, a 1% advertising fund, and a 2% local store marketing fee. For more information, visit their website to submit an inquiry.
"Gyu-Kaku" translates into "Horns of the Bull" in Japanese, which testifies to this franchise's unique and edgy restaurant experience. Gyu-Kaku Japanese BBQ is one of the largest restaurant chains in Japan and is expanding to the United States.
Gyu-Kaku creates an immersive dining experience—the guests are also the chefs. Customers request cuts of beef, pork, and seafood and cook them on their in-table smokeless grills. This interactive dining experience breaks the mold of your typical restaurant and is one of the reasons this restaurant franchise has grown to over 650 locations worldwide.
Franchisees should have a net worth of $1,000,000 and at least $500,000 in liquid capital before applying. The total investment to open your own Gyu-Kaku Japanese BBQ ranges from $781,793 to $2,110,500 and charges a franchise fee of $50,000. To learn more about applying to become a franchisee, visit their website.
The Quaker Steak & Lube franchise was founded in 1974 and is the original motor-themed restaurant of Sharon, Pennsylvania. For 40 years, they have been serving bone-in wings, nachos, burgers, and more to their hungry customers. Keeping in theme with the Quaker Steak & Lube brand, their locations feature motorsports-themed decor: gas station memorabilia and even race cars hanging from the ceiling. Quaker Steak & Lube also holds special events such as bike nights, car meets, and more.
When franchising with Quaker Steak & Lube, expect to receive tons of support. Their site modeling tools reveal market hot spots that help you choose your location. For two weeks, you will receive a full support team of 14 franchise experts who will help you customize your marketing strategy, prepare for a smooth grand opening, and teach you how to run a successful restaurant.
If Quaker Steak & Lube aligns with your interests, keep the following financial requirements in mind. Franchisees should have $500,000 to $1 million in liquid capital, depending on if you want to open a single location or develop multiple units. They charge a franchise fee of $40,000 and a development fee of $20,000 per unit. The total investment can range between $463,500 to $3.57 million, making this franchise one of the more costly investments. You can check out their website to find out more about franchising.
Wow Bao was founded in 2003 and is a great franchise opportunity if you have a love of Asian flavors and baos. If you're unsure what a bao is, it's a "soft, fluffy dough filled with savory or sweet flavors and steamed." In addition to baos, Wow Bao serves other fast Asian street food, including potstickers, dumplings, and soups.
Wow Bao's locations are concentrated in the Midwest and East Coast, and they also sell their bao and potstickers in grocery stores to be cooked and served at home.
If you want a franchise that focuses on tasty Asian flavors, here are a few things to know about becoming a franchisee. Wow Bao does not offer any single unit franchises—franchisees must apply with at least a three-unit commitment. On their website, they recommend that you have a company net worth of at least $6 million, as well as real estate experience. They don't offer many other specifics, such as a total investment estimate or franchise fee, so be sure to inquire through their website.
Saladworks was founded in 1986 by John Scardapane and has expanded to over 80 locations in New Jersey, Virginia, Texas, and more. Saladworks focuses on offering a healthier alternative to traditional fast food and burger joints with their king salads, sandwiches, and pinwheel wraps. As more people aim to eat more nutritious foods, even on the go, Saladworks is a franchise that can capitalize on this movement.
If you want to open your own Saladworks location, you can expect a total investment ranging from $163,724 to $452,292. You should have at least $100,000 in liquid capital. To learn more about franchising with Saladworks, submit an inquiry form on their website.
Joining a franchise is an excellent option for entrepreneurs who want to follow a proven business plan and gain access to a team of business experts. When opening your own restaurant franchise, you enter an industry that enjoys year-round demand and is relatively recession-resistant. Of course, there are both advantages and disadvantages to consider. Starting a restaurant franchise often demands a significant investment in the form of franchise fees. Luckily, you don't have to come up with all that capital on your own. There are several franchise financing options to help you fund this business endeavor.
Restaurants are only one type of franchise you can purchase. If you're interested in exploring franchise opportunities that require fewer upfront costs, read our recommendations for the best low-cost franchises.
This article originally appeared on JustBusiness, a subsidiary of NerdWallet.