Weebly vs. Squarespace 2021 Comparison
Compare Weebly vs. Squarespace on key criteria to determine which e-commerce platform is best for your business.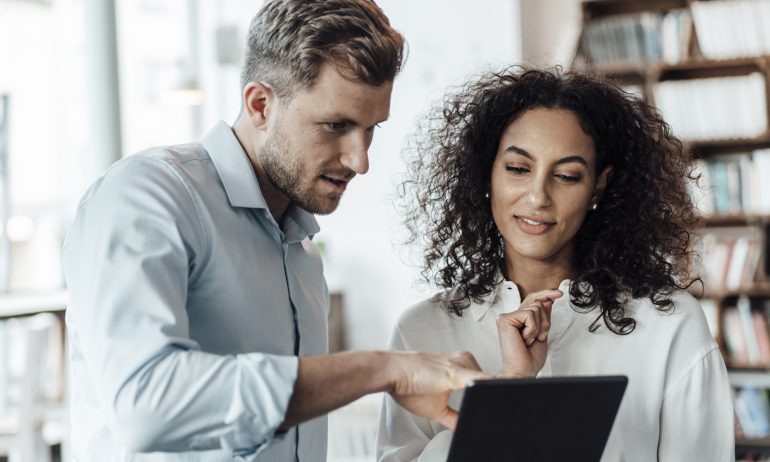 Many or all of the products featured here are from our partners who compensate us. This may influence which products we write about and where and how the product appears on a page. However, this does not influence our evaluations. Our opinions are our own. Here is a list of our partners and here's how we make money.
This article is out-of-date. 

In 2018, Square acquired Weebly. Now, its main online store builder is Square Online, which features both Weebly functionality and integration with Square point-of-sale systems. For more information about Square Online and other options, see NerdWallet's list of the

best website builders for online stores. 
In the world of website builders and e-commerce platforms, two names with a lot of brand equity are Weebly and Squarespace.
This Weebly vs. Squarespace comparison will compare these website builders on six key criteria: features, e-commerce capabilities, design options, ease of use, user reviews and price.
| | | |
| --- | --- | --- |
| | Blogging platform, SEO tools, marketing tools, analytics, mobile app, domain hosting | Blogging platform, SEO tools, marketing tools, analytics, mobile app, domain hosting |
| | Order confirmation emails, collect item reviews, shipment tracking, issue refunds and returns, create promotions and discounts, abandoned cart emails, gift cards | Unlimited product uploads, order confirmation emails, collect item reviews, shipment tracking, issue refunds and returns, real-time inventory updates, analytics, create promotions and discounts, employee-based permissions, abandoned cart recovery, real-time shipping rates |
| | 35 built-in design templates | 110 built-in design templates |
The first section of this review will talk about the features of Weebly and Squarespace that are not specifically related to e-commerce. In other words, all the "stuff" you get when you sign up to use Weebly or Squarespace as the hosting platform for your website.
Weebly provides a lot of great out-of-the-box features that will make your website operate as well as anything else on the web. A list of Weebly's features includes:
Blogging platform: Create a blogging website or a blog embedded within a larger website. You have the ability to control the layout and structure of the blog, manage comments and embed media and social media sharing icons.

SEO: In order to improve the ranking of your website in search engines, Weebly provides SEO tools like alt tags, custom URLs and meta descriptions.

Marketing: Weebly offers a tool called Weebly Promote which allows you to build email marketing campaigns at a cost of $10 per month. You also have the ability to create forms, RSVP lists and surveys to gather information about your audience.

Analytics: Weebly provides users with an analytics dashboard where you can track visitors to your site, website statistics and email marketing performance.

Integrations: Weebly gives you the ability to integrate with a variety of third-party applications using its App Center. Here, you'll find hundreds of different tools, including those for shipping, reporting, marketing, social media, live chat and more.

Mobile app: Weebly provides a mobile app available for iOS and Android that allows users to build and manage their websites on the go.

Domain and web hosting: Weebly provides free web hosting, with cloud-based infrastructure. However, to get your own business domain name (rather than a subdomain), you'll need to sign up for one of Weebly's paid plans.
Here's a rundown of the features included in the Squarespace platform:
Blogging: Squarespace offers many of the same blogging functions as Weebly, including the ability to customize the look and feel of your blog, categorize posts and embed social media icons.

SEO: Another area of overlap is SEO. Squarespace essentially has all the same SEO tools as Weebly.

Marketing: Squarespace has an email marketing feature like Weebly, but it comes at no additional cost to you. There are also built-in tools that allow you to share social media posts directly from your Squarespace dashboard.

Analytics: Squarespace has an app designed to track analytics, called the Analytics app, so you can check your page views, sales, audience stats and more from anywhere.

Integrations: While Squarespace integrates with a handful of extensions, your options aren't nearly as plentiful as Weebly's. You can view the full list of integrations on the Squarespace Extensions page.

Mobile app: Like Weebly, Squarespace provides an app for iOS and Android that allows you to manage your business on the go.

Domain and web hosting: Squarespace provides domain and web hosting as part of its paid plans.
When it comes to Weebly vs. Squarespace, the features you get are comparable. However, there are some differences between the two. Weebly requires you to pay extra for email marketing while Squarespace builds it into its plan. On the other hand, Weebly offers a lot more integrations. So it's really a toss-up. By deciding what features matter most for your business, you'll have a better idea of which platform is better for your purposes.
If you hope to turn your business website into an e-commerce store, this section is going to be most important to you.
Weebly offers e-commerce functionality with all four of its subscription plans. With a Weebly store, you'll have built-in online shopping cart functionality and secure checkout via Square (which bought Weebly in 2018). Moreover, you'll have all the tools you need to manage your inventory. Here's a complete breakdown of Weebly's e-commerce tools:
Product descriptions with slideshows and videos.

Product sharing on social media.

Sell products and accept donations from any page on your site.

Collect item reviews and display on the product page.

Order confirmation emails.

Shipment tracking notifications.

Issue refunds and returns.

Real-time reporting for orders and sales.

Real-time shipping rates and adjusted rates for geographic locations including international shipping.

Create promotions and discounts.

Manage tax controls, and receive automatic tax rates for U.S. and Canada.

Bulk import and export capabilities between platforms.

A one-page checkout process.

Automated abandoned-cart emails.

Custom branded gift cards.
It probably won't surprise you to learn that Squarespace also offers a generous amount of e-commerce tools with all of its subscription plans. One key difference is that Squarespace uses Stripe as its payment processor, whereas Weebly uses Square. This shouldn't be too much of an issue though, as Stripe accepts even more payment methods than Square does.
Here's a breakdown of Squarespace's e-commerce tools:
Unlimited product uploads.

Product descriptions with slideshows, videos, image zoom and quick view.

Product sharing on social media.

The ability for users to submit custom forms.

Order confirmation emails.

Shipment tracking notifications.

Issue refunds and returns.

Real-time inventory updates.

Real-time reporting for orders and sales.

Employee-based permissions.

Create promotions and discounts.

Real-time shipping rates and adjusted rates for geographic locations including international shipping.
This is a bit anticlimactic, but Weebly and Squarespace tie again! More or less, you can get the same e-commerce features with both these platforms, so there really is no wrong choice.
Next up, let's explore which platform gives you more options when it comes to designing a beautiful website.
Weebly offers 35 different design templates for building your website, as well as the ability to tinker with the HTML and CSS of your website.
Once you select a template, you'll be able to use Weebly's drag-and-drop editor to make your website appear just the way you want — no coding skills required. This includes editing the text, color scheme and backdrop of your site. You can also add video backgrounds, create custom headers and add slideshows.
What's more, all websites are mobile-responsive.
Squarespace built its reputation on having gorgeous website themes. There are over 110 templates to choose from, all of which feature drag-and-drop editors and are mobile-responsive. Like Weebly, Squarespace allows users with technical experience to edit the HTML and CSS of their website to get it looking just how they want.

But even if you don't know how to code, it's not hard to get a highly professional-looking website with Squarespace. Pretty much every element can be easily customized.
Weebly offers a decent array of design options, but it simply cannot compete with an industry leader like Squarespace.
Having a website builder that's easy to use is arguably the most important aspect of choosing an e-commerce platform. Here's how Weebly and Squarespace stack up in that department.
If Squarespace is known for its design options, Weebly is known for its ease of use. It's a favorite among those with no technical experience who need a website. The drag-and-drop editor Weebly provides makes it possible to get your website up and running in no time at all. There's also a search bar on top that allows you to pull in any element you need while constructing your site. It really doesn't get much easier than that.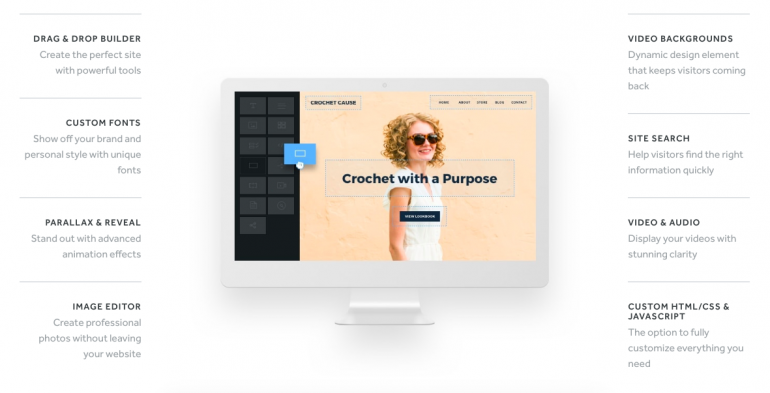 If you ever run into any issues, Weebly offers email, phone and live chat support from 6 a.m. to 6 p.m. PT Monday through Friday and 8 a.m. to 5 p.m. on weekends. There's also a Support Center and Community Forum.
Squarespace also features a drag-and-drop editor. However, because Squarespace has so many more design options than Weebly, it will likely take you a bit longer to build out your site. You'll also benefit from having a little bit more experience with web design if you're going to use Squarespace.
In terms of support, Squarespace has 24/7 email and live chat support Monday through Friday. On weekends, you can contact someone via email or live chat from 4 a.m. to p.m. ET. There is no phone support. Like Weebly, Squarespace also has a Support Center and Community Forum. Through Squarespace, you can also hire professional designers and watch webinars on how to get the most out of your platform.
For those looking for a quick way to build their e-commerce website, Weebly is your best bet. However, Squarespace's excellent support options make this one a close call.
To help us differentiate between Weebly and Squarespace, we asked users of both products to tell us what they like and dislike about them. Here's what they had to say:
Generally speaking, Weebly users only have positive things to say about this service. The most popular aspects of the Weebly platform are its ease of use and the fact that there is a free version of the service (more on that later). Reviewers say Weebly is the perfect platform for those who don't want to spend time designing a website, as its drag-and-drop interface makes things very simple.
At the same time, those who want to design a highly customized website will likely be frustrated by Weebly. Negative reviews of the product center around the fact that Weebly is lacking the same level of features as its competitors, which limits what you can do with your site. If you use the free version of Weebly, you'll also have a lot of Weebly advertising on your site.
When it comes to Squarespace, users praise the myriad of design options Squarespace provides.
"Their tagline is 'Build It Beautiful' and it rings so true," says Ethan Taub, CEO of Billry. "What's more, everything you need and could ever want for your website is housed in the CMS itself. And the customer support is fantastic and available 24/7 which is vital with an e-commerce site as downtime on a site can cost a lot of revenue."
Edward Stevens, who runs the vintage eyewear company Ed & Sarna, says Squarespace's functionality helped save his business money.
"Squarespace allowed us to save money as we didn't need to get a web designer or developer in to create our online presence and we could focus on the important aspects of our business like customer service, building our brand presence and sourcing more vintage eyewear," says Stevens.
At the same time, Stevens said he ran into issues with Squarespace as he scaled his business.
"We found that as we grew as a business, the lack of customization options, particularly within checkout became a hold on our growth. We have over 1,000 products across our site and it became difficult to make dynamic changes across all areas of our product pages."
Generally speaking, there was a lot more positive sentiment out there for Squarespace than there was for Weebly. While both seem to do a good job of meeting their users' needs, Squarespace appears to have the edge.
The last piece of our analysis is price.
Weebly offers four different pricing plans ranging from free to $29 per month.

For those that just want to set up a website, Weebly's free plan will do the trick. With this plan, you can set up a professional-looking website with an e-commerce shopping cart attached and gain access to all the blogging and SEO tools mentioned in the features section. However, you won't have access to your own domain.
To get that, you'll need to upgrade to the Personal plan, which costs $9 per month or $6 if billed on an annual basis. With this plan, you can connect to a custom domain. This plan also gives you unlimited storage, password protection and a shipping calculator.
Finally there's the Performance plan, which costs $29 per month or $26 if billed annually. With this plan, you get the ability to collect item reviews, print shipping labels, offer shipping discounts, send abandoned cart emails and receive what Weebly calls "priority support."
Like Weebly, Squarespace offers four pricing plans. However, Squarespace doesn't offer a free option. The plans range in price from $12 to $46 per month depending on whether you pay annually or monthly.

The $12 plan ($16 if paid monthly) is also called the Personal plan, and it comes with a free domain, unlimited storage and blogging and SEO capabilities — but no e-commerce platform.
To get e-commerce capabilities, you'll have to spring for the Business plan, which costs $18 per month (or $26 if you pay monthly). This plan gives you Squarespace's basic e-commerce tools, as well as the ability to create email marketing campaigns and edit your website's JavaScript and HTML.
Moving up to the Basic Commerce plan will cost you $26 per month (or $30 if paid monthly), and adds a bunch of extra e-commerce tools. This includes an integrated point of sale system, the ability to host your own checkout page, the ability for customers to set up their own accounts on your site and an integration that allows you to sell on Instagram.
Lastly, there's the Advanced Commerce plan, which costs $40 per month ($46 if you pay monthly). With this plan, you get extra e-commerce tools like abandoned cart recovery, gift cards, the ability to sell subscription plans and advanced shipping tools.
Weebly is the winner when it comes to pricing because it allows you to create an e-commerce store at no cost whatsoever. With Squarespace, you have to pay at least $18 per month to get that same level of functionality.
Weebly is easier to use and cheaper, while Squarespace has better design options and is more highly reviewed. For these reasons, we recommend Weebly for merchants just getting started in e-commerce. With Weebly, you're able to set up a site simply and for little money.
Squarespace is best for merchants who are looking for something a little sleeker and more professional. So if appearances matter in your industry, Squarespace is the way to go.
A version of this article was first published on Fundera, a subsidiary of NerdWallet.