Zenefits vs. TriNet: Which Is Right for Your Business?
Compare Zenefits vs. TriNet on features, cost, ease of use and user reviews so you make your best choice.
Many or all of the products featured here are from our partners who compensate us. This may influence which products we write about and where and how the product appears on a page. However, this does not influence our evaluations. Our opinions are our own. Here is a list of our partners and here's how we make money.
When it comes to HR for small-business, entrepreneurs have an array of software options to choose from. Two names you're likely to encounter are TriNet and Zenefits.
Both organizations are worth your consideration, but which might be better for your business? It depends on the features, cost and ease of use.
| | | |
| --- | --- | --- |
| | Payroll administration, HR tools, benefits administration, expense management, time tracking and scheduling | Payroll administration, HR tools, benefits administration, time tracking and scheduling |
| | | Starting at $8 per employee/month (payroll and benefits services cost extra) |
| | Cloud-based platform, employee portal, customer service between 6 a.m. and 12 a.m. ET Monday – Friday | Cloud-based platform, employee portal, customer service between 5 a.m. and 6 p.m. PT Monday – Friday |
With Zenefits' core features, you'll get HR administration and time and scheduling tools. To add payroll and other features, you'll have to pay an additional monthly fee.
Send employee offer letters and onboarding documents.

Create company organizational charts.

Conduct an unlimited number of background checks via Checkr.

Portal for employee self-service.

Administer employee I-9s and W-4s.

Sign documents with digital signatures.

Create employee profiles with contact information.

Create employee schedules and track attendance.

Track and approve PTO requests from employees.

Automate HR reports and view analytics.

Create, file and update company handbooks, privacy policies and other important company documents.

Access to the Zenefits mobile app.
Zenefits Growth (includes everything in the Zenefits Essentials plan, plus)
Receive data and tailored advice on managing employee compensation.

Create dashboards and receive guidance for employee performance management.
Zenefits Zen (includes everything in the Zenefits Growth plan, plus)
Tools, dashboards, reports and advice to optimize your employees' well-being.
Direct deposit paychecks.

Automate payroll reminders.

Allow employees to view digital paystubs with deduction breakdowns via the self-service portal.

Issue bonuses and commissions.

Issue payment to freelancers, consultants and independent contractors.

Access an automatic wage garnishment calculator.

Offer prorated payments for new hires.

View payroll reporting and analytics.

Automatically sync with HR data (including scheduling, onboarding, PTO and salary information).
Zenefits Employee Benefits
Integrate your benefits broker with the Zenefits platform.

Administer medical, dental, vision and life and disability insurance.

Administer commuter benefits, retirement plans and flexible spending and health savings accounts.

Automatically sync with data on HR and payroll platforms (including scheduling, onboarding, PTO, benefits deductions and salary information).
Zenefits also offers you the ability to extend the functionality of your platform by integrating with a range of third-party apps, including Salesforce, Slack, QuickBooks and Uber.
Lastly, for an additional fee, Zenefits will provide you with an advisory service of on-demand HR professionals who can assist you with all your HR needs.
Like Zenefits, TriNet offers a modern cloud-based platform with robust offerings, as well as add-on options.
Direct deposit paychecks.

Receive paychecks via snail mail.

Receive paychecks via prepaid Visa debit cards.

Issue payment to freelancers, consultants and independent contractors.

Administer employee I-9s and W-4s.

Automate payroll reminders.

Portal for employee self-service where they can view pay stubs and deduction breakdowns, and update their direct deposit and tax information.

Administer medical, dental, vision and life and disability insurance.

Administer commuter benefits, retirement plans and flexible spending and health savings accounts.

Create library of important business documents, including employee handbooks and compliance information.

View 20 different standard and customizable payroll reports.

Dedicated payroll account manager.

Access to the TriNet mobile app.

Now, this is just the software function of TriNet. TriNet is really a professional employer organization (PEO), which means it provides a wide range of services beyond the basics for small and medium-sized businesses for an added fee.
Zenefits provides HR software, but TriNet can actually provide your business with a team of industry-specific HR specialists that can assist with everything from recruiting and onboarding to performance tracking and employee relations.
With this service, you also get access to additional dashboards for recruitment, performance tracking and a portal where employees can access over 500 different online educational programs.
Zenefits allows you to connect your software to your benefits broker, giving you the flexibility to manage everything from one platform. TriNet goes a step further and administers benefits itself. This is made possible because TriNet is a PEO. Therefore, if you agree to work with TriNet, it will actually become a co-employer for all your staff.
Being a PEO allows TriNet to group all its "co-employees" from all of its client companies together in order to leverage benefits providers into offering more affordable rates than each individual business would be able to secure on their own. Through TriNet, you can offer medical, dental, vision and disability insurance, retirement plans, flexible spending accounts, pre-tax commuter benefits, gym membership discounts, employee assistance programs and more.
As your PEO, TriNet will also oversee requirements related to the Affordable Care Act, COBRA, disability and workers compensation insurance and state filings.
Another paid add-on service, TriNet's expense management tool allows you to import expenses from a bank account, credit card statement or by snapping a picture of a receipt from the TriNet Expense app. Your Expense app also comes with a mileage tracker. Expenses can be imported to your payroll platform for reimbursement and exported to your accounting software for bookkeeping purposes.
One feature that comes standard with Zenefits that you have to pay extra for with TriNet is time and attendance tracking. This feature allows you to create work schedules, approve PTO requests and export the hours worked by each employee to your payroll software.
TriNet is the obvious choice for those looking for features. It's simply a more built-up service compared to the much younger Zenefits. While Zenefits does offer a lot of the things SMBs need in terms of payroll and HR, TriNet is a one-stop-shop option and also highly scalable.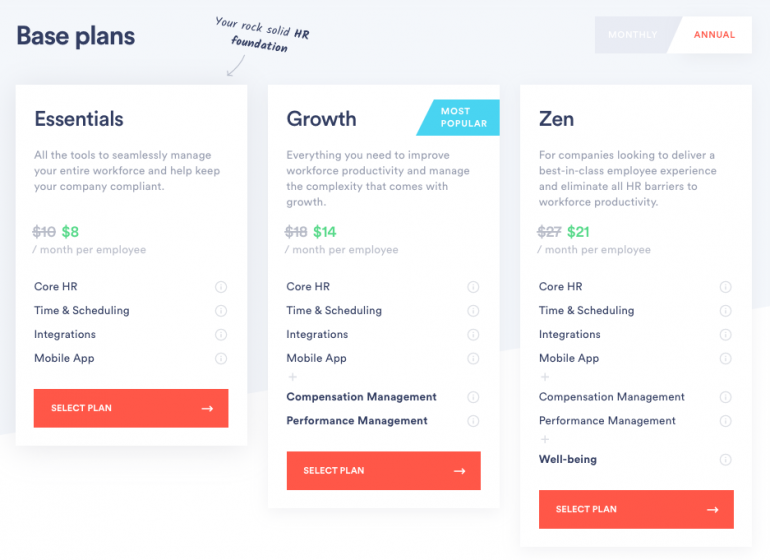 Zenefits Essentials: $8 per employee per month billed annually; $10 if billed monthly.

Zenefits Growth: $14 per employee per month billed annually; $18 if billed monthly.

Zenefits Zen: $21 per employee per month billed annually; $27 if billed monthly.
For payroll, you'll also pay an additional $6 per employee per month. This means you could end up paying $27 per employee per month when you combine payroll with the Zenefits Zen plan (billed annually). The aforementioned benefits service costs another $5 per employee per month, and advisory services cost another $8 per employee per month.
So if you want everything Zenefits has to offer (the Zen plan, payroll, benefits and advisory services), you'll pay $40 per employee per month (billed annually).
It's hard to compare TriNet's cost with that of Zenefits' because TriNet's pricing is quote-based. This is actually fairly common with PEOs, as clients tend to mix and match services to create a customized solution that works best for them. According to its website, "pricing can be complex given the various associated costs with delivering full-service HR."
Generally speaking, the cost you pay to use TriNet will depend on the number of employees in your company and the selection of services you require. TriNet also provides a helpful table to give you an idea of what you might have to pay for: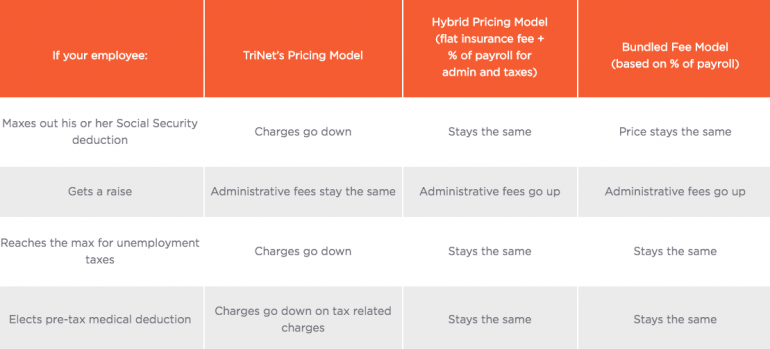 If cost is your main concern, Zenefits will be your cheaper option. While TriNet's price will vary from business to business, PEOs tend to be fairly expensive because of the high level of service they provide. That's not to say Zenefits provides a low level of service. In fact, we feel Zenefits gives you a lot of bang for your buck.
The Zenefits platform is designed to make your life easier through a high-tech interface and simple onboarding features. When you sign up, you'll be walked through a step-by-step process for setting up your payroll and learning the ins and outs of your system. This includes entering employee payroll information, importing tax and benefits information and linking your business's bank account.
Once your system is good to go, you'll be able to navigate to all payroll and HR-related tasks from your home dashboard. Zenefits' interface features a tab-based structure where you can see your outstanding tasks and click through to your payroll, scheduling and HR tools. Zenefits says that payroll can be run in a matter of three clicks.
If you ever run into issues, Zenefits provides new users with access to an Education Services team that can provide guidance on how to use your platform. You can also call Zenefits customer service between the hours of 5 a.m. to 6 p.m. PT Monday through Friday. You can also troubleshoot yourself by visiting the Zenefits Help Center.
The setup with TriNet is pretty much the same as Zenefits: provide basic business and employee information, link your business bank account and arrange your payroll schedule. Your TriNet account manager can also help walk you through this process.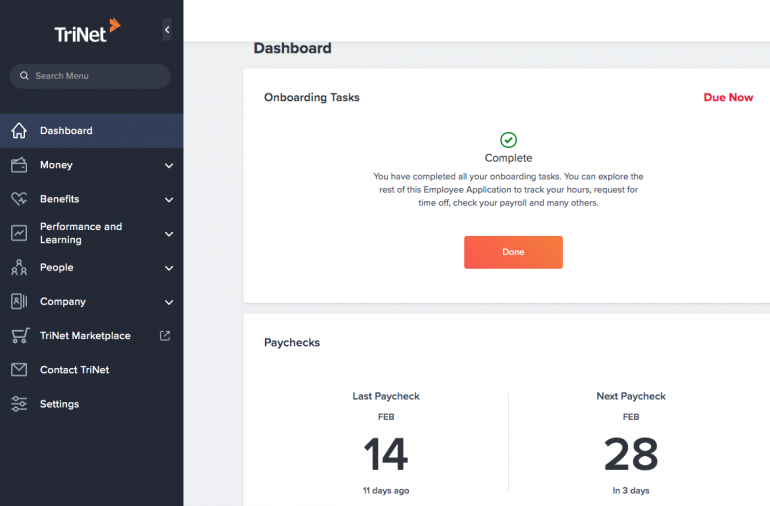 Like Zenefits, TriNet has a dashboard from which you will manage all payroll and HR responsibilities. From the dashboard, you can see open tasks you have to complete, your next deadline for submitting payroll, upcoming deadlines for employees (i.e. filing for benefits), holidays and more. There's also a sidebar where you can access other HR tools, like your benefits administrator, payroll reports and compliance center. There's even a link to TriNet's blog at the bottom of the page.
Clicking into the payroll component of your TriNet dashboard will bring you to a screen where you can see a list of all your employees, including contractors. To run payroll, simply enter employee hours worked since the previous pay period (or import them from your Time and Attendance tool) plus any overtime and bonuses. TriNet will automatically determine what each employee is owed and make the appropriate deductions.
If everything looks good, simply click the "Run Payroll" icon.
If you ever run into issues, you can contact your account manager for assistance. You can also contact the general support line between the hours of 6 a.m. and 12 a.m. ET Monday through Friday. If it's outside of business hours, TriNet's aforementioned blog features guides on how to perform essential functions.
While the software platforms themselves are quite similar, we prefer TriNet for customer service because you get a dedicated account manager and more open hours of customer phone support. Having said that, Zenefits does provide a lot more documentation on how to use your system. Even still, nothing is better than being able to access an expert when you need help resolving an issue.
Zenefits earns a lot of praise from customers for its range of features and ability to be customized to the customer's liking. Customers say it's very easy to adjust pay, view deductions, manage bonuses and perform other payroll-related tasks. The entire payroll process can be taken care of in a matter of five minutes.
Other customers appreciate Zenefits' time tracking and performance management tools, as well as the ability to build their company's organization chart within the software. Zenefits also draws praise for its range of reports, which can be customized to track the things users care most about.
On the flipside, Zenefits receives some negative reviews for its customer service. Customers say that even when using the Zenefits hotline it can take a long time to speak to a professional (in some cases, customers said Zenefits didn't follow up for over 24 hours). There are also complaints that Zenefits doesn't offer 401(k) integration with enough providers.
TriNet receives high marks for being a very easy platform to run payroll on and for offering excellent support services. Users point out that TriNet's benefits, time tracking and expense management tools integrate directly with payroll, making it very easy to keep track of payments and deductions. According to customers, TriNet is also very proactive in helping you manage important deadlines and stay compliant.
Perhaps most notably, users love the PEO aspect of TriNet, which allows them to secure competitive benefits packages for their employees. Users say that TriNet is capable of providing any type of benefit their business may want to offer, and pricing is always competitive.
In terms of downsides, some customers say the reporting tools are lacking and don't provide them with the information they're looking for. The fee for TriNet's services can also be prohibitive to some. A few customers have said TriNet's per-employee cost has affected their hiring plans.
Users have good and bad things to say about both TriNet and Zenefits. But we couldn't find any feedback that made us think public opinion is clearly aligned with one product over the other. For this reason, it's a tie, and the better product is really a matter of personal opinion.
A version of this article was first published on Fundera, a subsidiary of NerdWallet