TSA PreCheck With Family: Your FAQs Answered
Minors traveling with eligible adults do not need their own membership to access TSA PreCheck.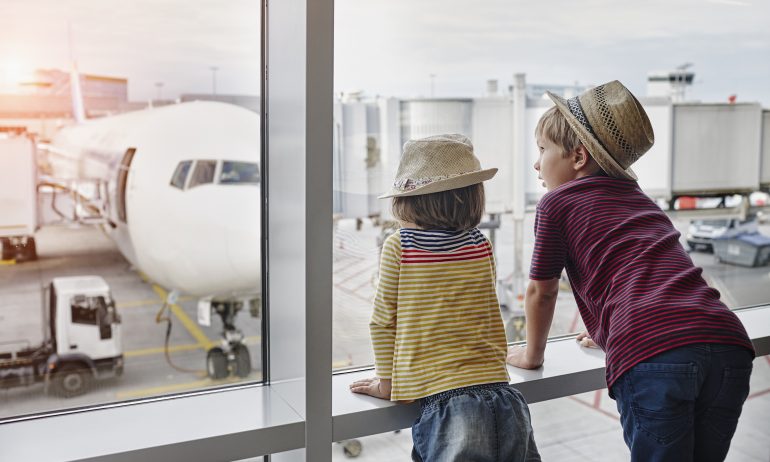 Many or all of the products featured here are from our partners who compensate us. This influences which products we write about and where and how the product appears on a page. However, this does not influence our evaluations. Our opinions are our own. Here is a list of our partners and here's how we make money.
Going through airport security as a family can be a major drag. Everyone has to remove their shoes, take electronics and liquids out of bags and wait in long lines. One way to reduce this hassle is by signing up for TSA PreCheck. This specialized program offers expedited screening and the lines are often much shorter than standard security lines.
Below, you'll learn the TSA PreCheck cost per family, whether or not kids need TSA PreCheck and other useful tips you might need before your next trip.
TSA PreCheck is an expedited screening program that provides a better travel experience. Approved members can use designated lanes at approximately 200 airports across the U.S. to speed through security. On average, members wait less than five minutes to complete screening.
TSA PreCheck lanes are available at participating domestic airports for trips within the U.S. and on outbound international flights. It may also be used on connecting flights within the U.S. for passengers arriving on an inbound international flight.
Once you're approved, it's as easy as adding your Known Traveler Number to your flight reservation. Over 80 airlines participate in the Trusted Traveler Program. Next time you go to the airport, a TSA PreCheck logo on your boarding pass will indicate you're eligible to access the expedited screening area.
Do kids need TSA PreCheck?
Whether a child needs TSA PreCheck depends on who they are traveling with. If they are under the age of 18 and traveling with an eligible adult, they may use the expedited security lanes if they are traveling on the same itinerary as their TSA PreCheck-approved parents or guardians.
Children ages 17 and under who are traveling alone must have their own TSA PreCheck approval if they want to use the TSA PreCheck lanes.
Can you bring a child through TSA PreCheck?
Children ages 12 and under traveling with an eligible parent or guardian do not need their own membership to use the expedited security lanes, even if they don't have the TSA PreCheck logo on their boarding pass.
Children ages 13 to 17 generally do not need their own membership either, as they can access the TSA PreCheck lanes when traveling on the same itinerary as an eligible adult. However, they may be randomly excluded from receiving the TSA PreCheck logo on their boarding pass. When that happens, they must go through the standard security screening process. Also, if they fly unaccompanied, they would not receive TSA PreCheck access. To avoid both of those situations, it would be best to get teenagers their own TSA PreCheck memberships.
What about TSA PreCheck for babies?
There is a TSA PreCheck for babies as well. However, most infants do not need to apply for TSA PreCheck membership because they will typically be flying with an eligible adult. Most babies with TSA PreCheck benefits have them because they belong to Global Entry, Sentri or Nexus, and TSA PreCheck is included for free with these programs.
How much does TSA PreCheck cost?
Signing up for TSA PreCheck requires a nonrefundable $78 application fee. If you are not approved, or you do not complete the interview, you will not be refunded. Membership is valid for five years, and you can renew online for $70 or in person for $78.
If you're already approved for the Global Entry, Sentri or Nexus programs, you automatically get TSA PreCheck membership. Additionally, members of the U.S. armed forces, select government employees and cadets and midshipmen at U.S. military academies may also use the TSA PreCheck security lanes without a membership.
Travel cards that reimburse TSA PreCheck application fees
Although the $78 membership fee equates to just $15.60 per year over five years, why pay the fee if you don't have to? There are numerous travel cards that reimburse TSA PreCheck application fees as part of their benefits. Here is a sample of the travel cards that reimburse these fees:
The reimbursement benefit of these cards replenishes every four to five years, so you won't get another reimbursement until your TSA PreCheck membership is ready for renewal. Additionally, you can choose to get reimbursed for either Global Entry or TSA PreCheck. If you use it for one or the other, you'll need to wait until your Global Entry or TSA PreCheck membership expires to use the benefit again. Terms apply.
If you anticipate traveling internationally, it's a better value to apply for Global Entry approval. Because TSA PreCheck is included in Global Entry membership, you'll get the benefits of both programs.
What is the TSA PreCheck cost for a family of four?
The TSA PreCheck cost for a family of four depends on the ages of the children. Minor children (ages 17 and under) do not need TSA PreCheck membership. The TSA PreCheck family cost for two adults and two minor children is $156. That total includes two adult memberships at $78 each and assumes that your children fly with eligible adults.
When the memberships come up for renewal, the adults' fees could drop to $70 each if they renew online. Renewals in person cost $78 per applicant.
Frequently asked questions
If I have TSA PreCheck, does my child need it?
Do children need TSA PreCheck?
Do infants need TSA PreCheck?
Can minors get TSA PreCheck?
Can I bring my baby through TSA PreCheck?
If you're looking to get TSA PreCheck for your family
It's a good idea to have TSA PreCheck when traveling with family. Family travel can be stressful enough with extra luggage and children who aren't used to new or busy spaces. Having TSA PreCheck for your family gets you through security faster without having to remove shoes or take electronics or liquids out of carry-on bags.
While the upfront cost may seem high, membership lasts for five years and there are numerous travel cards that can reimburse your application fees.
---
How to maximize your rewards
Get more smart money moves – straight to your inbox
Sign up and we'll send you Nerdy articles about the money topics that matter most to you along with other ways to help you get more from your money.