Advanced Tips for Optimizing Your Southwest Rapid Rewards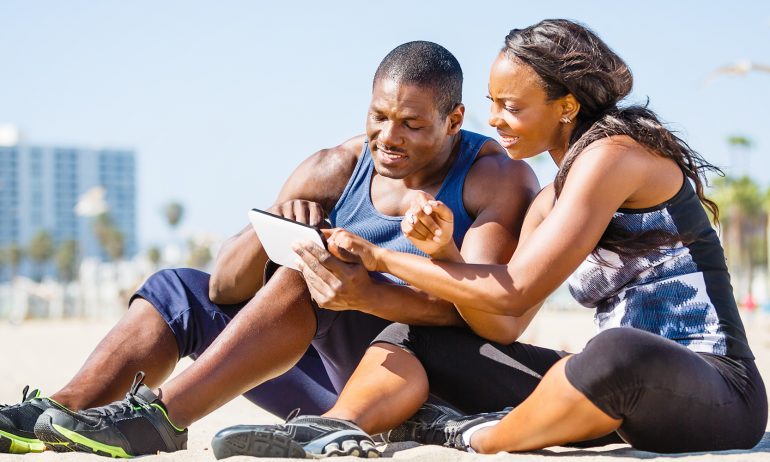 Many or all of the products featured here are from our partners who compensate us. This may influence which products we write about and where and how the product appears on a page. However, this does not influence our evaluations. Our opinions are our own. Here is a list of our partners and here's how we make money.
Known for its customer-friendly change policies and joke-cracking flight crews, Southwest has a large base of fans as customers. Casual travelers and frequent flyers alike can find even more value from the Southwest Rapid Rewards loyalty program if they know where to look.
Southwest doesn't have a fixed award chart or premium cabin seats, so you won't be able to find sweet spots in lie-flat beds. But you can find plenty of ways to maximize the value of your Rapid Rewards points for very reasonable flights all around the U.S., Mexico, Central America and the Caribbean.
Use the Southwest Low Fare Calendar to find the cheapest dates
Southwest uses a fare-based award system, which means that the amount of points a flight will cost is based on the cash price of the ticket instead of a fixed award chart. If your dates are flexible, you can book the same trip for fewer Rapid Rewards points depending on when you travel.
You won't be able to book Southwest flights if you search on a third-party travel site like Expedia or Orbitz. To find Southwest's Low Fare Calendar, head to the desktop website. Southwest has a user-friendly mobile app that's helpful for tracking flights, changing your bookings and checking in, but you can only search for the lowest fares in a calendar view on the website.
This calendar tool on the Southwest site helps you compare prices for different days for an entire month, and you can see multiple months at once. It's easy to find the price difference if you decide to travel on a different day than you had originally planned.
As you can see in this calendar view, if you booked a trip for the second day of the month, the cheapest seat would cost 14,460 points. But if your dates are flexible and you could fly later in the month, you would pay 9,234 points. That's a savings of over 5,000 points on a one-way ticket.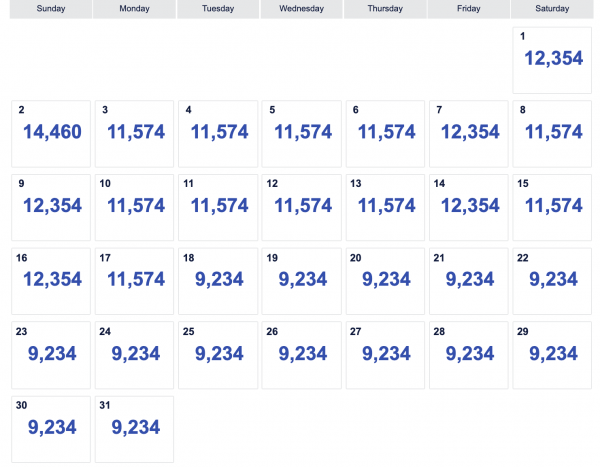 Book on Tuesday, regardless of when you want to fly
As a low-cost carrier, Southwest often has some of the most competitive fares. But on Tuesdays, fares usually get even cheaper.
While not an officially published policy, Southwest has a predictable fare sale calendar that lowers the prices on certain routes like clockwork nearly every single Tuesday. These sales generally run from Tuesday through Thursday, and offer one-way prices on select routes as low as $49 — or even $39 and are not necessarily limited to traveling on Tuesdays.
Rebook your ticket when fares drop
Southwest has one of the most generous cancellation and change policies of any airline. There's no fee to cancel or to change your ticket as long as you do so 10 minutes in advance of your flight.
While there's no fee to change your ticket, you will have to pay the difference in fare. If the flight you're trying to change to costs more than the price you paid, you'll pay the difference.
If the price of the flight you want to change to is cheaper, then you'll be credited back the difference.
With this generous change policy, you can even rebook the same flight you already have paid for and get the difference credited to you. Just find your flight on the website and click "change flight." If the price has dropped from what you originally paid, just "change" the flight and you'll get the difference back.

If you paid in points, you'll get refunded in points. If you paid a nonrefundable Wanna Get Away fare, you'll get a credit in the form of a Travel Fund. Travel Funds are easy to view when you're logged into your Southwest Rapid Rewards account, and you can apply them to the cost of future flights.
Southwest Airlines is a transfer partner for Chase Ultimate Rewards® points. This is a great option if your Rapid Rewards account is a little short of the amount you'll need for a flight. You can transfer some of your Chase Ultimate Rewards® to top off your Rapid Rewards account, then book the flight you want.
If you are looking at Southwest flights but don't have any Rapid Rewards points, there may be a better option than transferring your Chase Ultimate Rewards® points.
Better yet, you'll earn Rapid Rewards points, too. When you book a flight through the Chase travel portal, Chase pays the airline for your ticket. In the eyes of the airline, it's a paid revenue ticket instead of a points redemption. That means you'll earn Rapid Rewards points on your flight segments. If you have Southwest status like A-List or A-List Preferred, that status will still be recognized if you book with your Chase Ultimate RewardsⓇ points.
Fly someone with you for next to nothing with the Companion Pass
What some consider to be the "holy grail" of travel, the Southwest Companion Pass can help Southwest flyers save some serious cash. It's essentially a "buy one, get one free" coupon that enables you to fly a companion of your choice for nearly free whenever you fly. Just pay the taxes and fees (often only $5.60 each way for domestic flights) and your companion is all set.
The pass is valid for the remainder of the calendar year in which it's earned, plus the entire next calendar year. If you earn the pass early in the year, you can get almost two full years of nearly free flights for your companion. Plus, you can change your companion up to three times each calendar year. So if you want to take a trip with your spouse, they can be your companion for a flight; but later if you want to take another trip with your friend, you can change your companion.
Nerdy tip:
Be sure to think about timing if you change companions. You cannot have two flights booked at the same time with different companions. This means you have to complete one trip, change your companion, wait for it to process, then book your next trip.
Companion Passes work when you book your trip with Rapid Rewards points, too — you don't have to pay for your ticket in cash. You could use the Low Fare Calendar to find a cheap round-trip, book with Rapid Reward points and add your companion for a low-cost getaway.
Go Hawaiian Island hopping for less than 5,000 points
After a long wait, Southwest fans were elated when service to and within Hawaii finally launched in 2019.
You can now fly Southwest to Hawaii nonstop from four California cities: Oakland, San Jose, Sacramento and San Diego. Southwest services Kauai, Oahu, Maui and Kona and Hilo on Hawaii.
Not only can you get to Hawaii using Southwest Rapid Rewards, but you can often do so cheaply. It's not uncommon to find one-way tickets for less than 10,000 Rapid Rewards points from California to Hawaii.
Once you've reached Hawaii, it's also easy to hop around to different islands on Southwest. Inter-island flights can be found for less than 5,000 points each way. That's rock-bottom pricing that even beats Hawaiian Airlines — you'll pay at least 7,500 Hawaiian miles to fly around Hawaii. You could use 6,000 JetBlue TrueBlue points for a one-way flight on Hawaiian Airlines between islands, but Southwest is still the lowest points option. Aloha!
Earn thousands of Rapid Rewards points on hotel stays
Thanks to Southwest's partnerships with Booking.com and RocketMiles, you can earn a substantial amount of Rapid Rewards points on your hotel bookings.
Visit the Southwest hotels link on their site and search for hotels. You'll see the prices and the amount of Rapid Rewards points that you'll earn, so it's easy to compare your options. Watch for periodic promotions where you'll earn more points than usual when you book your hotel.
While you'll earn a lot of Rapid Rewards points on these bookings, you won't always find the best rates on these partner sites. Make sure to do some price comparison research and weigh your options.
If you're looking to travel within the U.S. and to Hawaii, or popular locations in Mexico and the Caribbean, chances are that Southwest flies there. You can use your Rapid Rewards points to book your trip, and even if your plans change, you'll get your money or credit back.
Make sure you're looking at the Low Fare Calendar and checking flights you've already booked to lock in the lowest fares. And the next time you book a hotel, check out the Southwest hotels options to see if you can earn a bunch of Rapid Rewards points in the process.
---
How to Maximize Your Rewards