After they got engaged, budget-minded couple Matthew and Brittany Verleger agreed to spend no more than $4,000 on their wedding and reception, an ambitious goal considering the average wedding costs $35,329, according to The Knot's 2016 Real Weddings Study. Matthew started the nuptial negotiation at $6,000, but Brittany challenged him to go even lower.
Yes, the Port Orange, Florida, couple kept the guest list short and got married on a midweek afternoon, but they also set aside funds and came up with creative money-saving solutions during their six-month engagement. We asked the newlyweds to share their universal tips on keeping wedding costs low and spirits high. Here's their advice.
SAVE UP FOR LIFE'S BIGGEST MOMENTS
Turn to the Nerds for savings tips and stress-free ways to track your money.
Plan beyond the wedding day
Matthew, a 37-year-old associate professor of engineering, and Brittany, 32, who works as an assistant manager at a retail store, had accumulated $47,000 in debt on a student loan, auto loans and credit cards by the time they were engaged. They were determined not to pile on extra debt — and stress — with spending on their wedding and reception.
"That's not a good way to start a life together," Brittany says.
Spending less on the wedding freed up more funds for the couple's $5,000 honeymoon: a cruise to the Caribbean.
"Our priority was much more about that week together than that single day," Matthew says.
Tap family and friends
According to average cost estimates by The Knot, the Verlegers saved thousands of dollars thanks to loved ones who volunteered to help. Brittany's photographer friend offered to take pictures, a friend of Matthew's shot the video and Brittany's cousin did her hair and makeup and was the DJ at the reception. If you have connections who are willing to volunteer or discount their services, don't be afraid to take them up on it.
Negotiate prices
Their ceremony took place at a hotel's outdoor space by the beach in Port Orange, Florida. The site was priced at $2,000, but Matthew negotiated the cost to $500. How? He made a compelling argument: They planned to have a ceremony with 30 guests on a Wednesday afternoon, an unlikely time for others wanting to reserve the space.
Shaving $1,500 off the cost for a venue may not be possible for everyone, but you might find a deal if you consider other options, like getting married at an off-peak time.
Shop strategically
Brittany shopped for wedding dresses at local stores, then searched online for styles similar to the ones she liked. She bought five dresses — ranging in cost from about $30 to $175 — on Amazon to make sure that she would have one she loved. The dress she wore for the ceremony was $130, a steal compared with the $1,000 gowns she saw at the stores. Brittany plans to sell the dresses that she didn't wear.
The Verlegers used the same mindset for other wedding purchases.
"We tried not to buy anything that we couldn't either resell or reuse in our regular lives," Brittany says.
They plan to sell a bubble machine used to create a festive sendoff at the end of the ceremony, while Matthew's attire — like slacks and a button-down shirt — are items he can wear to work.
Matthew and Brittany purchased a regular-size cake and cupcakes from a grocery store instead of opting to spend more money on a large cake from a bakery. You can save money on dessert by comparing prices between vendors, swapping the cake for less expensive treats like cookies or candy, or making your own.
Do it yourself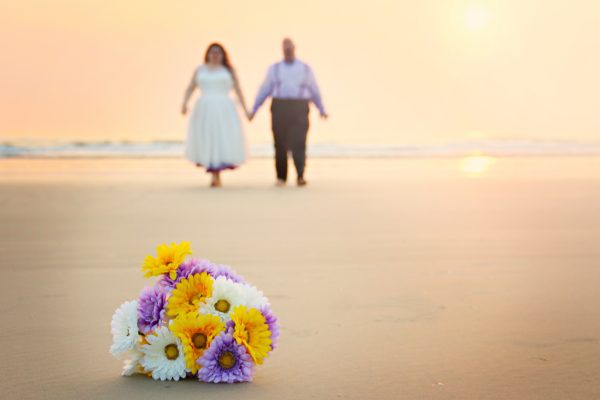 Turning to Pinterest for inspiration, Matthew and Brittany added their personal touch to the wedding by going the DIY route. They say the money saved and time spent crafting together was a win-win.
Their pre-wedding projects included printing their own invitations and assembling them using layers of colored paper, daisy stickers and glue sticks. Brittany also purchased silk flowers from the arts-and-crafts store Michaels at a discount and arranged the bridal bouquet.
For the reception, the couple made their own music playlist, decorated playing card wedding favors, set up a sign-and-play Jenga guestbook and created board-game centerpieces that incorporated what they value most: doing fun activities with family and friends.
Know your priorities
For their reception, the Verlegers chose a sentimental location: a local coffee shop where they went on one of their early dates. This setting also presented several money-saving opportunities. The 30-person maximum forced the couple to trim the guest list — although a few guests' children brought the final tally to 34. The bride and groom prioritized by inviting loved ones who live far away and they don't see as often.
Brittany and Matthew added just a few decorations, since they like the coffee shop's aesthetics. And by using a venue that regularly serves food, they didn't have to coordinate with a caterer or rent tables and chairs.
Build money habits for the future
With their budget in place, the Verlegers didn't have to take drastic steps to fund their wedding. They used a combination of budgeting, expense tracking and careful spending.
"Most of our wedding ended up getting paid for with the windfalls from the beginning of the year — both of our tax returns — and February was a three-paycheck month for me and a five-paycheck month for Brittany," Matthew says. "So all of those extra little amounts were used to fund the front end of our wedding."
They made minimum monthly debt payments and put every spare cent toward the wedding. Matthew and Brittany made it a point together to save about $500 every month toward their wedding and ceremony. The couple used an app called You Need a Budget to monitor funds and categorize purchases, which helped them prioritize how to use their money going forward. Once they had enough funds to cover the wedding and honeymoon, they switched to paying off as much of their debt as possible.
"Our one-year goal by our first anniversary is to be debt-free other than our mortgage," Brittany says. "At this point, we've got one car and one credit card, but the week before we got married we paid off my student loans and we [just] paid off my car."
The Verlegers say their resourcefulness and planning helped keep their finances on track.
"There are a lot of things that people fret over in trying to plan their wedding," Matthew says. But for them, focusing on "the 'I do's' and the people that were there" made their wedding a priceless day.
Images courtesy of Ali Ross, Three Birds Photography.