It goes without saying that college is a great place to get an education. But these couples remind us that college can be about more than just going to class and studying: It's also a life-altering experience. So in honor of Valentine's Day, NerdScholar scoured the Internet to bring you some of the sweetest college love stories.
Ready to have your heart strings tugged?
» MORE: 10 reasons to go to college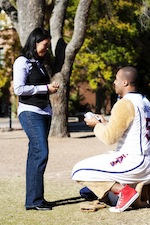 I met my boyfriend Joel outside of Washington, D.C., where I relocated after graduating from the University of Arizona. When we first started dating, we exchanged stories about ourselves to break the ice. I told him that I'd been Wilma the Wildcat, our mascot, my junior and senior years, and that I was "married" to the other mascot Wilbur. He could tell that I really enjoyed my time as a mascot and he knew that it was a special part of my experience at the U of A.
Fast forward two years later when Joel and I flew to Tucson to spend Christmas with my family. On Christmas Eve, the family decided to head to the campus and do a walking tour and take family pictures over by Old Main. When we arrived at Old Main, Joel asked me to wait there while he ran over to the student union. Twenty minutes later, we see Wilbur and a couple of cheerleaders walking toward us. I began chatting with the cheerleaders when one of them said, "Wilbur has something to ask you." I turned around and there was Wilbur, down on one knee. Then he took off the mask: It was my boyfriend Joel. It was definitely the most memorable day of my life, and I was so happy to have my "Wildcat" roots play a major part in it!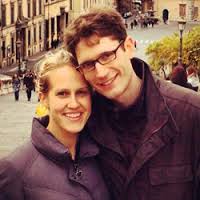 Anna and I met in professor Adam Beresford's Aristotle class in the spring of 2008. She was impressed because I went right up to her and introduced myself. She was working in Harvard Square at the time, so I invented many excuses to be on the Red Line going to Harvard Square after class.
I read a lot, so I told her I was going to the bookstores in the square. I bought a lot of books that semester! To appear cool, I would hang around and talk after class and wait for her to leave, pretending to stay behind. But then I'd run to make sure I was on the same shuttle bus with her!
We had the same group of friends, so we were often around each other. I asked her out one night (actually very early in the morning) at Hi Fi Pizza in Central Square. Our first date was at the ICA, and the rest is history!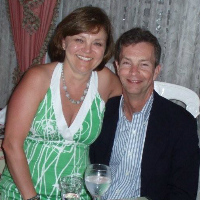 The year was 1977, our senior year. At that time, there were very few women in the school of engineering, so I was accustomed to being the lone female in most of my classes. It was the last class before the final exams, graduation, and the start of our engineering careers. The professor reviewed the material for the final exam and asked if there were any questions. After a few moments of silence, Tom Goetter raised his hand. "Yes, Mr. Goetter?" professor Mueller said. "I want to know," Tom started, "will Mary Penn go out on a date with me?" Professor Mueller turned to me with an amused smile. "Well, Miss Penn?" I laughed and said yes. We have been married for 32 years.
Jina (Marmelzat) Lindstedt and David Lindstedt, Tufts University
On a clear fall day in 1975, I was sitting on the outdoor steps of Hamilton Pool with Tufts swim coach Don Megerle. We were discussing the upcoming season, when he gave me a nudge with his elbow to check out the blond, blue-eyed, tanned California girl—a rare sight in New England—heading our way. She walked up to us and asked if we knew where the squash courts were. Coach replied, "Of course, we do. And Dave here will be happy to walk you to them." I didn't know we had squash courts. I proceeded to meander with Jina in tow by the pool, basketball court, indoor track, weight rooms, and athletic offices, assuring her that the courts were very nearby, but that I had just gotten turned around a bit. Eventually I found the courts … and eventually we got married, with Coach Megerle as one of our groomsmen. We have a wonderful 17-year-old daughter and live in Southern California—a wise decision after experiencing the blizzard of '78. Coach calls us on our anniversary every year.
Jonathan Kirkendall and Scott Perkins, Naropa University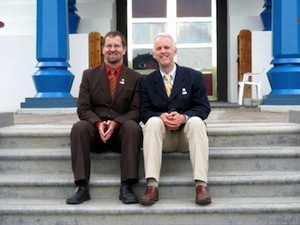 It was a bright, sunny day, and Scott had on a long-sleeve shirt with a white t-shirt showing beneath. Printed on the t-shirt was: "Nobody Knows I'm Gay." I rolled my eyes.
"Oh man," I said to him, "I hate it when straight people wear that shirt." Scott gave me a puzzled look.
"What?" he asked. And then it dawned on me: Scott Perkins, the cool, Buddhist Studies admin assistant, the cutest time keeper ever for the 8 a.m. sit, was gay. Like me. Embarrassed, I grabbed my book bag, swallowed hard, muttered something, and fled.
One day in August, before the school year began, I managed to rouse my confidence enough to call Scott and make a lunch date. We met at the restaurant. I was coming down with a summer cold and felt a little miserable. After lunch, we walked back to Naropa. I told Scott that with the cold and the new internship and classes starting I needed to hire someone to take care of me. He then turned to me and said, "I'd take care of you." And he has, for 18 years.
Turns out, he does play on my team.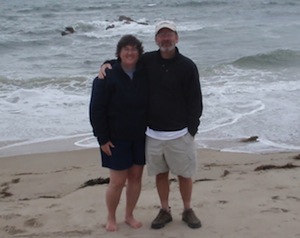 My husband and I were both freshmen in 1978, and both living in Buckham Hall.I was on the fourth floor; he was on the third floor. On more than one occasion, he would slip notes under my door. Then one day a bunch of boys from the third floor started tormenting the girls' floor by spraying shaving cream on walls, rubbing Vaseline on toilets, dumping garbage cans of water on the floor, and other nonsense. It was meant to be a joke, but it was actually a bit scary, so I stayed in my room, afraid to go out. When I finally opened the door I found Andy sitting on the floor across from me. I immediately got very angry because I thought he was in on the mean antics … but turns out he was protecting my room for me! We dated off and on that first year, but started dating "seriously" our sophomore year. We graduated in May of 1982 and married on Sept. 4, 1982.
We both remember our UVM days fondly. This coming September will be our 29th wedding anniversary.
Rosemary (Joubert) Bump and Forrest Bump, Pacific University
I met my first and only love—my wife—at Pacific University.
Back then, I was so shy. Rosie flirted with me, teasing me because she thought my name was funny. That's how we got acquainted. Rosie had a music scholarship to Pacific. She lived in a dorm, and I was courting her. But they had strict hours and rules: males couldn't enter the dorm after 10 p.m. So I would go downtown and buy her a hamburger late at night, then put it into a paper bag; then Rosie would let down a string from her window, I'd tie on the hamburger bag, and send it back up to her. That was our courtship dance.
But then Rosie's father moved the family to Dallas where he began work on the Red River dam. Rosemary went too. I went to Louisville Kentucky to go to medical school, but I kept in touch, and rode the train down to visit her a couple times. She was dating someone I like to refer to as "that stupid cowboy"—although Rosie might not agree with that!
Anyway, she was dating the stupid cowboy and I was on fire with jealousy, so I put the pressure on her to marry me. Finally, after a few more hamburgers, she said yes, and ended up with a funny name too! We've been married 60 years now. Not all of it has been easy, but I wouldn't have missed a minute of it for anything in the world. I am as much, or more, in love with her today as the day we married.
Did you meet your partner in college? Tell us about your love story in the comments section below.  
Sources: Please click the name of the college for the full, unedited text as well as other alumni stories. 
Heart and rose image courtesy of Shutterstock.