A Women's History Month feature. Read more stories of student loan debt here.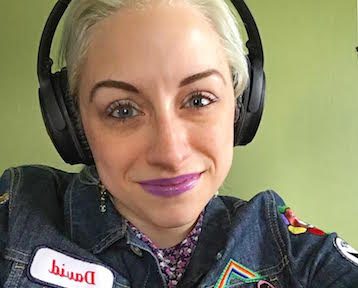 Bethany Francis graduated from college in 2011 with $28,000 of student loan debt and has had little success in making payments on her loans since. She's part of NerdWallet's series featuring women and their relationship with student debt, their studies, the gender gap on student loans and a future without student debt.
More women than ever hold college degrees, but they face a more daunting debt burden than their male peers.
The number of American women 25 and older with a bachelor's degree increased from 22.8% to 29.7% between 2000 and 2013, according to the Institute for Women's Policy Research. Women may have more education than ever before, but they're still earning less than men: Women with graduate degrees earn a median $29,000 per year less than men with graduate degrees and $5,000 less than men with just bachelor's degrees, according to the institute.
Those lower earnings make it more challenging to repay student loans. One year after graduation, women's student loan debt represented a higher percentage of their earnings when compared with men, according to findings from a 2015 study by the Institute for Women's Policy Research, released by AARP. The higher proportion was true across all ethnic groups but was even greater for black women.
This is Bethany Francis' story.
Bethany Francis
Occupation: Bakery manager
College: Bachelor's degree in theater studies and a certificate in women's and gender studies from Ohio University (2011)
Student debt: $28,000, which will soon increase due to interest
Location: Lakewood, Ohio
It wasn't until Bethany Francis reached her senior year of studying theater at Ohio University that she realized she didn't want to be an actor. "I feel like I shot myself in the foot, because what are you going to get a job in with a theater degree?" she says.
Francis deferred her federal loans for most of her postgrad life and has been able to make only sporadic payments. She applied for 50 jobs after graduation until she finally landed a temp position for Ohio University. Then, after some short-term positions, Francis got a job as a payroll coordinator and was able to make payments on her loans. She now works part-time at a bakery in Lakewood, Ohio, where she lives with her husband. She is not making student loan payments, and her interest is still growing.
On what she would have done differently: "I don't know if I would have gone to college," Francis says. "Especially working in my current workplace, I work with young people who have chosen not to go to school, and I'm $30,000 in debt. At that time in my life, I didn't have the awareness or self-possessiveness to make a choice like that. I wanted to make my parents happy. I wish I would have been more grounded in reality, that getting a degree like an arts degree, unfortunately, isn't realistic. I wish I could have gotten something that projected me into a career instead of a lot of debt."
On her ability to pay off student debt: "That would be amazing. It would be a weight lifted. I honestly don't know if I'll ever be able to pay it off. Even if I paid $50 a month for every month, I wouldn't pay it off unless I was close to retirement. For me, it looks pretty bleak. I'm kind of resigned. I don't even see that as a reality."
On the student loan debt gender gap: "I just assumed we were all in the same boat, but it's not truthful if men are making more money than women for the same jobs."
On women's ability to repay loans: "I did study women and gender studies, so I know there is a significant wage gap, and I know it's underreported. We say 79 cents for a man's dollar, but that's not accurate — that changes in terms of your race, so I know I have more privilege over a black or brown woman trying to pay back loans, because the wage gap for them is significantly greater."
How to make loan payments more manageable
Francis faces a tough challenge in paying off her loans. If you're in a similar situation or you're finding yourself unable to meet monthly loan payments, you may want to consider these options.
Federal loan borrowers may opt for income-driven repayment, in which your monthly payments will be capped at a percentage of your income. Your standard 10-year loan will extend to 20 or 25 years. Private loan borrowers may benefit from student loan refinancing, in which your existing loan would be replaced with a new private loan with a lower interest rate. To qualify, you need stable income and a credit score of 650 or higher.
Both options have their drawbacks. With income-driven repayment, you'll pay less each month, but you'll end up paying more in interest over the length of the loan term. If you refinance federal loans, you'll be giving up federal protections like loan forgiveness as well as payment options like income-driven repayment.
Francis' is one of 44.2 million stories of student loan debt. For more on these women and additional stories of student debt woe and triumph, follow the "Female Faces of Student Loan Debt" series.
Anna Helhoski is a staff writer at NerdWallet, a personal finance website. Email: [email protected]. Twitter: @AnnaHelhoski.