A Women's History Month feature. Read more stories of student loan debt here.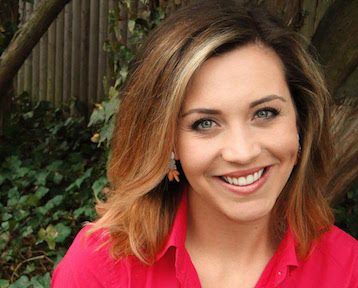 In this series, women spoke with NerdWallet about their relationship with student debt and their studies. They also shared their perspective on the debt gap between the sexes and a future when they're finally free of student debt. In this profile, Kate Ottavio Kent, a 2008 graduate who had $20,000 in student loan debt, discusses how she has repaid nearly all of her debt.
More women than ever hold college degrees, but they face a more daunting debt burden than their male peers.
The number of American women 25 and older with a bachelor's degree increased from 22.8% to 29.7% between 2000 and 2013, according to the Institute for Women's Policy Research. Women may have more education than ever before, but they're still earning less than men: Women with graduate degrees earn a median $29,000 less per year than men with graduate degrees and $5,000 less than men with just bachelor's degrees, according to the institute.
Those lower earnings make it more challenging to repay student loans. One year after graduation, women's student loan debt represented a higher percentage of their earnings when compared with men, according to findings from a 2015 study by the Institute for Women's Policy Research, released by AARP. The higher proportion was true across all ethnic groups but was even greater for black women.
This is Kent's student debt story.
Kate Ottavio Kent
Occupation: Account supervisor at ICR, a strategic communications and advisory firm
College: Bachelor's degree in public relations from Quinnipiac University in Hamden, Connecticut (2008)
Student debt: $300 left on a $20,000 federal loan
Location: Norwalk, Connecticut
Some $3,000 of Kent's $20,000 in student loans were paid thanks to her competing in the Miss Connecticut pageant in 2010. The Miss America pageant organization markets itself as the nation's largest scholarship organization for women. "I always joke, I was first runner-up, so I got a lot of the benefits of having won, but I could focus on my career trajectory," Kent says. "You don't even touch the money that you win; it goes right to your school or to the federal funds you took out your student loans with."
When Kent graduated from Quinnipiac University in 2008, she felt "totally terrified." She didn't have a formal plan, but she knew that within six months her payments would be due. Within three months of graduating, she found a job in public relations, her field of choice. "My payments were like $200 monthly, which is manageable, except when you're living in Connecticut making $28,000 starting out," she says.
To ensure she could make payments, Kent limited her lifestyle, to a point. She started a retirement fund and watched her spending.
"There wasn't any going out to eat. There was grocery shopping. I was a little bit of a homebody, so there wasn't much going out for drinks," she says. One thing she wouldn't sacrifice was her living situation. She says, "I was very adamant, and my husband will agree, that I was not a good roommate. The first job I had was in Hartford, Connecticut, and I was not willing to live with somebody."
By now, Kent has paid off nearly all of her loans and has just $300 to go. She says she's proud to have owned some of her education costs.
On what she would have done differently: "I'd go to a public school. Hindsight is 20/20. I always wonder private versus public school. I met my husband and best friends at Quinnipiac, but financially speaking it would have been more feasible to go to a public school."
On the prospect of being debt-free soon: "There's something about making that last $60 payment that will be celebration-worthy."
How to make loan payments more manageable
While Kent was fortunate to receive an extra financial kick by competing in the Miss Connecticut pageant, she says it wasn't always easy to make her loan payments. If you're struggling to pay off your student debt, these options might make sense for you to consider.
Federal loan borrowers may opt for income-driven repayment, in which your monthly payments will be capped at a percentage of your income. Your standard 10-year loan will extend to 20 or 25 years. Private loan borrowers may benefit from student loan refinancing, in which your existing loan would be replaced with a new private loan with a lower interest rate. To qualify, you need stable income and a credit score of 650 or higher.
Both options have their drawbacks. With income-driven repayment, you'll pay less each month, but you'll end up paying more in interest over the length of the loan term. If you refinance federal loans, you'll be giving up federal protections like loan forgiveness as well as payment options like income-driven repayment.
Kent's is one of 44.2 million stories of student loan debt. For more on these women and additional stories of student debt woe and triumph, follow the "Female Faces of Student Loan Debt" series.
Anna Helhoski is a staff writer at NerdWallet, a personal finance website. Email: [email protected]. Twitter: @AnnaHelhoski.