Advertiser Disclosure
Top 5 Reasons to Apply to a Pac-12 School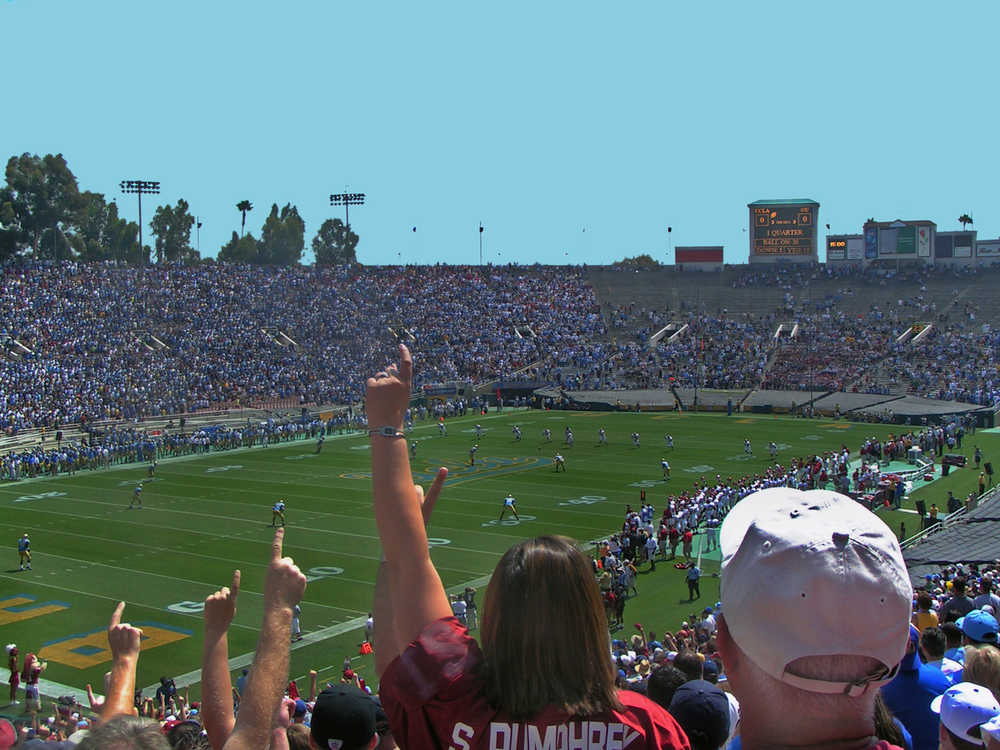 The Pacific 12 conference is ranked as one of the top five college athletic conferences in the National Collegiate Athletic Association, or NCAA. Composed of some of the most elite research universities in the country, schools in the Pac-12 consistently score high both in sports and in academics. On the field, the Pac-12 earned 10 NCAA team titles in 2013-2014 alone. According to the Pac-12's website, "no other conference has won double-digit NCAA crowns in a single year, the Pac-12 doing so seven times."
Championship titles aren't the only sign that Pac-12 teams are rising above the rest. The Learfield Sports Directors' Cup is awarded each year to the best all-around college athletic program in the country and more universities from the Pac-12 rank in the top 20 than from any other conference. What's more, Stanford University, a Pac-12 school, has taken home the Directors' Cup for the past 20 consecutive years.
The benefits for student athletes at Pac-12 colleges are numerous, but these schools have more to offer students than just top-notch athletics. NerdScholar compiled a list of reasons why prospective students—whether sports fans or book nerds—should consider applying to the prestigious Pac-12 schools.

1. World-class academics.
The colleges of the Pac-12 are some of the best academic institutions in the world. According to Patrick Auerbach, associate senior vice president of alumni relations at the University of Southern California, eight of the 12 schools are members of the American Association of Universities, an organization of 62 of the nation's top public and private research schools.
With strong academic opportunities for all, students graduate from Pac-12 schools with worthwhile and highly sought-after degrees. For student athletes, this means heightened job prospects outside of athletic careers.
2. Breadth of alumni opportunities.
Students of the large universities in the Pac-12 have access to thousands of alumni who work across a variety of industries and locations. For instance, Auerbach notes that USC has more than 360,000 alumni around the world, largely situated in urban hotspots. Stanford and the University of Utah boast more than 214,000 and 160,000 respective alumni worldwide.
But what's even more impressive are the opportunities for students to network with alumni from other Pac-12 colleges. The University of Utah has hosted alumni mixers in the past that, according to their website, "provide a good way for Pac-12 alumni to get to know one another and strengthen the chapter." The University of California-Berkeley has hosted similar events in California, showcasing a deep sense of camaraderie between Pac-12 rivals.
3. Scholarships for student athletes.
In addition to the obvious benefits of playing collegiate sports—media coverage and the possibility of an athletic career—many student athletes accepted to Pac-12 schools receive impressive scholarships that cover the cost of tuition. But the Pac-12 is taking the issue of college costs one step further. As of 2014, the "power five" athletic conferences, including the Big Ten, Big 12, SEC, ACC, and Pac-12, are authorized to use athletic program revenue to fund scholarships for student athletes that cover the full cost of attendance. According to Pac-12 commissioner Larry Scott, the exact amount offered will vary at each school, factoring in tuition, room and board, as well as other extraneous costs students bear.
4. Competitive rivalries.
From the crosstown rivalry in Los Angeles (USC vs. UCLA) to the faceoffs between universities in Oregon, Washington and Arizona (each state boasting two Pac-12 schools), this conference has no shortage of world-class matchups. Each university fosters a strong sense of pride among its students, who participate in rivalry-oriented campus and sporting events throughout the academic year.
And unlike other NCAA conferences, the schools of the Pac-12 collectively own a national television network that highlights all Pac-12 sports, from men's football to women's water polo. The Pac-12 Network even offers paid internships exclusively to students of the Pac-12 universities.
5. Prime West Coast locations.
They don't call it the Pacific 12 for nothing; the majority of Pac-12 schools are situated along the country's sunny western shores in a mixture of urban cities and small towns. In addition, the diversity of cities like San Francisco and Los Angeles expose students to a variety of cultures and industry. Whether you are searching for a college near the beach, in a city or along the mountains, Pac-12 schools offer a great mixture of outdoor life, colorful cultures and superb academics.
---
Football game image via Karin Hildebrand Lau / Shutterstock.com.