Right now, Zillow is the top dog of home search websites, but Realtor.com is the scrappy terrier nipping at its heels. The site launched an aggressive marketing and redesign campaign following its sale to News Corp. earlier this year. Its traffic is now growing at nearly twice the rate of Zillow's, according to industry information provider Inman.
How does a runner-up compare to the current leader? Here's NerdWallet's assessment of Realtor.com.
What Realtor.com does best:
Accesses home-for-sale info through local Multiple Listing Services (MLS), with most listings "updated every 15 minutes"
Provides useful community information for those who are relocating to a new city
Offers excellent housing and rental market overviews
Gives users quick access to nearby Realtors
Realtor.com at a glance
| Feature | Pros | Cons |
| --- | --- | --- |
| Home listings | Each listing provides ample details on the property, including neighborhood info and local school ratings. | The site excludes for-sale-by-owner (FSBO) listings. |
| Neighborhood info | It's easy to find nearby listings, and an on-map Google Street View option provides a quick, real-life look at a neighborhood. | Pages can be a bit slow to load, mostly because of non-real-estate-related ads — something you don't often see on competitor sites. |
| Other resources | "Celebrity Real Estate" lists homes for sale by the rich and/or famous. There's also a "Unique Homes" section. | You might forget that you came to the site looking to buy a home. |
| Finding an agent | The "Find Realtors" search returns only real estate agents who are members of the National Association of Realtors. Realtors pledge to abide by NAR's ethical standards. | About half of U.S. real estate agents belong to NAR, so a Realtor search is likely to exclude a portion of the agents working in your area. |
What makes Realtor.com different
Different can be better — or just different. Realtor.com excludes a number of features that are standard fare on other home search portals, such as:
Property value estimates. "Zestimates" are a popular but controversial feature of Zillow, but Realtor.com says it won't display "value estimates on 'for-sale' properties because the local real estate professional is the best person to determine the value of a listed property."
For-sale-by-owner (FSBO) listings. Again, this is an effort by Realtor.com to protect the Realtors it serves.
Independent user reviews of real estate agents. Realtors can post "recommendations" from past clients to their profile, but users of the site cannot post their own reviews. Realtor.com says it's a matter of "displaying the online reputation of brokers and agents in a way that both meets consumers' needs to find the 'right' professional while also being done in a fair way for the industry."
Paid placement on a listing. On Realtor.com, only the listing broker's and listing agent's branding, logos or photos are allowed to appear on any given listing.
Reasons to use Realtor.com
Housing and rental market overviews: Realtor.com describes specific real estate markets with simple language. Check graphic profiles under the "Local" tab for information on a city's demand — an area might be described as a "soft buyer's market," for example — climate, cost of living and employment, as well as a gauge that indicates whether it's cheaper to rent or to buy.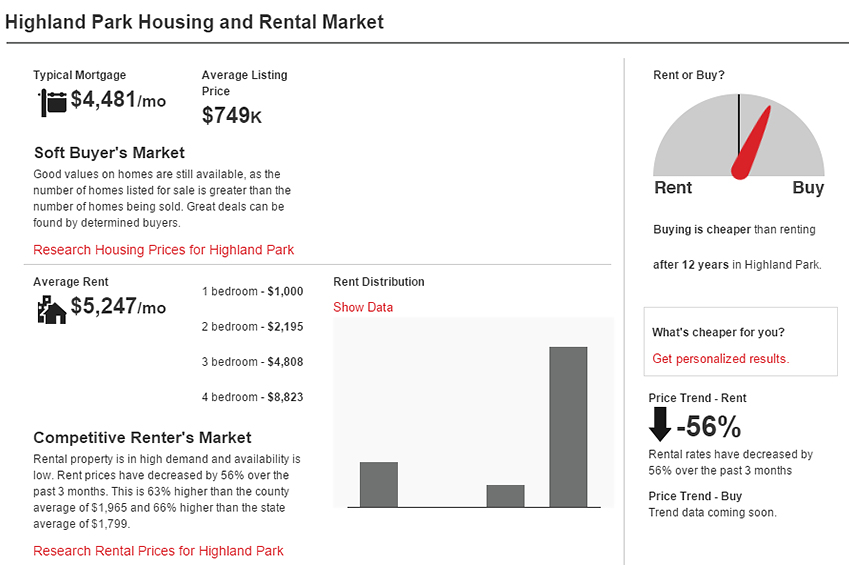 Lifestyle information: The site uses colorful charts to help newcomers learn about the age distribution of a neighborhood, as well as its residents' typical marital status, household income and educational background. The crime index is another useful data point.
MLS access:  Traditionally, access to Multiple Listing Services across the nation has been Realtor.com's most powerful advantage. These databases stream information on local property listings to the site, allowing Realtor.com to claim "the most up-to-date and accurate" listings. However, the site's competitive advantage in this area may be waning as Zillow gains MLS affiliations.
Apps: Realtor.com's mobile app was rated the best in the business in 2012 by Clareity Consulting, an information and IT consultancy serving the real estate industry. However, in its most recent report, Clareity ranked Realtor.com's app eighth, and awarded top honors to Zillow.
"While those of us in the industry know that the Realtor.com app still has the most accurate content from the MLS, the consumer may not be as aware of that, and are more appreciative of the Zillow and Trulia interfaces and additional content, including listings from other sources," Clareity says.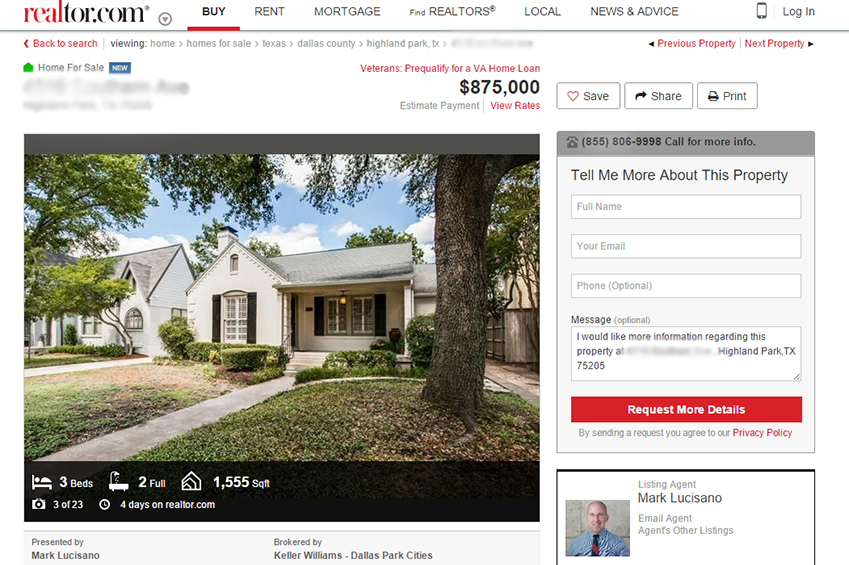 Finding an agent
Providing marketing services to agents is how Realtor.com — and other sites, such as Zillow and Trulia — make money. Agents can pay for advertising, such as targeting their personal profile to the most actively searched ZIP Codes.
Like other home search sites, Realtor.com has a search feature for local agents. Any real estate agent can claim a free profile on the site and have his or her name appear next to properties for which they're the listed agent, but click on the "Find Realtors" tool and that's exactly what you'll get — Realtors and only Realtors.
What's the difference? Not every real estate agent is a Realtor, and only agents who belong to the National Association of Realtors can use the trademarked Realtor moniker — and appear in the site's search results. Realtors pledge to abide by the association's ethical guidelines but most, if not all, of those principles are legally mandated by state real estate commissions, anyway.
According to NAR, there are about two million active real estate licensees in the U.S. and just over one million members of NAR — or Realtors.
The bottom line
Realtor.com focuses on connecting Realtors to consumers, but the site is also a rich data source for house hunters. As with any home search engine, it's a smart idea to compare its results and information with other portals, including Zillow and RealtyTrac.  
More from NerdWallet:
Hal Bundrick is a staff writer at NerdWallet, a personal finance website. Email: [email protected]. Twitter: @halmbundrick.