When you decide it's time to refinance your mortgage, either with a better rate, lower payment or a change in terms — or to get some cash — it's natural to think, "I'll just go to my current mortgage lender."
And that's fine, as long as you take these 5 steps to make sure you get the best refi deal.
How to find the best refinance mortgage lender
For the most part, your credit score determines your interest rate. The higher your credit score, the lower your interest rate. Maybe your score has changed, for better or for worse, since closing your original home loan.

If you are refinancing with a spouse or partner, the lender will likely consider the lowest middle score between the two of you.

Knowing your score can help you see where the next price break might be. For example, look at this FICO mortgage rate chart, broken down by credit score ranges. According to this, if your credit score is in the 680 to 699 range, it might be worth the time and effort to pay off a few credit cards and get your score above 700. The interest rate improvement looks pretty appealing.

Of course, every lender has its own method of pricing loans, so that FICO chart is not the law of the land. But it will help you narrow down the lenders offering you something close to the interest rate you deserve, based on your credit score.
---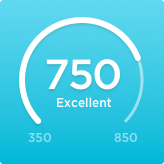 Get Your Free Credit Score Report
Open more doors for your financial goals.
Set your goals and see your progress.
Signing up won't affect your score.
---
Even if you go back to your current mortgage lender for your refinance, shop at least a couple of other lenders to see how interest rates and terms compare.

You might believe that going to your existing lender will save you time and hassle. "They know us, they've already got all of our paperwork," you may think. If only that were true. It's a new loan for them, just like it's a new loan for any lender. The paperwork will be the same.

When lenders know you're shopping around, they are more likely to compete.
Yes, you can negotiate. Just as you did when you bought your house, everything can be negotiated. Third-party fees, like appraisals and attorney's fees, are harder to bargain for — but not impossible. Lender fees are fair game.

» MORE: Find out how much your home is really worth

Ask each lender, "What are all of the 'origination charges' that I will find listed on the Loan Estimate, under Loan Costs, Item A if we proceed?" Use those exact words and get the answer in writing. Now you can compare lenders' fees.
You've been through the mortgage process before, so you've got an idea how all of this works. Still, some mortgage lenders can toss out a bunch of terms and conditions that can muddle the process. Interest rates are sometimes the most confusing.

As you compare lender offers, look for your payment rate — the rate your monthly payment is based on — and the annual percentage rate. Naturally, you'll be very interested in the payment rate; that's what every lender is hawking. But the APR wraps your payment rate together with all the fees you're charged. This is an important consideration when choosing who gets your business.

Try out the NerdWallet Mortgage APR Calculator to see the relationship between interest rates and APR.
You might like the "we're your neighbors" vibe of a credit union or the 'round-the-clock convenience of an online lender. Lenders have specific personalities and capabilities. Some are well-versed in government loan refinancing; others are noted for outstanding customer service. You're the customer, you decide what you need and what's most important.

We've assembled some of the leading refi lenders for different situations below. And for more options, see our complete list of the best refinance lenders.
Best refinance lenders for the online mortgage experience
These lenders offer easy-to-use web portals and online support for borrowers who want to apply for, track and close a refinance online.

The biggest online mortgage lender in the U.S.
Fully automated process that imports employment and income data, credit scores, property info and more
Gives a loan decision in minutes

Offers refinance mortgages with no origination fees or broker commissions
Minimum 620 credit score qualification
Automated suggestion engine will determine if there are things you can do to lower your rate
Best refinance lenders for customer service
If quality customer service is a top priority, look into one of these lenders.

Flexible options for borrowers with low down payments and nontraditional credit histories
Offers assistance at every point during the mortgage process
Provides customer service in its physical locations, online and via chat or phone

Has hundreds of positive reviews on sites such as the Better Business Bureau, Yelp and LendingTree
Boasts a more than a 95% customer satisfaction rate
Provides a completely digital mortgage platform for both refinance and purchase customers
Best credit union refinance lenders
If a big bank or online lender just isn't for you, consider joining and refinancing through a credit union.

A national lender with nine branch locations in four states
Get a no-hassle mortgage comparison by filling out an online form. A loan officer will respond within two days.
Considers alternative credit data when underwriting

A smaller lender that offers more personalized service
One of the leading digital-first credit unions in the country
A portfolio lender with flexibility in its lending criteria
Best mortgage refinance lenders: summary
More from NerdWallet
NerdWallet's selection of mortgage lenders for inclusion here was made based on our evaluation of the products and services that lenders offer to consumers who are actively shopping for the best mortgage. The six key areas we evaluated include the loan types and loan products offered, online capabilities, online mortgage rate information, customer service and the number of complaints filed with the Consumer Financial Protection Bureau as a percentage of loans issued. We also awarded lenders up to one bonus star for a unique program or borrower focus that set them apart from other lenders. To ensure consistency, our ratings are reviewed by multiple people on the NerdWallet Mortgages team.