LOOKING FOR THE 2014 FRED'S SUPER DOLLAR AD? CHECK IT OUT HERE. FOR A FULL LIST OF BLACK FRIDAY AD SCANS, CHECK OUT NERDWALLET'S BLACK FRIDAY AD LEAKS PAGE.
NerdWallet's news and reviews of the 2013 Black Friday ads continue. We aim to provide you with a comprehensive look at the ads to your favorite stores and help you out with determining the deals from the duds.
Fred's Super Dollar Black Friday 2013
This year, Fred's Super Dollar Black Friday 2013 has brought you another fabulous 4-page ad scan! Its true that similarities between this year's ad and last year's don't exactly end with the page number. Nonetheless, those who would have you believe that Fred's didn't spice up some of their sale items simply haven't done their homework. There were some great deals that differed from last year. See them in the "Fred's Super Dollar Best Black Friday Deals 2013" below!
Fred's Super Dollar Black Friday Ad Scans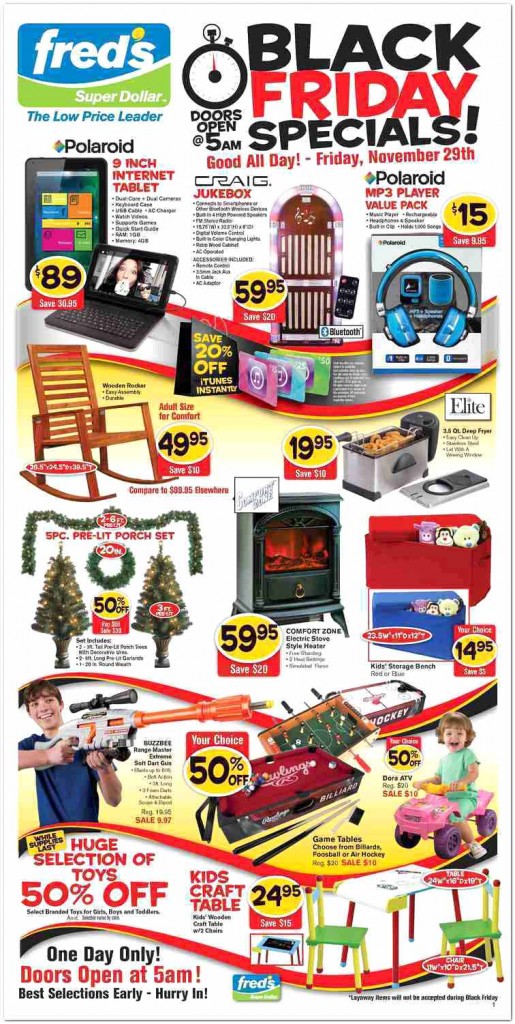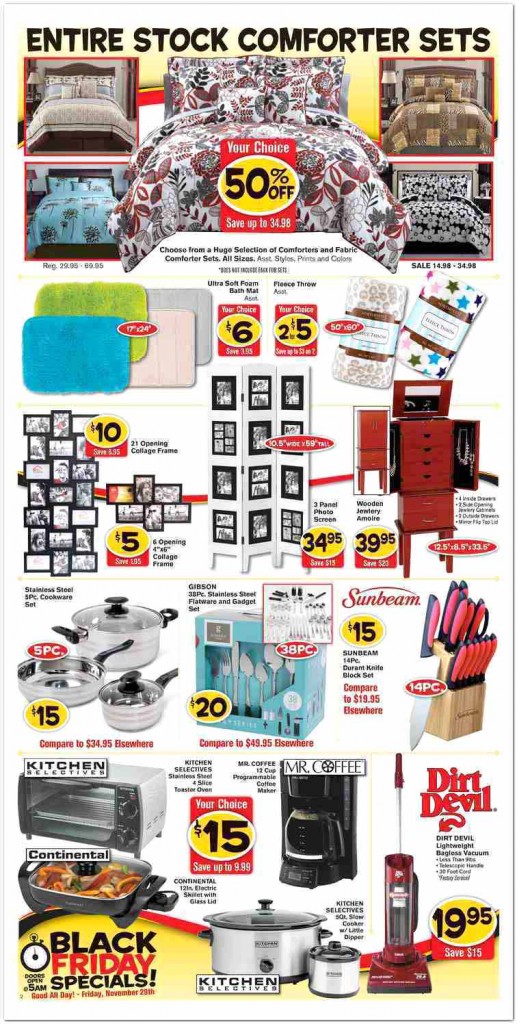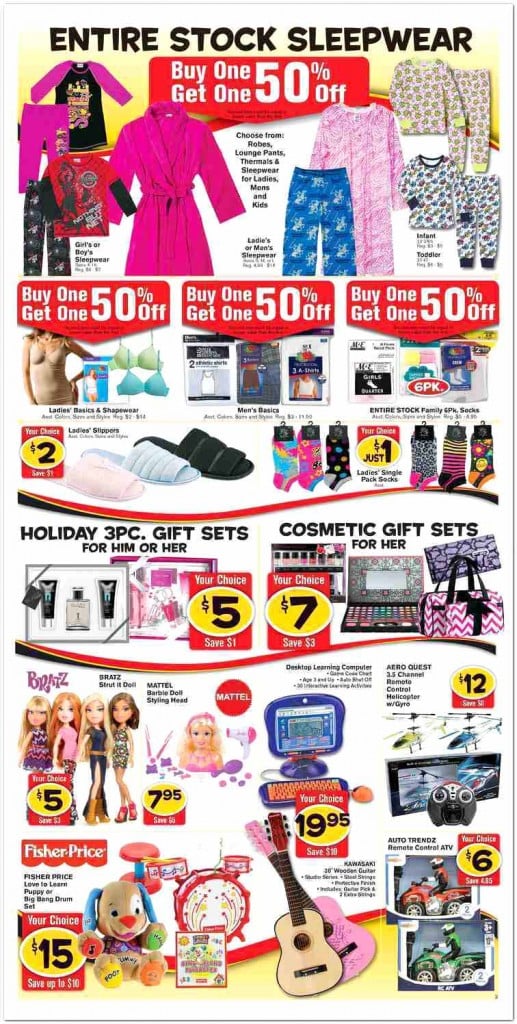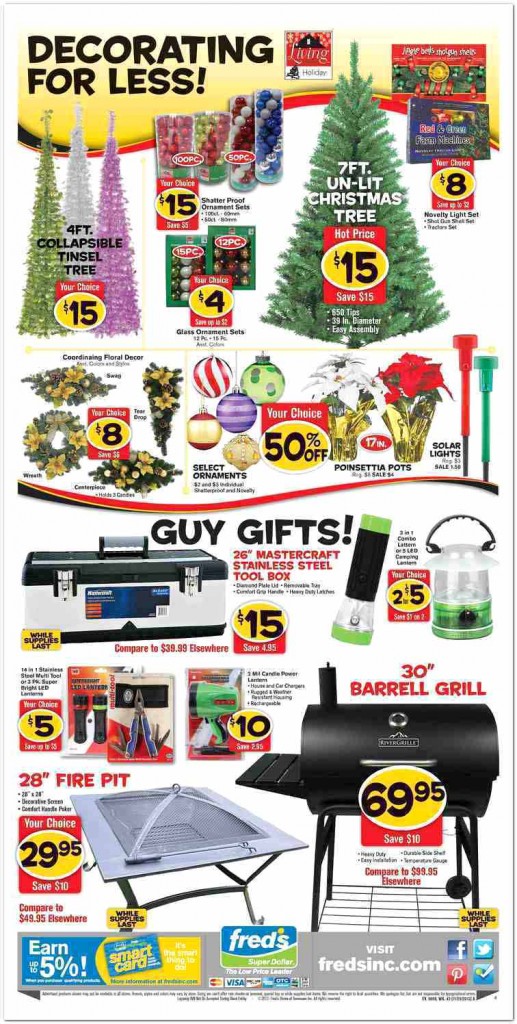 Fred's Super Dollar Best Black Friday Deals 2013
The multiple differences we mined out of Fred's Super Dollar Best Black Friday Deals 2013 in the ad, as compared to last year's, included:
The usual 7 ft. unlit Xmas tree, but $5 cheaper
A new $49.99 wooden rocking chair (valued at $99.99)
A new $59.95 Comfort Zone electric stove style heater
The usual Comforter sets with up to $15 dollars more in savings
Fred's also decided to head in a different direction by swapping sales on hardware tools for sales on kitchenware items. Some new sale items include silverware, a cookware set, a coffee maker, a toaster oven, an electric skillet, and a slow cooker. Unfortunately, the stainless steel deep fryer is still there and still the same price. Still, that shouldn't discourage you from looking for great deals at Fred's Super Dollar this Black Friday or on Black Fridays to come!
Best Fred's Super Dollar Black Friday Deals from 2012
Let's take a look back at the best Fred's Super Dollar Black Friday deals from 2012. Fred's Super Dollar, a chain of over 700 discount stores in the Southeast, opened its doors at 5 a.m., an early start for those committed shoppers. With 45 items on 4 scanned advertisement pages, the mass merchant-dollar store-drug store released its discounts early in October.
So how were the deals? Taking the items from the ad overall, the average discount was 33.65%. True to its discounted nature, the store had a median price of $15 for its products on sale. This makes sense when you consider that Fred's does not stock big-ticket, brand name TVs, laptops, or other electronics. Some items, like the $18.95 DVD player (with an unknown brand name) and the $79.95 Polaroid tablet, did have reasonable sales, but ultimately Fred's wouldn't be the place to go for electronics.
To snatch the better deals, one had to look for the discounts above 33% off and there were quite a few. Most of the items were related to the home (decoration, cleaning, etc.) such as $10 decorative wall clocks at 66.61% off, the $19.95 Dirt Devil Bagless Vacuum at 42.92% off, and a $5 tool gifts set at 37.50% off. A $40 grill also looked like a good deal.
Comparing Fred's Black Friday deals of 2012 to 2011 wasn't too hard since they're almost identical. The same stainless steel deep fryer and vacuum cleaner on the front page of the 2011 ad appear in the 2012 ad. Other cross-overs include a cheap fake Christmas tree, discounted comforter set, and DVD player. Although Fred's may not have stood out as innovative, its deals still had quality.
Sales results for Fred's Super Dollar store did not grow from October to November 2012. Any of its stores opened at least a year felt the effects of the shaky economy as shoppers were less inclined to spend money during that season. While December sales for some companies like Staples and Target meant an increase, especially coming off Black Friday, Fred's continued to see a sales decrease in the holiday season.
As part of its solution to grow in 2013, the Memphis-based company planned to have more pharmacies, more auto and hardware products, and perhaps smaller drug and dollar stores. Whether the store will do better this holiday season is something that we'll have to see. In the meantime, get ready for Black Friday 2013 at Fred's Super Store and save on home products and other assorted items!
For comparable ads to Fred's Super Dollar, check out our Walmart and Target ad leaks.
For more information about NerdWallet's review of Fred's Super Dollar last year, click here.
Fred's Super Dollar Black Friday Store Hours
Just like last year, the discount retailer will be opening its doors at 5 a.m. Black Friday. For a full list of stores' hours, check out the Black Friday Store Hours page!
Image: Michael Rivera / Wikipedia: Source