LOOKING FOR THE 2014 GAMESTOP AD? CHECK IT OUT HERE. FOR A FULL LIST OF BLACK FRIDAY AD SCANS, CHECK OUT NERDWALLET'S BLACK FRIDAY AD LEAKS PAGE.
NerdWallet continues to bring you reviews of Black Friday ads for all your favorite retailers. Keep checking back for more sneak peaks to help you shop like a champ on the big day.
GameStop Black Friday 2013
Gamers rejoice! GameStop's 2013 Black Friday ad has just leaked, and what it lacks in deep discounts it makes up for in variety. The twelve-page ad offers discounts on consoles, accessories and a wide selection of games for every popular platform. Locations across the country will open their doors at midnight on Friday with most sales valid through Sunday, December 1st. Sales aren't limited to brand new items – gamers will find plenty of deals on pre-owned items as well as trade-ins, including Buy 2, Get 1 Free on any pre-owned products.
GameStop Black Friday Ad Scans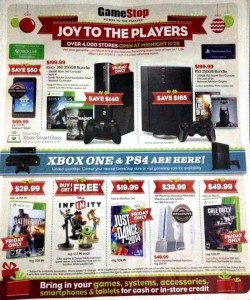 GameStop Best Black Friday Deals 2013
Like last year, some of GameStop's most appealing deals come in the form of bundled packages, like these:
Xbox 360 250GB Bundle: $199.99
PS3 250GB Bundle: $199.99
Azurite Blue Playstation 3 w/ DualShock Wireless Controller and Jak & Daxter Collection: $249.99
Pre-owned Bundles starting at $219.99 for PS3, $79.99 for Wii, $99.99 for Xbox 360 and $39.99 for Nintendo DS Lite
The store has added a modest selection of tablets and smartphones to their stock, with equally modest discounts:
10.1" Samsung Galaxy Tab 3: $299.99 (reg. $399.99)
Samsung Galaxy Tab 3.7.0: $169.99 (reg. $199.99)
NET10 LG L38C Phone: $39.99 (reg. $79.99)
AT&T Nokia Lumia 520 Phone: $84.99 ($99.99)
Only a small handful of items were half off:
Skull Candy Ink'd Earbuds: $9.99
MOGA Mobile Gaming System for Android 2.3+: $14.99
Any playset with purchase of starter pack: $19.99
Disney Infinity Figures: Buy 1, Get 1 Free
Battlefield 4 for Various Platforms: $29.99
Assassin's Creed 3 for Xbox 360: $14.99
A selection of Xbox 360 and PS3 classic games, including Halo 3, Gears of War 3 and others, make for nice stocking stuffers at $4.99 each. Discounts on other games generally ranged from 15-35% off.
GameStop Best Black Friday Deals of 2012
In 2012, GameStop rewarded dedicated gamers with eight pages of deals, including discounts on the most in-demand games and accessories. They didn't forget their trading fans either, offering double in-store credit to customers trading in any game systems, and 25% extra in-store credit for two or more game trade-ins. The ad generally focused on a few hand-picked selections of the most popular games for each system, but ultimately provided plenty of giftable options.
A very nice collection of games for every platform was marked down, anywhere from around 15% to 35% off. PC games, including selections from World of Warcraft and the Sims were marked down by up to $20 each, as were four titles for 360 Kinect: Forza Horizon, Kinect Sports (Ultimate Collection), Dance Central 3 and Fable: Journey.
A small variety of PS3 games were marked down by $10-$40 (Max Payne 3's price was slashed all the way down to $19.99 from $59.99).
Game system bundles made up some of the best deals in the ad, like the PS Vita Assassin's Creed III Liberation Bundle for $199.99, a $50 savings. Likewise, the purchase of a Nintendo 3DS included both a preloaded copy of Super Mario 3D Land and the customer's choice of any of three Nintendo Dogs & Cats games, an extra value of $60.
For customers who bought an Xbox 360, GameStop threw in three games for free – a $150 value. With the purchase of the console, gamers also got:
Forza Motorsport 4
The Elderscrolls V: Skyrim Download token
Call of Duty: Black Ops II
Meanwhile, gamers who were in the market for a 250GB PS3 system were rewarded with five free games – $115 in total savings. The PS3 came with:
Uncharted Dual Pack: Drake's Fortune & Uncharted 2: Among Thieves
Infamous Collection: inFamous, inFamous 2 and inFamous: Festival of Blood
The prices on pre-owned systems made them some of the best gift options in the ad:
Xbox 360: $119.99
Wii: $79.99
PS3: $199.99
Kinect: $39.99
Nintendo Dsi XL: $79.99
Note that the above options represent the starting prices for those pre-owned items.
Overall, GameStop seemed to demonstrate a good handle on what their core customers look for in a sale, and scored major points by not neglecting categories like trade-ins and pre-owned items.
GameStop Black Friday Store Hours
GameStop's Black Friday store hours these year will be from 12am Black Friday through December 1st. For more opening times on one convenient page, check out NerdWallet's Black Friday store hours page.
GameStop store via Shutterstock