LOOKING FOR THE 2014 IKEA AD? CHECK IT OUT HERE. FOR A FULL LIST OF BLACK FRIDAY AD SCANS, CHECK OUT NERDWALLET'S BLACK FRIDAY AD LEAKS PAGE.
NerdWallet strives to find the discounts from the duds in this season's Black Friday ads to prepare you for the shopping holiday. If the search for your favorite store has proved futile so far, check back on our site soon!
IKEA Black Friday 2013
The IKEA Black Friday 2013 ad leak is here and it includes deals not only on furniture, but on home decor and even some toys as well. IKEA may not be the first retailer that jumps to mind when thinking of Black Friday sales, but for shoppers looking for big-ticket furniture purchases, this event may be worth checking out – especially if you've got a store membership.
The ad promises special discounts for IKEA Family members, like an 18-piece Fargrik Dinnerware set for only $19.99 (reg. $24.99) and their Henriksdal Chair for $49 (reg. $69). Don't forget your Malin chair cusion for $3.99 each (reg. $6.99 each)! Be sure to plan ahead if you plan on taking advantage of any of the ad's three one-day-only promotions.
IKEA Black Friday 2013 Ad Scan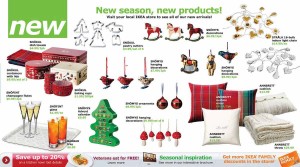 IKEA Best Black Friday Deals 2013
Shoppers can take advantage of most the furniture giant's sales anytime throughout Black Friday weekend, but if they want any of these one-day-only specials, they'll need to plan their trip on the particular day that item is available:
Friday – Expedit Shelving Unit: $19.99 (reg. $39.99)
Saturday – Dinera Dinnerware 4-pack: $4.99 (reg. $9.99-$12.99)
Sunday – Benno TV Unit with Casters: $39.99 (reg. $79.99)
IKEA's entire variety of soft toys will be half-off all weekend, making these cute plush characters a no-brainer gift for little ones at sale prices from $2.49-$7.49 each.
As mentioned above, many of IKEA's sale prices will be available exclusively to IKEA Family members, but membership is free and probably worthwhile if you want to snag some of these low prices:
Senior Casserole with Lid: $34.99 (reg. $49.99)
Vitling Oven Dish: $15.99 (reg. $19.99)
IKEA 365+ Carving Knife and Fork: $12.99 (reg. $19.99)
Nisse Folding Chair: $19 (reg. $24.99)
Antilop Highchair with Tray: $14.99 (reg. $24.99)
Kvarnvik Box with Lid: $11.99 (reg. $16.99)
Hadsten Cowhide: $149 (reg. $249)
Hemnes TV Unit: $179 (reg. $229)
Borrby Lantern for Block Candle: $4.99 (reg. $7.99)
Hovet Mirror: $99 (reg. $129)
Svelvik Twin Daybed Frame: $349 (reg. $399)
Sanela Cushion Cover: $4 (reg. $7)
Best IKEA Black Friday Deals from 2012
The Best IKEA Black Friday deals from 2012 started for the Swedish-based furniture retailer on Black Friday with no newsworthy early hours. The sale continued until Sunday, and for each of the three days a different product was deeply discounted. The ad's front page advertises these one-day-only offers, with a title line of "Seize The Days," but the specific details on pages two and three clarify which offer goes on which day. The ad itself was only 4 pages long, but IKEA already keeps its prices for furniture reasonable, so the short length of the ad was not too surprising.
For Friday, the LACK side table went for $4.99 instead of its usual range of $7.99-$9.99, making it 37%-50% off. For Saturday, the discount turned out to be the IKEA 365+ Cookware 7-Piece Set (including different sized pots and pans) for $19.99. It normally went for $49.99, so the discount was an impressive 60% off. Finally, for Sunday, we had the CIRKUSTÄLT Children's Tent available for $7.99 instead of its regular price of $19.99, making the discount 60% off.
Apart from the main deals, the back page of the ad mentioned two other specials. An "Eat For Free" offer was valid for the three days, but there were many restrictions for it to work. The food had to be consumed on the IKEA premises on the same day as the home furnishing purchases, which had to total $100 or more before tax. The second special available all weekend was the KLAPPAR Elefant soft toy (elephant) marked down from $14.99 to $7.99, along with discounts on all other soft toys.
Now here's where IKEA made a math mistake in the ad: "50% off all soft toys all weekend" is not quite accurate, at least for the elephant soft toy. IKEA was being approximate with its ad, but nevertheless it was slightly misleading.
 7 (the amount taken off the price) /14.99 (the original price) = 46.69% off, not 50% off
There was one remaining feature of the Black Friday ad: the supplemental pairings with the daily offers. Advertised below the one-day-only deals were products that complimented the furniture but were in fact not discounted. These included scented candles in glass and flower vases on Friday; kitchen utensils and stock pot with lid on Saturday; and elephant and star bed covers on Sunday.
Checking the IKEA ad for any restrictions or inconveniences is always a good idea, since you don't want to be surprised if the product you were eyeing in the ad actually requires assembly, like the elephant cover. Ultimately, though, we appreciated IKEA's ad last year as it did offer sizable discounts.
For comparable ads of other stores that sell furniture, check out the Target and Big Lots ad leaks.
IKEA Black Friday Store Hours
IKEA's Black Friday sale will run from the 29th through December 1, with a few items available for one day only. Check out our Black Friday Store Hours page for a full list of stores.
Ikea store from Shutterstock