LOOKING FOR THE 2014 SEARS AD? CHECK IT OUT HERE. FOR A FULL LIST OF BLACK FRIDAY AD SCANS, CHECK OUT NERDWALLET'S BLACK FRIDAY AD LEAKS PAGE.
NerdWallet continues to bring you the latest Black Friday ad leaks from the biggest names. More to come, so if you haven't seen your favorite store yet keep checking back.
Sears Black Friday 2013
The Sears Black Friday 2013 ad has leaked, and it's a stunning 64 pages long! The more than 1,000 doorbusters will be available on Thanksgiving night. Since you'll need to preserve all the energy you've got to get through the ad, we'll spare you any more reading and let you get right to skimming it. Be sure to scroll down for this year's highlights as well as Sears' store hours!
See all current Sears coupons and deals
Sears Black Friday Ad Scans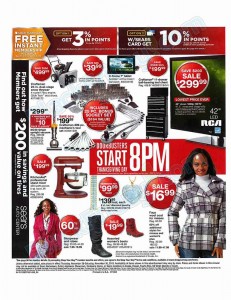 Sears Thanksgiving Ad Scans
Sears Best Black Friday Deals 2013
There is so much to look through in Sears' 64-page ad leak! Below, you'll find Sears' best Black Friday Deals for 2013:
Apparel & Shoes:
Kardashian Kollection loungewear: 60% off
Faux Leather Jacket: $19.99
Covington Quilted Jacket: $19.99
Bongo Faux Leather Jacket for Juniors: $19.99
All bras and panties: 50% off
Handbags from Genna de Rossi, Rosetti, and Laura Scott: 60% off
Levi's 559 Relaxed Straight Jeans for Men: $34.99
Men's Covington and Structure Sweaters: 60% off
Men's Covington Dress Shirts and Boxed Dress Shirts: $14.99
Men's Craftsman Flannel Shirt Jacket: $19.99
Carhartt Duck Jacket for Men: $49.99
Assorted Women's Fashion Boots: $19.99
All Diehard Men's Work Boots: $44.99
Toddler Slippers by Nickelodeon, Marvel, and Disney: BOGO Free
Jewelry:
Boxed Fashion Jewelry: 50% off
Jewelry boxes: 60% off
All fine jewelry: up to 75% off + 20% off
All Watches: Up to 50% off
Electronics:
Samsung 55″ Slim LED 1080p 120Hz Smart HDTV: $899.99
Samsung 46″ Class 1080p HDTV: $499.99
Nikon L820 Long-Zoom Digital Camera: $199.99
Home & Home Improvement:
Bladez Stratum Indoor Cycle: $249.99
NordicTrack c700 Treadmill: $699.99
NordicTrack A.C.T. Elliptical: $699.88
Kenmore Elite 5-qt. Stand Mixer: %179.99
T-Fal 18-pc. Nonstick Aluminum Cookwear Set: $49.99
Courtland 7.5ft. Billiard Table w/Bonus Cue Racks: $299.99
All Mattresses: 50-60% off
Craftsman Lawn Tractor: $899.99
Craftsman Bolt-on 20-volt Max Lithium-Iion Drill/Driver: $59.99
Craftsman 13-Drawer Heavy-Duty Ball-Bearing Tool Chest: $299.97
Craftsman 10-in. Sliding Compound Miter Saw w/LaserTrac: $169.99
Kenmore Elite 28-cu. ft. Refrigerator: $1,599.99
Kenmore 3.6-cu. ft. Washer + 7.5-cu. ft. Dryer: $799.99
Frigidaire 26-cu. ft. Refridgerator: $899.99
All Dyson floor care: 25% off
 DeWalt 118-pc. Mechanics Tool Set: $74.99
Craftsman 309-pc. Mechanic's Tool Set: $199.99
BBQ Pro 4-Burner Gas Grill w/Stainless Steel Lid: $149.99
Assorted Christmas Decor: 50% off
Sears 2013 Canadian Black Friday
Sears Canada released its 2013 Black Friday ad, revealing some serious deals on household goods, furniture, tools, and kitchenware. While Americans may still have to sit at home biting their nails until Sears releases their U.S. ad leak, they can still search the Canadian ad scan for deals they might also hope to reap back at home.
The most eye-catching sale also happens to grace the front page of the ad scan. Sears offers at whopping 55% off of a 3-pc Frigidaire stainless steel kitchen set which includes a fridge, convection range smooth-top stove, and stainless steel dishwasher. The price comes out to $1,999.97 after a gigantic $2,400 deduction!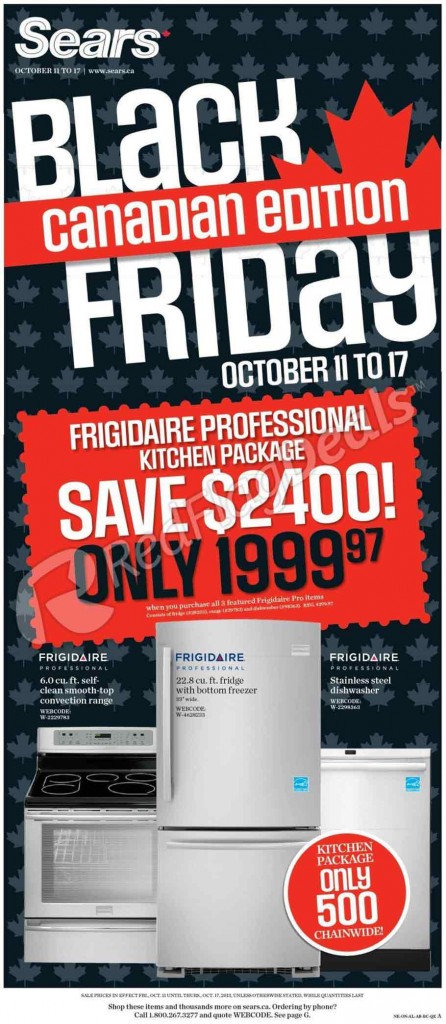 Other notable sale items included:
$800 savings on a Kenmore, stainless steel French door fridge
$499.99 for Porto, Taurus, and Hollister leather sofas (up to $600 in savings)
70% off of Nordictrack treadmill
60% off of Sealy, WholeHome, Sealy Posturepedic, Serta, and Kings Down Queen size mattresses
55% off of Kitchenaid stand mixers
Up to 75% off of Craftmen tools, including wrench and screwdriver sets, cordless power tools and snow throwers
Canada's 2013 ad is small in comparison to Sears' U.S. ad scans of the past. It's worth noting that although both ads emphasized furniture and tools, the U.S. ads also included great deals on clothing. This difference is definitely worth anticipating as American shoppers start planning ahead for their holiday shopping this year.
Sears' 2013 Black Friday ad scan leak is coming soon! Be sure to keep an eye out for it on NerdWallet's Black Friday page.
Sears 2013 Canadian Black Friday Ad Scans
Click the thumbnails to see the full ad scan:
Best Sears Black Friday Deals from 2012
Sears set a high bar for Black Friday sales last year when they released the largest ad by far at a whopping 64 pages. The release advertised over 1000 Black Friday doorbusters, and while not every single price was a major bargain, Sears didn't disappoint shoppers looking for tools, exercise equipment and apparel at a steep discount.
Check out a few of the heavy hitters:
50" LED Toshiba HDTV: $299.99 ($600 off)
NordicTrack T5.7 treadmill: $499.99 ($400 off)
Kenmore Elite 31-cu. ft. refrigerator: $2099.99 ($1660 off)
Craftsman 22-drawer premium heavy-duty tool chest: $699.99 (over $700 off)
Craftsman wrench sets: $29.99 each (62-66% off)
Craftsman C3 19.2 volt compact lithium-ion drill/driver: $49.99 (was $119.99)
The store's relatively small selection of men's and women's shoes and kids' apparel was redeemed by serious discounts on those items, with most of those items priced at 50-60% off.
$39.99 Nordic Track winter coats for men (60% off)
$19.99 Dockers or Arrow sweaters for men (60% off)
70% off all wool coats for misses and ladies plus
60% off cold weather accessories for women
$4.99 Toughskins mix & match separates for infants (orig. $12)
$15.99 Performance Gear bubble jackets for kids (orig. $60-$75)
Other kids' apparel marked at 60% off:
Coats and cold weather accessories for kids
Carter's, Joe Boxer and character sleepwear for kids
Fleece hoodies and pants for boys and girls
Dresses and boys' dress up for a wide age range
Likewise, the limited variety of fine jewelry was massively discounted at up to nearly 95% off:
Over 30 styles of 1ct diamond jewelry: $99.99 (orig. $499.99)
4ct diamond ring in 10k gold: $2899.99 (orig. $11999.99)
Over 10 styles of 2ct diamond jewelry: $99.99 (orig. $599.99)
75% off all gold and sterling silver chains
3/4 ct diamond rings in 10k gold: $599.99 (orig. $2999.99)
On top of those deals, Sears offered shoppers $10 off any purchase of $40 or more from 8pm Thanksgiving Day through 1pm on Friday. With sales starting Thanksgiving Day and running all night long at some locations, stores across the country were mobbed by the usual overzealous crowds.
A San Antonio Sears location made headlines when tensions nearly came to a violent head between shoppers waiting to enter the store. A man trying to cut in line incurred the ire of fellow shoppers, who became verbally aggressive toward the line cutter until he punched another man in the face. The man he punched then drew a handgun, and though police were summoned, no arrest was made. Happily, no one was injured and shoppers ultimately entered the store without further incident.
Sears Black Friday Store Hours
Sears will be making their doorbusters available from 8pm Thanksgiving evening through 1pm Friday afternoon, making this the second year the department stores has opened its doors on Thanksgiving. Be sure to check out NerdWallet's Black Friday store hours page to see opening times for all your favorite stores in one place.
For more savings from the biggest superstores, be sure to check out the 2013 ad scans for JC Penney and Macy's.
Dive into last year's 64-page Sear's Black Friday After Thanksgiving Ad scan from 2012.
Sears Canada images courtesy of Red Flag Deals
Sears store image via Shutterstock