NerdWallet is committed to bringing you the highlights of the Black Friday ads this season. If you don't yet see the retailer that catches your eye, check back again soon!
Sears Hometown Black Friday 2013
It's finally here! The four-page Sears Hometown Black Friday 2013 ad scan features discounts on essential appliances, power tools and a few other big-ticket items like a treadmill and power washer. There will be two days of Early Open specials with extra low prices, while other sale prices will be available all the way through Monday, the 2nd. The Sears Hometown Black Friday ad may contain more home essentials than giftable items, but individuals who are in the market for a new fridge or washing machine and like to support locally-owned businesses will find plenty of reasons to head here this holiday season.
Sears Hometown Black Friday Ad Scans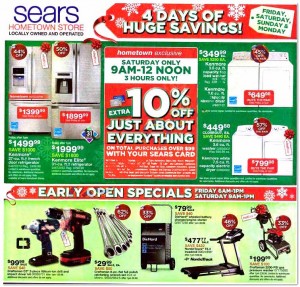 Sears Hometown Best Black Friday Deals 2013
If it's finally time to replace that old refrigerator you're in luck – you'll find hundreds of dollars in savings on names like Kenmore, Whirlpool and Samsung for an impressive variety of models:
Kenmore 25.4-cu. ft. Side-by-side Refrigerator: $799.99 (38% off)
Whirlpool 25-cu. ft. French Door Refrigerator: $999.99 (41% off)
Samsung 26-cu. ft. French Door Refrigerator: $1499.99 (40% off)
Kenmore Elite 28-cu. ft. Refrigerator with LED Lighting: $1699.99 (46% off)
Kenmore Elite 31-cu. ft. Grab-n-go Refrigerator: $2399.99 (42% off)
Washers and dryers are also reduced, although not quite as generously:
Samsung 3.6-cu. ft. Capacity Steam Front-Load Washer & Capacity Electric Steam Dryer: $599.99 each (33% off)
Kenmore Elite White 4.3-cu. ft. Steam Washer & Steam Care 8.0-cu. ft Steam Care Electric Dryer: $999.99 each (47% off set with Sears card)
Samsung 4.2-cu. ft. Top Load Washer & 7.2-cu. ft. Electric Dryer: $549.99 each (31% off)
Kenmore 3.6-cu. ft. Top Load Washer & 7.0 cu. ft. Capacity Electric Dryer: $649.99 for the pair (45% off)
Kenmore 3.6-cu. ft. Washer & 7.5-cu. ft. Capacity Electric Dryer: $799.99 for the pair (57% off)
An assortment of discount on other miscellaneous home improvement items includes many items from the popular Craftsman brand:
NordicTrack T6.3 Treadmill: $477.77 (46% off)
Craftsman 2200-PSI Gas Pressure Washer: $199.99 (33% off)
Craftsman 8-Piece Flat Full Polish Ratcheting Wrench Set: $29.99 (62% off)
Craftsman C3 2-Piece Lithium Ion Drill and Impact Driver Kit: $99.99 ($40 off)
Craftsman 11-Drawer Classic Ball-bearing Tool Chest: $199.99 (54% off)
Craftsman Aluminum LED Tool Light With Holster and 2 AA Batteries: $7.49 ($7 off)
Best Sears Hometown Black Friday Deals from 2012
Opening its doors at 8pm Thanksgiving evening, the locally owned and operated Sears Hometown offered doorbusters primed for buyers eager to get household appliances. A coupon on the front page offered 35% off all Kenmore Elite appliances; a 100-piece Craftsman toolbox went for $14.99, 50% off too; and 41% off a pair of washer and dryer brought the price down to $389.99 each (so a total of $780), and more.
On the other side of the sale, the Friday morning at 4am through 1pm, which saw the second round of doorbusters, including a Kenmore washer-dryer set at $799.98 for the pair with a Sears card. Also, compare that to the previous day's pair and a $20 difference is not too drastic. Nevertheless, the sale featured many 20-50% off items and tools were a popular discounted category. On Thursday only, an extra 10% off all appliances was available but only with a Sears card. It became apparent that that the best deals came about once the buyer used a store card, ensuring a membership. If that wasn't desired, then buyers had to keep checking the fine print on deals.
As far as power drills went, the C3 Lithium-Ion drills/drivers were a popular item in the sale, but the best deal looked to be on Thursday when it was available for $59.99. On Friday, the drill selection steeped in price range up to $99, but the individual drills varied depending on their voltage.
The 3-day sale, advertised on later pages of the ad, included 50% off all grill accessories and some big-ticket items like HDTVs. The $249 Samsung 32-in. LED HDTV (34% off) was on the lower end of the price spectrum. Overall, for household appliances, Sears Hometown was a good choice for Black Friday, as it is again this year.
For similar retailers, check out Sears, Sears Outlet, and Target.
Sears Hometown Black Friday Store Hours
Sears Hometown locations across the country will open at 6am on Black Friday. To see the Sears Hometown Black Friday store hours listed alongside opening times for all the biggest names in retail, head over to NerdWallet's Black Friday store hours page.