You've made your list, you've got your comfiest shoes on and you've honed your bargain-hunting skills. You're readier than ever to conquer the stores on Black Friday.
But not everything will be business as usual the day after Thanksgiving, as retailer policies will greet consumers with a mixture of shiny gifts and lumps of coal. Here's what you should know about the shopping rules that have changed ahead of Nov. 25.
Coal: Restricted price matching
Price matching is a valuable money-saving technique for shoppers. In price matching, store customers can show proof of a lower price from a competitor and ask the store to meet or beat that deal.
But price matching likely won't be there to bail you out of bad deals this Black Friday. Many major retailers make their policies exempt during the annual shopping extravaganza. Toys R Us says it doesn't match "any competitor's advertised store or online pricing for Thanksgiving through Cyber Monday." Target strikes out price matches and adjustments for prices from Thanksgiving Day through the end of the following week. You'll find similar blackout dates at Best Buy and Staples.
That's because price matches can be time consuming for retailers, says Sucharita Mulpuru, chief retail strategist for annual commerce industry convention Shoptalk. "And you don't want to be discounting products even further than they already are, especially if you only have limited units of the product," Mulpuru adds.
So if you won't be able to price match while you're standing in the store, compare prices before you shop and head straight to the retailer with the best offer. Apps like BuyVia and ShopSavvy can make comparing a breeze.
---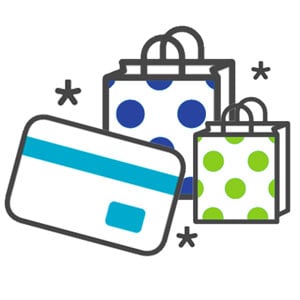 Don't pay interest on your holiday credit card balance. Find the best 0% card for you.
44% of shoppers carry credit card debt after the holidays
If you need to carry a balance make sure to put it on a low interest card
---
Gift: More free shipping
Here's a present for you: Free shipping won't just exist on Black Friday; there will be more of it than usual. That's welcome news, since 93% of online shoppers surveyed in the National Retail Federation's annual holiday consumer spending survey say they'll take advantage of free shipping this holiday season.
A handful of big box retailers have eliminated their free shipping minimums for Black Friday and throughout the holidays, granting their cyber customers free shipping on everything, regardless of price.
At Best Buy, items ship free through Christmas Eve, and at Target, free standard shipping extends through Jan. 1, 2017. Use free shipping for even your smallest orders, but remember that some exclusions may apply to these promotions; read the fine print.
Coal: Limited coupons
If coupons are your go-to discount method, think again on Black Friday. With deals and discounts so prevalent in the days after Thanksgiving, it'll be more difficult to stack coupons on top of what you're already saving.
Last Black Friday, for instance, Macy's stuffed savings passes within its Black Friday ad with coupons for $10 off purchases of $25 or more or $20 off $50 or more, but the discounts were only good for a limited period of time and couldn't be used on doorbusters or deals of the day.
In 2015, Kohl's shoppers earned $15 Kohl's Cash for every $50 spent, but the coupons could only be redeemed during the first week of December. Keep a close eye on coupon restrictions and limitations again this year.
Gift: Longer return periods
Some retailers will have one more treat to offer — extended return policy windows. In case you're filled with regret after your Black Friday shopping splurge, you'll have plenty of time to return or exchange your not-so-hot purchases.
Items shipped by Amazon.com between Nov. 1 and Dec. 31 may be returned until Jan. 31 for a full refund, subject to return guidelines. This is much more generous than Amazon's typical 30-day return period. At Newegg, almost every product bought between Nov. 1 and Dec. 24 can be returned for a refund or replacement until Jan. 31.
Sears, too, has made returns easier. Select items purchased Nov. 1 through Dec. 24 — which typically have 30-day return periods — can be returned through the end of January.
Check your favorite store's return policy for similar extended holiday offerings. These can be found on a retailer's website.
Courtney Jespersen is a staff writer at NerdWallet, a personal finance website. Email: [email protected]. Twitter: @courtneynerd.
This article was written by NerdWallet and was originally published by USA Today.