Apple unveiled its latest smartphone, the iPhone 7, at an event in San Francisco earlier this month.
And, yes, it's official: The headphone jack is gone. Now that the speculation is over, it's time to review everything else this tech toy has to offer.
We're comparing the iPhone 7 with last generation's iPhone 6S to help you decide whether it's worthwhile to upgrade.
At a glance
| | iPhone 7 | iPhone 6S |
| --- | --- | --- |
| Price | From $649 | From $549 |
| Colors | Jet black, black, silver, gold, rose gold | Space gray, silver, gold, rose gold |
| Display | 4.7 inches | 4.7 inches |
| Camera | 12-megapixel rear camera, 7-megapixel front-facing camera, 𝑓/1.8 aperture | 12-megapixel rear camera, 5-megapixel front-facing camera, 𝑓/2.2 aperture |
| Storage | 32GB, 128GB, 256GB | 32GB, 128GB |
| Water resistant | Yes | No |
Appearance
The two models are strikingly similar in appearance. They're the same shape and size and have identical 4.7-inch screens with 1,334-by-750 pixel resolution. At 4.87 ounces, the 7 is slightly lighter than the 5.04-ounce 6S.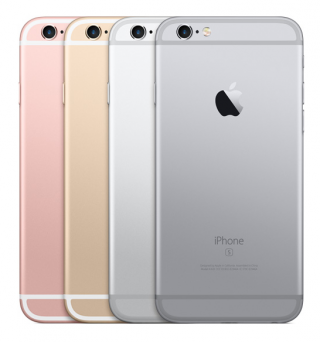 Color might be the most notable visual difference between the
phones. The 6S comes in space gray, silver, gold and rose gold.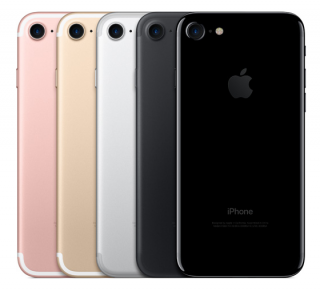 The iPhone 7 brings two sleek new finishes to the table: a standard black matte and a high-gloss jet black. You can also purchase the model in silver, gold or rose gold.
» MORE: Fitbit Blaze vs. Apple Watch Sport
Features
Appearance is one thing, but you're probably more interested in the features. Both iPhones offer:
12-megapixel rear cameras. Both phones capture Live Photos and 4K resolution HD videos.
3D Touch. You can take shortcuts into apps and "peek" into emails and webpages by applying pressure to the screen with your finger.
Touch ID. The home button reads your fingerprint, which you can use to unlock your phone, make a purchase with Apple Pay and more.
Apple Pay. Use either iPhone to make quick payments in stores, online and in apps.
But the iPhone 7 also has capabilities the 6S doesn't, such as:
Water resistance. The 7 can withstand exposure to splashes and dust.
Stereo speakers. It pumps out immersive audio at a volume twice that of the 6S, according to Apple. This is thanks to the built-in stereo speakers on each end of the 7.
Lightning Connector EarPods. There's no headphone jack, but the 7 comes with EarPods that plug into its Lightning port. An adapter is included, so you can still use a pair of 3.5mm headphones.
Updated home button. The 7's home button looks the same as the previous model's, but it's designed to be more receptive to your touch and give you feedback that you can feel when you press it.
Improved camera. The iPhone 7 features a 7-megapixel front-facing camera, an upgrade from the 5-megapixel camera on the 6S. The 7's camera also has a few additional upgrades, including: an image stabilization feature that helps prevent blurry pictures, better ability to capture color, a brighter flash, and a six-element lens that improves the quality of low-light photos.
Faster processor. The 7 has an A10 Fusion chip that performs faster than the A9 chip in the 6S. This enhances the phone's graphics and lengthens its battery life by two hours.
Storage. Both smartphones start at 32GB, but the 7 has a 256GB option, while the highest capacity 6S tops out at 128GB. This leaves more room for photos, videos and apps.
Software
The new iOS 10 operating system comes standard on the 7 and will be available to download on the 6S and other Apple devices on Sept. 13. This means that whether you choose the latest model or last year's, you can take advantage of updated maps, smarter Siri commands, new messaging features, the new Raise to Wake function — which turns on your screen when you pick up your phone — and more.
Price
Apple reduced the price of the iPhone 6S by $100 following the 7's release. The 32GB version now starts at $549 if you buy it outright. The 32GB iPhone 7 is priced at $649. Apple has discontinued the 16GB and 64GB 6S models, but you can still find them at other retailers.
The cost of these smartphones varies depending on your carrier and contract. If you'd rather pay in installments than all at once, most major carriers — including Verizon, T-Mobile, Sprint and AT&T — let you pay a bit of your phone's cost each month as part of your bill.
Apple has a plan — the Apple Upgrade Program — that includes two years of damage coverage and hardware repairs under AppleCare+, but you can only sign up with the purchase of a latest-generation iPhone. Payments start at $32.41 for the iPhone 7. Carrier financing payments are available for the 6S and start at $22.88 per month.
» MORE: Best cell phone plans
Availability
The preorder window for the iPhone 7 started on Sept. 9, and the phones will be available on Sept. 16. The 6S has been on the market for a year now, but the new 32GB version became available to order on Sept. 9 as well.
Make the call
If you already own the iPhone 6S, it's worth upgrading to the 7 — especially if you're on a payment plan. You'll get a water-resistant phone with a more advanced camera, speakers and processor.
On the other hand, if you have an earlier iPhone model, are making the jump to Apple from another manufacturer, or don't want to sacrifice the ability to charge your phone while using your headphones, the 6S might be the way to go. It'll cost $100 less than the 7, and once iOS 10 is ready to download, you'll gain access to plenty of the 7's features.
Remember, the 6S and the 7 aren't the only iPhones to choose from. If you're looking for an option with a bigger screen, for instance, consider the 6S Plus or 7 Plus.
More from NerdWallet
Best cheap cell phone plans
Samsung Galaxy S7 vs. iPhone 6S
Follow these tips to get the best deal every time you shop in store
Lauren Schwahn is a staff writer at NerdWallet, a personal finance website. Email: [email protected]. Twitter: @lauren_schwahn.