Brides and grooms aren't the only ones with wedding budgets. Planning a wedding can be expensive, but sometimes being a guest at one can be costly, too.
If you're going to be wedding hopping this summer, consider these affordable gift ideas that will satisfy the newlyweds without spoiling your budget.
1. Cookbook
For a sweet treat, present the bride and groom with a cookbook. Not only is this gift inexpensive, but it'll also be put to good use, especially if the couple likes to cook dinners at home. For something even more affordable and unique, try creating your own cookbook and fill it with your favorite family recipes.
Suggested retailers: Barnes & Noble, Amazon
2. Something personalized
Forget something borrowed or something blue. How about something personalized? Surprise the happy couple with an affordable product that's inscribed with their last name, initials or wedding date. The possibilities here are endless, but potential products that can be engraved or embossed include everything from pillow cases and mugs to vases and cooking aprons.
Suggested retailers: Things Remembered, Pottery Barn, Personal Creations

3. Coffee maker
For the java-loving married couple, you can't go wrong with the gift of a new machine that can make their favorite brews. High-end coffee makers can cost upwards of $200, but there are plenty of simple coffee makers that are available for under $50.
Suggested retailers: Kohl's, Sears
4. Juicer
If the newlyweds are a little more into juice cleanses and a little less into cups of Joe, try a juicer. These small kitchen appliances have a tendency to get a little pricey, but pick a less sophisticated device and you won't have to pay more than $50 or $75.
Suggested retailers: Overstock, Sears
5. Subscription service
Help the happy couple settle into their new life together with the gift of a subscription service. Whether the pair enjoys watching Netflix or shopping online, a subscription is a great way to give them something they can enjoy together. For something even less traditional, gift a subscription to Plated (boxes of recipes and pre-portioned, fresh ingredients that are delivered to their doorstep) or Art in a Box (for artwork to decorate the house).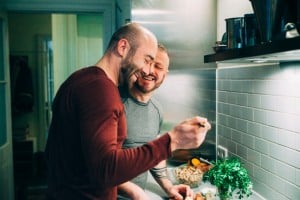 Just be sure to keep track of the subscription, so you can transfer it to the couple or cancel it after a set amount of time.
Suggested retailers: Netflix, Amazon Prime, Plated, Art in a Box
6. Wall art
Speaking of home-oriented gifts, help the new couple turn their shared space into something special with the gift of wall art. From maps of the city in which the couple first met to a poster of the first concert they attended, choose a design that represents their style and story. With plenty of prints available for less than $25, you won't break the bank for this meaningful present.
Suggested retailers: Target, Kmart
7. Vacuum
So it's not the most glamorous gift, but it sure is practical. If a standard vacuum is a little out of your price range, there are plenty of highly portable and affordable handheld models on the market for less than $50.
Suggested retailers: Amazon, JCPenney
8. Selfie stick
It may seem silly, but one of the most practical (and affordable) wedding presents you can give may just be a selfie stick. This techie gift will be ideal for the new Mr. and Mrs. to use on their honeymoon, where they'll surely want to capture memories of their first vacation as a married couple. You can purchase most standard selfie stick models for less than $20.
Suggested retailers: Best Buy, Wal-Mart
9. Picture frame
Between the wedding, the reception and the honeymoon, there will be countless pictures taken as the couple starts their new life together. Set them up with what they'll need to display all of their favorite photographs with an elegant picture frame. Shop wisely and you can pay as little as $15 for one.
Suggested retailers: Michaels, Crate & Barrel
10. Stationery
Heartfelt gifts are nice, but functional presents can be even better. Once the honeymoon ends, the newlyweds will undoubtedly have lots of thank you notes and letters to send. Help them out by giving the gift of stationery. From cards and envelopes to stickers and pens, there are tons of affordable options to explore in this category.
Suggested retailers: Office Depot, Staples
11. Cash or gift card
Finally, if all of the registry items have already been purchased and you don't want to risk buying something that may not suit the couple's taste, opt for something safer, like cash or a gift card. This will allow the newlyweds to purchase any gifts they didn't get from other guests. Plus, you can set an amount that fits within your gift-giving budget.
Our gift to you: a free tool to help track your money. Sign up to see all your money in one place.
---
Images via iStock.