Historically, the speaker selection process typically consisted of two questions: "How does it sound?" and "How much is it?"
When it comes to modern wireless speakers, however, the process is a little different. Many of these devices include features that aren't audio-related but are meant to cater to your lifestyle needs.
The UE Roll 2 and JBL Flip 3 are similar in size and sound capabilities but different in other ways that could affect your decision. We compared the Roll 2 and Flip 3 side by side to help you decide if either speaker hits the right notes for you.
The speakers: At a glance
| | UE Roll 2 | JBL Flip 3 |
| --- | --- | --- |
| Price | $99.99 on Ultimate Ears | $99.95 on JBL |
| Color variety | Six colors | Eight colors |
| Weight | 11.64 ounces / 330 grams | 15.87 ounces / 450 grams |
| Dimensions | 5.314 inches in diameter, 1.57 inches high | 6.65 inches by 2.51 inches |
| Bluetooth compatible | Yes | Yes |
| Bluetooth range | 100 feet | 33 feet |
| Battery life | Nine hours | 10 hours |
| Splash proof | Yes | Yes |
| Phone charger | No | Yes |
| Speakerphone | No | Yes |
| Buy | | |
The speakers: Up close and personal
Design 
Weighing less than a pound, the disc-shaped UE Roll 2 is designed to travel with you. It has an attached bungee cord loop that lets listeners hang the speaker from their backpack, bike or belt loop to take their music on the move.
The JBL Flip 3 continues to sport the tubular design of previous models. For this edition, JBL encases the Flip 3 in a rugged rubber housing then wraps it in splash-proof fabric. It doesn't come with a travel case, but you can use the carrying cord on the back to tether it to a bag.
» MORE: The best Bluetooth speakers
Features
The speakers differ in appearance but share some features, such as:
Bluetooth connectivity: You can connect your phone to the speakers wirelessly, letting you roam and control your music from a distance. The Roll 2 has a wireless reach of about 100 feet; for the Flip 3, it's 33 feet.
Splash proof: Both of these devices are fit for poolside listening. The Flip 3's like casing can withstand rain and spills, whereas you can submerge the Roll 2 up to one meter. The Roll 2 also comes with an "inflatable life preserver" so it can float along in the water.
Designated apps: The UE app serves as a remote and allows multiple users to play through the Roll 2 speaker and connect to another UE device. JBL has two apps: JBL Connect and JBL Music. JBL Connect lets you tether in another speaker to enhance the listening experience, and JBL Music has an equalizer feature so you can adjust the audio to your liking.
Long battery life: UE's Roll 2 features nine hours of playback; the JBL Flip 3 has a 10-hour battery life.
Color options: Pick from a variety of colors to fit your style. UE also offers several patterns for the Roll 2, including "tropical anime" and "reef."
In addition to these common features, the JBL has a few extra tricks up its sleeve: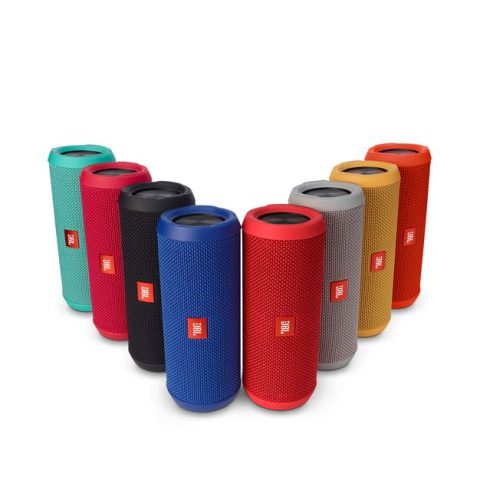 Speakerphone: If a call comes in while your phone is linked to the Flip 3, you can answer without missing a beat and talk directly through the speaker thanks to a built-in microphone.
On-device controls: The JBL app serves as a remote to control the speaker and sound, but on-device buttons are convenient when you can't find your phone.
Smartphone charger: The speaker's rechargeable battery holds enough juice to power itself and your mobile device. When not in use, the Flip 3 can act as a charge port when you're on the move.
» MORE: The best JBL speakers
Performance
For small speakers, the Roll 2 and Flip 3 can produce clear sound that can reach high volumes. These devices are designed more for portability and can't house the complex hardware that produces top-shelf audio. But for the size and price, many users are pleased.
UE says the Roll 2 boasts a 15% volume increase from its previous model, and JBL added dual radiators to boost the Flip 3's bass component. Both speakers have a pairing feature, which means you can sync another speaker from the same brand to double the sound.
Price
The UE Roll 2 and JBL Flip 3 both retail for about $100, though we've seen them for less through Amazon. We've found the Flip 3 around $85 or less, depending on the color.
Sound decision
The Roll 2 and Flip 3 are nearly identical in sound quality, user reviews say, as well as retail price. The speakers' features are what set them apart.
If you like to go camping or otherwise be outdoors, the UE Roll 2 may be the better option. It has a wireless range nearly triple that of the Flip 3. The Roll 2 can also withstand water much better than the Flip 3 and comes with a bungee cord for easy latching onto a bag.
JBL's Flip 3 is better suited for at-home and backyard listening. The shorter Bluetooth range means your phone can't wander too far, but the speakerphone capability is a nice touch, especially in an office setting. Plus, with a battery that can power both itself and your mobile device, you'll rarely be tethered to an outlet.
If you like the JBL brand but want a more campground-friendly speaker, the Charge 3 might be a good option, though it retails for $50 more. If you favor the UE brand but don't think the Roll 2 is the right model for you, check out its Boom line, available in three sizes.
More from NerdWallet
iPhone 7 vs. iPhone 6S
Are store rewards programs worthwhile?
You got a gift card you don't want. Now what?
Nina Tabios is a staff writer at NerdWallet, a personal finance website. Email: [email protected]. Twitter: @Nina_NerdWallet.