Last week, a study by NerdWallet health revealed that young adults in California could pay the same for health insurance as for their cell phone bill—around $100/month. Some of the numbers in the study suggested that many plans could cost even less than that for young adults with the median income, so NerdWallet Health wanted to get a head start on finding out how much they might save.
Meet Julian: he's a 27-year-old, uninsured, single man with a yearly income of about $23,000—roughly the median income for uninsured adults under 30. Like most young people, Julian wants health insurance, but he can't afford plans currently available. He's hoping that he'll be able to get something affordable through Obamacare. Here's a basic idea of the plan types that Julian and others seeking insurance through Obamacare will have access to come October 1.



NerdWallet designed the Obamacare Plan Finder web app to help young, uninsured adults like Julian find the most affordable plans available on the new insurance marketplaces. Covered California, California's health insurance marketplace, unveiled some pricing data ahead of schedule. NerdWallet Health investigated to see how much individuals like Julian might actually have to pay to get insured through Covered California.
What we found:
Monthly premiums (before subsidies) are expensive – nearly $3000 per year for a Silver plan
The average minimum monthly premium across the state without assistance for a Silver plan is $243 ($192 for Bronze)—which adds up to almost $3,000 a year.
The highest premium tops in at more than twice that: one unsubsidized Platinum plan costs $564/month and is available through Anthem Blue Cross.
Premium assistance can save young adults a lot of money – reducing the monthly cost of insurance to $46 each month
Young adults with median income like Julian can expect to pay somewhere around $46 or $101 per month for the lowest-cost Bronze and Silver plans, respectively.
Individuals like Julian can get a Bronze plan for as low as $4/month in San Francisco, and Silver for $55/month in Mono, Inyo, and Imperial counties.
Of the lowest cost plans across the 19 regions in California, the most expensive Silver plan for the average young adult, including a subsidy, will cost $120/month. This means that individuals like Julian will be able to purchase an Bronze or Silver insurance plan for under $120 in all parts of California. NerdWallet Health believes many young adults will find this rate affordable.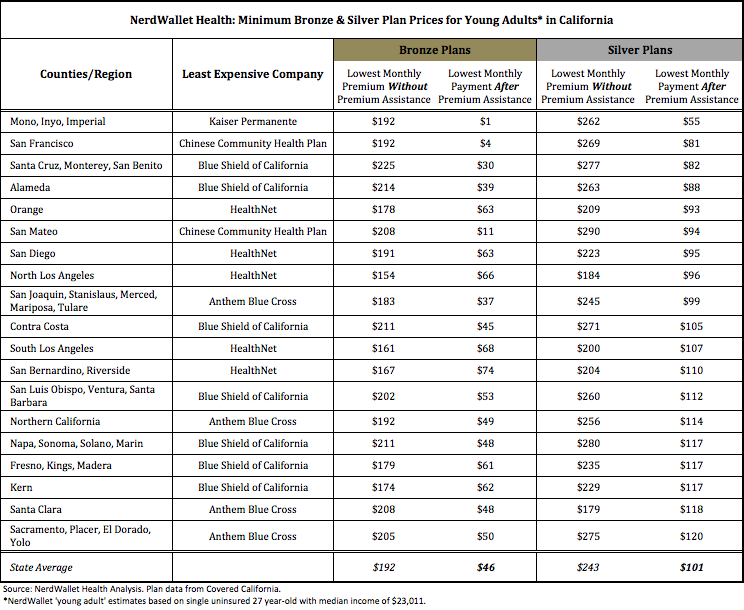 Bronze plans offer young Californians a way to get affordable health insurance – sometimes for less than the price of a bus ticket
Some Bronze plans cost less than a bus ride. Two Kaiser Permanente plans in Mono, Inyo, & Imperial counties are available to individuals like Julian for just $1/month.
The average cost for bronze plans is one half the cost of silver plans and about a third the cost of gold plans, making bronze plans a great option for healthy individuals who don't intend to use their coverage for more than routine checkups.
Bargain shopping will get you more for less – in some cases you can get a Silver plan for the same price as a Bronze plan
Some Silver plans are available for the same price as Bronze plans; in South Los Angeles, both a Bronze plan from Kaiser Permanente and a silver plan from HealthNet come in at $107/month.
This isn't just because larger companies charge more. For example, residents of Napa, Sonoma, Solano, and Marin counties can get a Gold Blue Shield plan for $167/month, but a Silver HealthNet plan costs $172.
Across California, Blue Shield of California offers more lower rates than any other insurance company.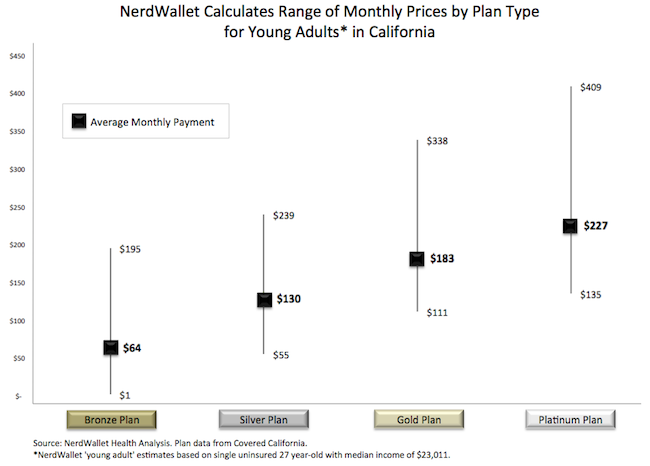 Health insurance cost will vary depending on where you live
Bronze plans in Mono, Inyo, and Imperial counties will cost about a third of the price of Bronze plans in South Los Angeles.
Mono, Inyo, and Imperial county residents got lucky with Silver plans too—the average Silver plan in Sacramento, Placer, El Dorado, or Yolo counties costs over 50% more than a Silver plan in Mono, Inyo, or Imperial counties.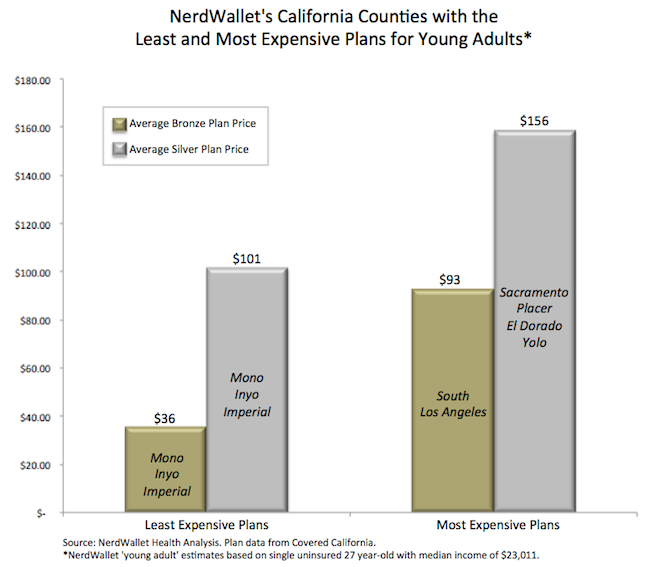 Discussion
A recent poll found that more people go without health insurance because it is too expensive than for any other reason—not surprising considering that almost 75% of uninsured young adults have incomes under 250% of the Federal Poverty Level. NerdWallet Health's analysis reveals that Covered California's insurance plans will provide many low-cost insurance options. Says Christina LaMontagne, VP of Health at NerdWallet, "Young, healthy individuals in California should consider Bronze plans—many of these plans are available for less than $50/month. Bronze plans allow the peace of mind that comes with being insured, without prohibitively high monthly premiums."
Young adults agree with this. Says Matthew Shapero, a 29-year-old living in Nevada County, "as a healthy, young man I would lean towards paying less per month and paying more in a deductible should a calamity occur." He currently pays $98/month for a high deductible catastrophic plan, which he is "willing to pay…but that doesn't mean I think that's a reasonable amount." After a recent injury, he is "much more grateful for having had some amount of insurance, however expensive it seemed when I was healthy."
NerdWallet Health recently found that California cities will have lower priced insurance than New York cities—but this study shows significant variation across the state of California itself. Residents of Mono, Inyo, and Imperial counties will pay a fraction of the price of some other counties. Even still, average costs for bronze and silver plans are less than $150/month across all regions. Says LaMontagne, "we know that health insurance under Obamacare can be affordable for many young adults in California. What remains to be seen is how effective outreach programs are in recruiting the young, uninsured individuals who can truly benefit from these plans."
Methodology

We collected insurance plan and pricing data from Covered California's Shop and Compare Tool. NerdWallet 'young adult' estimates are based on a single uninsured 27 year-old with a yearly income of $23,011, the median income for young uninsured adults according to a report by the CommonWealth Fund. 'Average lowest monthly payment ' and 'average lowest monthly premium' were found by computing the average of the lowest monthly payments/premiums for a silver or bronze plan across all regions of plan management. 'Average monthly payment' for each metal tier was found by calculating the average subsidized payment across all plans of a given tier. Least and most expensive counties were determined by calculating the average monthly payment by tier for each county.
Please consult your state's website for the most up-to-date information on individual insurance plan options. The prices provided in this study may not match exact health insurance costs when the state marketplaces officially open on October 1, 2013.
About NerdWallet Health
NerdWallet Health provides transparency to patients, empowering them to choose better and more affordable health care. NerdWallet Health's Obamacare Plan Finder web app helps young adults find the most affordable insurance plans in just one click. Please consult a health professional for medical advice.