Scottrade Review
Welcome to the NerdWallet review of Scottrade! We've included all the information you need to make an informed decision. Do you already have an account with Scottrade? We'd love to hear your opinion in the comments section so that others can learn from your experiences.ETRADE

NerdWallet's Rating: 5 / 5


Scottrade charges 30% less than E*trade and TD Ameritrade for similar research, data, and customer service including physical locations, but slightly less advanced trading platforms.
Founded over thirty years ago, Scottrade set up shop on the Web in 1996 and has been offering $7 stock trades ever since. The brokerage hasn't lost its emphasis on personal service since the move online, though. Customers interested in flexibility can either trade online or make an appointment with an RIA (registered investment advisor) at one of the firm's 500 + branch offices. A call to the help line during business hours connects investors to their local branch. Locations offer informational seminars, which users report are helpful.
Scottrade's platform also emphasizes research and educational tools with a nod toward beginning investors. Novices may like the site's SmartText tool, which allows members to pick an indicator, then provides brief, layman-friendly explanations of its relevance for each chosen stock. Mutual fund research is particularly strong – to match the brokerage's large, and relatively inexpensive, selection – but some, more experienced clients say that they've advanced beyond the resources available.
While not the most expensive online brokerage, Scottrade isn't the most affordable, either, especially for options. And the brokerage's options tools are designed by OptionsHouse, which investors should note, offers drastically cheaper options trades. Scottrade also receives mixed reviews for its stock trading platform, which some users call cluttered. The more popular ScottradeELITE platform is only available to clients with more than $25,000 in their accounts. Regardless of the platform, frequent traders have reported dissatisfaction with data lags and the speed at which funds are available to reinvest.
Inexperienced or infrequent investors will do well with Scottrade. More active or experienced traders may prefer a brokerage with more advanced tools.
Minimum initial deposit: $2,500
Stock Trades: $7.00 per trade
Options Trades: $7.00 per trade + $1.25 per contract
Company Research: Free
Data: Free
Trading Platforms: Free
Learn more about Scottrade
$100 ACAT Fee Refund – Scottrade will refund up to $100 in transfer fees charged by your prior broker when you transfer your account. The transferred account must have a value of at least $10,000.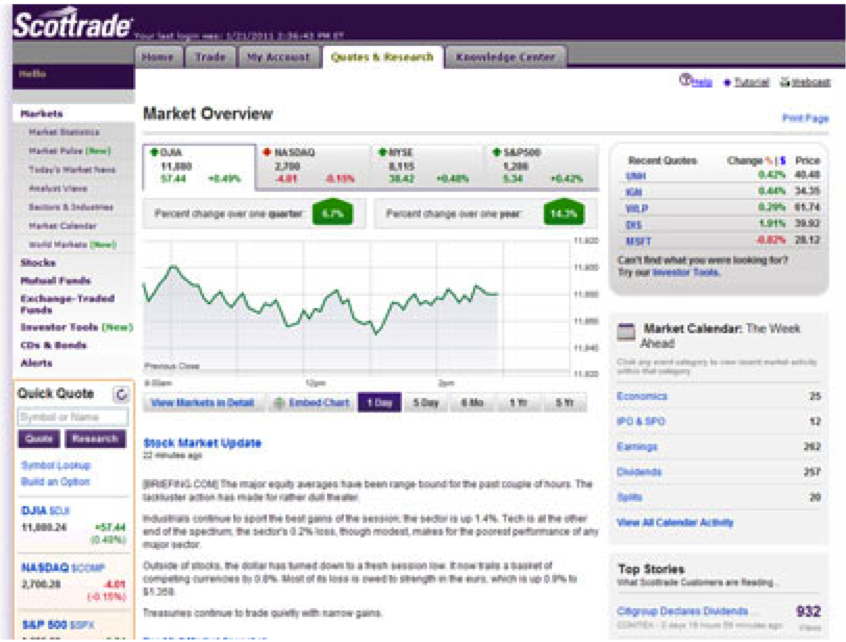 Free online market research
Free analyst reports, upgrades and downgrades
Sector and industry comparisons
Does not include access to premium research. TD Ameritrade provides this, but charges slightly more per trade ($9.99 vs $7.00).
Offers over 500 physical locations throughout the country. Team members at these locations can help you learn how to use the resources and attend seminars on trading tools and investing products, but will not make actual trade recommendations.
Customer service is available by phone, 24 hours per day, 7 days per week
Join the Scottrade Online Community and ask questions of the over 65,000 other Scottrade investors.
Basic trading tools included for free that meet the needs of most traders. Doesn't have all the bells and whistles of a more expensive TD Ameritrade or E*trade that might be better for active intraday traders.
Advanced trading tools available for those with $25k in their primary account.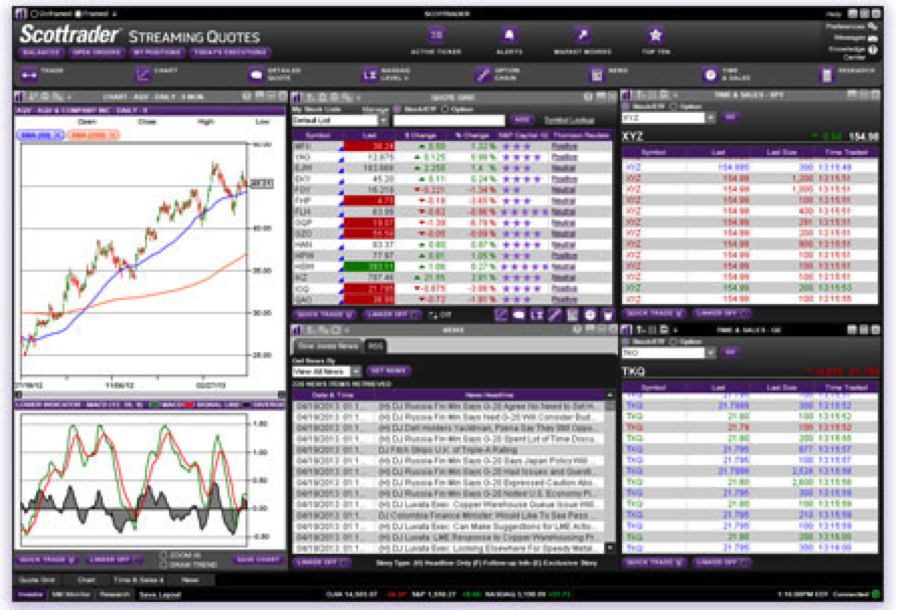 Real time trading and fully-customizable streaming quotes with the Scottrader Streaming Quotes platform.
Advanced charting, watch lists, and more
Unlimited free checks
Free ATM withdrawals
Mobile Access
24/7 customer service
500+ Physical Locations
Check Writing
Debit Card
Free automated phone trades
Learn more from Scottrade
Over 14,500+ different mutual funds from well-known families
One of the largest selections of mutual funds in the brokerage business
Nearly 3,000 no-transaction-fee (NTF) funds
Advanced screening and research tools to find the right fund for you
Stocks
Bonds
Mutual Funds
ETFs (Exchange Traded Funds)
Options
Comparison to other Brokerages
Service & Features:

Includes basic research, data, customer service, and trading platforms. For most investors, these features are more than sufficient. If you need more advanced trading platforms and analytics, TD Ameritrade ($9.99/trade) is probably a better bet.

Pricing:
For a full comparison to EVERY other brokerage, check out our brokerage comparison tool.
"Highest in Investor Satisfaction in Self-Directed Services" (JD Power & Associates)
4 Stars for In-Person Customer Service (out of 5) (Barron's)
4 Stars for Mobile Access (out of 5) (Barron's)
4.5 Stars for Customer Service (out of 5) (Barron's)
4.5 Stars for Education (out of 5) (Barron's)
"I've used Scottrade for more than a decade and would highly recommend them"
"Love the low fees!"
"I like having access to real brokers for assistance over the phone"
"For high volume penny stocks there are cheaper options"
"Not as many features as E*trade, but good enough for me"
"Getting the borrow to sell short a low-priced stock can be difficult"
"I switched from TD Ameritrade and find Scottrade easier to use."
Do you use Scottrade? Please share your opinions in the comments section to help others make informed decisions.
Does Scottrade sound like the right brokerage for you? If so, you can sign up for an account here.